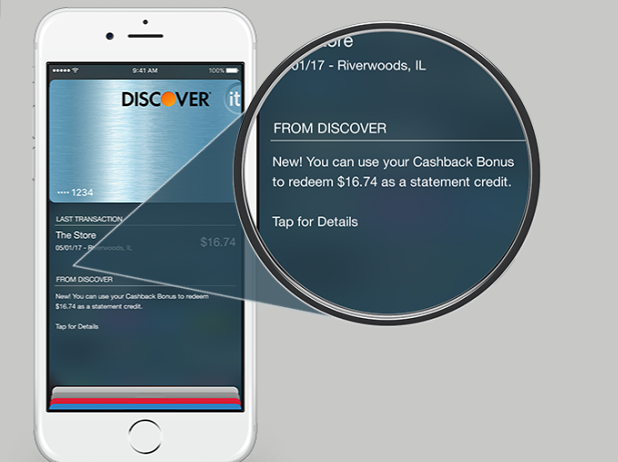 Next time you pay for a purchase with your iPhone, you might be able to cover the transaction with cash-back rewards almost instantly.
Discover announced that cardholders can now redeem cash-back rewards via Apple Pay. For tech-savvy cardholders, this feature is a welcome change: It offers more immediate value and makes redeeming rewards relatively seamless.
Discover is the first major credit card issuer to offer this functionality, making the option available to all its cardholders. 
What you need
To redeem cash back through Apple Pay, here's what you need, according to Discover:
A Discover card added to Apple Pay. This feature isn't available for other mobile wallets, such as Samsung Pay or Android Pay.

An updated version of the Discover Mobile app (version 8.9.0 or above) and an iPhone version 6 or later. Y

ou also need to turn on "Show Updates" in your Apple Pay settings. You can do this by clicking on your Discover card in Apple Pay and making sure the "Show Updates" switch is swiped to the right and is green.

A rewards balance higher than the purchase amount. For example, if you were spending $5 on coffee, you'd need to have more than $5 worth of rewards.

A qualifying purchase — that is, a purchase worth more than $1 made using your Discover card with Apple Pay
How it works
Once you're ready, here's how you can claim your rewards after making a purchase via Apple Pay:
Complete your purchase using your Discover card with Apple Pay

After paying, click on that transaction in Apple Pay. You'll see a message notifying you about the option of redeeming cash-back rewards via Apple Pay. Click on "Tap for Details."

You'll see a screen with information about the amount in rewards you're about to redeem. Tap the orange button that says "Click to Redeem." With this feature, you have to redeem rewards for the full purchase amount, not just a portion.

You're done! You'll get a receipt showing the transaction details and receive your statement credit within two business days. Plus, you'll still earn rewards on that purchase, as you normally would, even after covering the purchase with cash back. Click "Save to Photos" if you want to keep the redemption information for your records.
According to Discover, this feature may not work if:
Your wireless carrier is T-Mobile. Some T-Mobile customers might not be able to use this feature right now, but Discover said in a statement that it's committed to making it available to all Apple Pay users.

You're making a foreign transaction

You're not the primary cardholder — say, if you're an authorized user on your partner's credit card
This feature doesn't make your rewards more valuable — 1 cent is still worth 1 cent — but it can help you get those rewards a little faster. If you want to use your Discover rewards to cover your next purchase at the cash register, it's a feature worth using.
Image courtesy of Discover.