Sometimes, bad credit happens to good people. To rebuild your credit, you need financial institutions to take you seriously, treat you with respect and give you another shot. What you do not need is a long series of rejected credit card applications or sketchy "instant approval" credit cards with high fees or unfair terms.
Even with a credit history that is less than optimal, you can still get approved for a credit card from a reputable issuer. Many major issuers are looking for ways to help people with bad credit — generally defined as a credit score below 630. And they're not just doing it to be generous. A company that gives consumers a second chance and helps them rebuild their credit can earn their loyalty for years. That's an appealing prospect for banks looking to build long-term relationships with consumers.
"Our customers run the gamut," says Judy Teeven, head of general purpose credit cards for Wells Fargo. "We feel compelled to have something to meet the needs of each of these groups."
When you go looking for a credit card for bad credit, here are four things you can expect a good issuer to provide:
---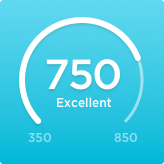 Get Your Free Personal Credit Score Every Week from NerdWallet
Open more doors for financing your business.
Set your goals and track your progress.
Signing up won't affect your score.
---
1. Good credit cards for bad credit
Most major issuers offer credit cards for bad credit, so don't be shy about asking. If your credit is bad, the best choice is probably a secured credit card.
The major downside to secured cards is that you have to make a sizable security deposit, which the issuer holds as collateral in case you fail to pay your credit card bills. Usually the deposit is equal to your credit limit, so a deposit of $500 will get you a credit card with a $500 limit.
But that deposit is also what makes a secured credit card easier to get approved for, since it all but eliminates the risk to the issuer. With responsible use of a secured card, you may be able to transition to a regular unsecured card — one with no deposit requirement — in a year or even less. You get your deposit back when you close a secured card or convert the account to an unsecured card.
Secured cards may have an annual fee, but you shouldn't pay more than $50 a year. Some secured cards don't charge an annual fee at all. NerdWallet likes the Discover it® Secured, which has an annual fee of $0 and gives you the opportunity to earn rewards — a rarity for a secured card.
Avoid cards that require you to pay a processing or activation fee just to open the account or monthly "maintenance" fees just to keep it open.
» MORE: NerdWallet's best secured credit cards
2. Financial fitness programs
It's possible that you were doing everything perfectly and you got hit with some very bad luck that ruined your credit. It's also possible that you made a mistake or two along the way.
Many issuers that offer credit cards for bad credit also provide financial education to help people learn to manage credit more effectively. For example, Digital Federal Credit Union offers specialized coaching for people in different financial situations. You can learn budgeting skills and debt management strategies, advice about student loans and tips for becoming a homeowner.
John LaHair, a spokesperson for DFCU, recommends that people track their expenses closely for a week to see where their money is going. "You'll be amazed at what you find," he says.
Sometimes, something as simple as looking at where your cash is going can help you trim your expenses and pay your bills on time.
» MORE: DCU Visa® Platinum Secured Credit Card
3. Credit-tracking tools
Nothing builds your credit score faster than responsible use of a credit card. So once you've gotten approved for a credit card, you want to do two things:
Use your credit card carefully. That means making only a few charges every month — not maxing out the card — and paying them off in full and on time.
Keep track of your credit score. This is where your credit card issuer can help. Many issuers offer free credit scores and specialized tools that help you track your progress over time.
» MORE: What's my credit score?
4. A way to move up to a better card
Because secured card issuers are holding onto a pretty big chunk of your money in the form of a security deposit, you probably want to move on to an unsecured card as soon as possible.
Some secured cards require the cardholders to close their accounts to get their deposits back. But closing one account and opening another can ding your credit score, so it's better to find a card that allows you to transition to an unsecured card without opening a new account.
The Discover it® Secured is one such example. After your first eight months with the card, Discover will begin automatically reviewing your account monthly to see whether you're ready to upgrade. When the time comes, you'll be able to graduate to an unsecured card and recoup your deposit without opening a new account.
» MORE: Why applying for the wrong credit cards can make bad credit worse
Virginia C. McGuire is a staff writer at NerdWallet, a personal finance website. Email: [email protected]nerdwallet.com. Twitter: @vcmcguire.