Pantry staples are a frugal cook's friend. With a few key ingredients at the ready, you can easily trade takeout for tasty homemade meals — a move that will benefit your budget and your well-being.
"The key to eating better and more affordably is cooking at home," says Karen Tedesco, a recipe developer and food blogger at Familystyle Food. "Prepared foods, processed ingredients and takeout not only cost more, but often include way more added salt, sugar and preservatives than something you make yourself."
Track your spending the easy way
Tracking your spending by hand is tedious. Throw away your paper budget and sign up for NerdWallet to make managing your money easy.
When building up your pantry reserves, aim for a mix of whole grains, proteins and spices. Look for products with little to no added salt, sugar or preservatives. And focus on items that can do double or triple duty. A jar of marinara sauce, for example, can do a lot more than top off your pasta.
"Marinara can be the base of an easy chili, soup or stew," says cookbook author Eliza Cross. "Or [you can] simmer it with cooked frozen meatballs and make meatball sandwiches."
Ready to start cooking? This list of pantry staples will help you whip up cheap, healthy meals in no time. It's not exhaustive, though. So we encourage you to leave your own must-haves in the comments at the end of this page.
Grains and dry goods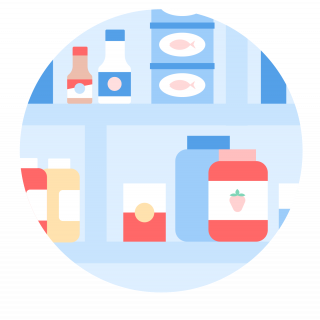 Opt for whole grains, like quinoa and brown rice, which are loaded with protein and fiber. They will also leave you feeling full longer than white rice or pasta.
Brown rice.
Whole wheat pasta.
Lentils.
Quinoa.
Oats.
Canned goods
The beauty of canned goods is that they have a long shelf life. When you see a good sale, stock up. Pick products rich in nutrients, but free of added sugar, sodium or preservatives.
Beans: black beans, pinto beans, garbanzo beans.
Tomatoes.
Coconut milk.
Fish: tuna or salmon, packed in water.
» Learn how to eat healthy on a budget
Oils, sauces and spices
Salt, pepper and olive oil are great basics to use in nearly every dish. Additional oils, like avocado oil and canola oil, come in handy for baking and making homemade mayonnaise — a base for a variety of sauces. Vinegars are also great to have on hand to whip up healthy salad dressings in a snap.
Salt.
Black pepper.
Garlic: fresh and granulated.
Ginger: fresh and ground.
Red pepper flakes.
Dried herbs: oregano, basil, thyme.
Cumin.
Paprika.
Coriander.
Chili powder.
Canola oil.
Extra virgin olive oil.
Soy sauce.
Vinegars: apple cider, red/white wine, balsamic.
Other essentials
Round out your pantry (and fridge and freezer) with hearty vegetables, like potatoes, onions and carrots, which can last for weeks or even months if stored correctly. Nut butters are also great to have on hand to add to smoothies, sandwiches, soups and dressings.
Eggs.
Nut butter: peanut, almond, cashew.
Carrots (opt for whole carrots over pricier baby carrots).
Potatoes.
Onions.
Cabbage.
Frozen vegetables.