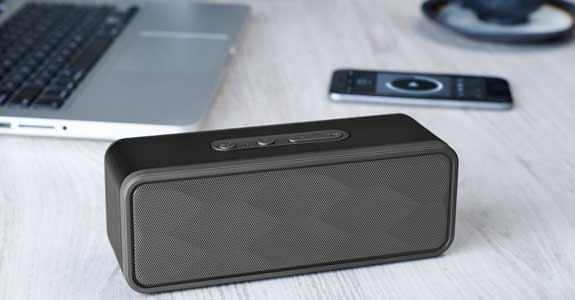 If you spend a lot of time on your computer, it might be worth investing in a speaker that enhances your favorite movies, music or video games. After all, built-in computer speakers aren't usually up to par.
Of course, not every audiophile cares about or needs the same qualities in speakers. That's why we took all of the top criteria buyers consider into account — including sound clarity, bass quality, ease of use, battery life and much more — when making our list of the best computer speakers.
Our analysis: Based on 12,844 analyzed reviews
NerdWallet's scoring of the best computer speakers is based on our analysis of the opinions of experts and shoppers like you.
We looked at opinions from industry-leading review sites such as CNET and Good Housekeeping to create a list of the most popular speakers on the market. Then, we analyzed actual user reviews to see what shoppers were saying about each speaker's best — and worst — attributes.
Our scores range from a low of 1 to a high of 10. Here's how we devised them:
Overall score: This score shows reviewers' overall satisfaction level with the speaker across 16 criteria, including all-important aspects such as sound quality, features, battery life and durability.
Sound: This score reflects reviewers' satisfaction with the sound output produced by the speaker. In addition to sound clarity and volume, we also accounted for factors such as bass and treble.
Ease of use: This score indicates reviewers' satisfaction with how simple the speaker is to set up and control. Because convenience is a top consideration for many speaker users, we examined several criteria, including features, design, charging and setup.
Here are our top picks for computer speakers, ranked by category in order of overall score.
The speakers
1. iHome iM60
The iHome iM60 is designed to work equally well as a desktop or travel speaker. It's collapsible for easy transport and has a rechargeable battery, which powers up to eight hours of play. Users found that this miniature speaker produces surprisingly powerful sound.
Buyers Like
Easy to use.
Charges quickly.
Has a portable design.
Buyers Dislike
Has durability issues.
Lacks volume controls on the unit.
It's hard to secure the latch that keeps the speaker folded.
2. Klipsch ProMedia 2.1
With three pieces of equipment — two speakers and a subwoofer — the Klipsch ProMedia 2.1 brings an immersive audio system to the entertainment junkie's deskspace. The system can connect to your computer or your gaming console, TV or MP3 player.
Buyers Like
Produces crisp, balanced sound.
Has deep, adjustable bass.
Performs well at loud volumes.
Buyers Dislike
Lacks a power button.
Has flimsy parts, such as cords and plugs.
Takes up a lot of space.
3. Logitech Z130
The Logitech Z130 is a set of two compact speakers, which weigh a combined 1 pound and 5 ounces and plug directly into your device's headphone jack. Reviewers liked the speakers' size and said that they pump out quality audio, but that the sound became distorted after repeated use.
Buyers Like
Affordable.
Small.
Produces clear sound.
Buyers Dislike
Delivers underwhelming bass.
Offers lower sound quality over time.
Has a short cord.
4. Bowers & Wilkins MM-1
Bowers & Wilkins promises to deliver high-quality sound with the MM-1, especially when users are sitting in its "sweet spot," within a few feet of their computer screens. But the $499 price tag may have some users considering whether these sleek speakers are worth the investment.
Buyers Like
Relatively small.
Produces rich audio.
Has a USB connection.
Buyers Dislike
Price.
Delivers underwhelming bass.
Isn't loud enough.
5. Logitech S120
Their simple design and low price point make Logitech S120 speakers a good fit for casual listeners. They feature volume control and a plug for your headphones, so you can use them without disturbing others.
Buyers Like
Small.
Affordable.
Produces clear sound.
Buyers Dislike
Has durability issues.
Has short wires.
Delivers underwhelming bass.
More from NerdWallet
JBL Micro Wireless Speaker Review
The Best Bluetooth Speakers
The Best iHome Speakers
Lauren Schwahn is a staff writer at NerdWallet, a personal finance website. Email: [email protected]. Twitter: @lauren_schwahn.