Coffee drinkers want Starbucks baristas to make their pumpkin spice latte just right, so it's no surprise that they demand the same level of precision from their home coffee maker. But finding the right model can be tricky.
We're helping to make your coffee maker research easier so you can cut straight to drinking your morning brew. We compared two coffee makers that earned strong marks in NerdWallet's ranking of the best Cuisinart coffee makers. Let's see how the 14-cup Cuisinart DCC-3200 and 12-cup Cuisinart DCC-2650 fare.
The coffee makers: At a glance
Aside from size and display, these Cuisinart programmable coffee makers have a lot in common. They each retail for $99.95 and allow users to make their coffee just the way they like it.

| | Cuisinart DCC-3200 | Cuisinart DCC-2650 |
| --- | --- | --- |
| Price | Regularly $99.95 | Regularly $99.95 |
| Capacity | 14-cup | 12-cup |
| Programmable | Yes | Yes |
| Auto shutoff | Yes | Yes |
| Brew strength options | Yes | Yes |
| Adjustable temperature | Yes | Yes |
| Permanent filter | Yes | Yes |
| Buy on Amazon | | |
Cuisinart DCC-3200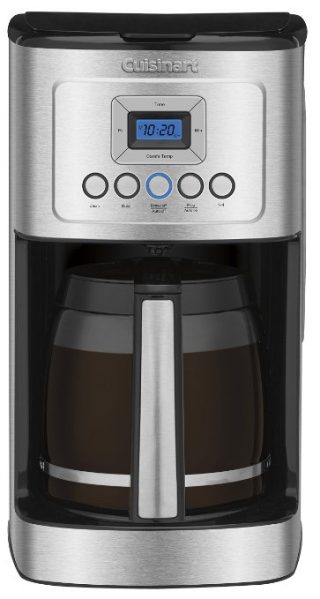 NerdWallet takes you shopping: The Cuisinart DCC-3200 is a 14-cup programmable home coffee maker that offers plenty of customization. Users can choose between regular or bold brew strength settings, and can adjust the temperature and brew size — for instance, select the 1-4 cup setting for a smaller batch.
Its functions include auto shutoff and a self-clean option. Other notable features include a backlit LCD display, a ready tone when brewing is finished, an easy-view glass carafe with stainless steel handle and a 60-second reset that recalls your settings in case the power goes out mid-brew. The DCC-3200 weighs 9.5 pounds and comes in silver or white.
Good fit for: Hosts and hostesses who will be entertaining groups. If you'll be serving your coffee in large amounts, it'll make sense for you to choose a maker with a larger capacity. These two Cuisinart makers are nearly identical, but the DCC-3200 will give you two more cups in each pot. Plus, you can keep everyone happy with adjustable temperature and brew strength options.
» MORE: The best coffee makers
Cuisinart DCC-2650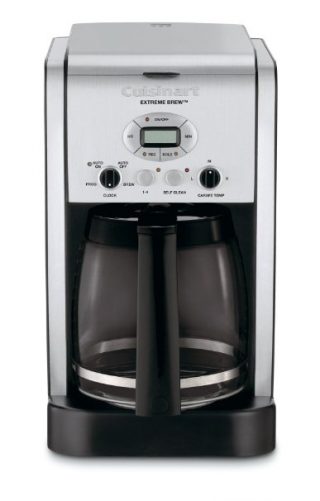 NerdWallet takes you shopping: The Cuisinart DCC-2650 is a 12-cup programmable coffee maker that has many things in common with the DCC-3200, including its price. The DCC-2650 retails for $99.95, has 24-hour programmability, an auto shutoff function and the option to create a smaller 1-4 cup brew. It also has brew strength control, adjustable temperature and a brew pause feature.
The DCC-2650 differs most from the DCC-3200 in size — its maximum capacity is 12 cups  — and its interface. Unlike the strictly push-button DCC-3200, the DCC-2650 combines buttons and dials, and it lacks the backlit LCD. Turn the dial on the right side to select high, medium or low carafe temperature, depending on whether you like your coffee black (lower temperature) or with milk or creamer (higher temperature). The maker weighs 8.7 pounds and comes in silver.
Good fit for: Java drinkers who want a quick, easy brew. The DCC-2650 brews a manageable-size pot, and its intuitive control panel makes selecting your desired settings simple.
» MORE: NerdWallet's coffee maker buying guide
Something else to keep in mind
NerdWallet went one step beyond just studying these makers. We wanted to know how they measure up in real life, so we ranked these and other models based on several criteria, including coffee taste and appliance usability. To formulate our scores, we first analyzed expert opinions from sites like CNET and The Sweethome. Then, we read actual user reviews.
The DCC-3200 led our analysis of Cuisinart with a strong 8.7 overall score, 8.9 coffee quality score and 8.1 ease of use score. The DCC-2650 scored an 8 overall, 8.3 in coffee quality and 7.7 in ease of use. Reviewers particularly enjoyed the adjustability and the coffee flavor of both these models.
However, users noted that both coffee makers take up a fair amount of counter space; you'll want to make sure your kitchen can accommodate a relatively tall gadget. Users also said the DCC-3200's reservoir can be challenging to fill without spilling, and the DCC-2650 can be difficult to clean.
Ready to buy?
If you're ready to make a purchase, consider using a relevant rewards credit card to earn cash back. And if you're looking to save, try shopping at Amazon, where we've seen both of these appliances on sale for less than their regular retail price.
If you're still on the fence, consider a pod brewer, like a Keurig model or other single-serve coffee maker, for smaller batches.
Courtney Jespersen is a staff writer at NerdWallet, a personal finance website. Email: [email protected]. Twitter: @courtneynerd.