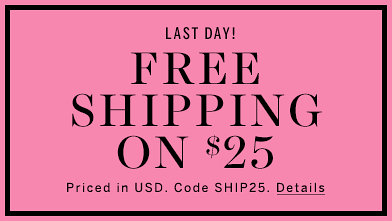 Today is the final day of the Victoria's Secret Semi-Annual Sale, which means shoppers have a matter of hours left before the store's famed twice-annual deal bonanza is gone (until June, that is).
Act soon if you want to take advantage of the following deals:
• 25%-40% off bras
• Up to 60% off clothing
• $14.99 and up bra clearance
• $3.99 and up panty clearance
For added savings, use coupon code SHIP25 to get free shipping on qualifying orders of $25 or more. This promotion is valid through 11:59 p.m. today (Jan. 20).
Visit the Victoria's Secret website for a real-life countdown of the Semi-Annual Sale to see how many hours are left before you "get it or regret it."
Find this deal at Victoria's Secret.
Shopping Dealfinder Newsletter
Get the best deals of the day and more!