The Fitbit Charge 2 is the latest model in Fitbit's line of wearable tech, and it comes equipped with advanced features. The Charge 2, released just this month, can record your workouts, measure cardio fitness and help you recover with its guided breathing mode.
Before you hit that order button, run through our side-by-side comparison of the newest Charge and the previous model, the Charge HR, to see if the boosted wearable tech makes sense for you.
The trackers: At a glance
| | Fitbit Charge 2 | Fitbit Charge HR |
| --- | --- | --- |
| Price | $149.95 on Fitbit | $129.95 on Fitbit |
| Battery life | Up to five days on one charge | Up to five days on one charge |
| Color | Black, plum, blue, teal, lavender/rose gold, gunmetal | Black, plum, blue, teal, tangerine, pink |
| GPS | Connected GPS via mobile | No |
| PurePulse heart rate monitor | Yes | Yes |
| Mobile notifications | Call, text and calendar alerts | Caller ID alerts |
| Splash-resistant | Yes | Yes |
| Sleep tracking | Yes | Yes |
| SmartTrack recognition | Yes | Yes |
| Accessory bands | Yes | No |
| Buy | | |
The trackers: Up close and personal
Fitbit Charge 2 
Design:
Fitbit outfits its latest Charge model with an OLED display four times larger than on the older Charge HR. You can track your stats and view smartphone notifications, such as call, text and calendar alerts. As with the Fitbit Alta and Blaze models, you can customize the Charge 2's look to suit your taste. With interchangeable bands and specially designed clock displays, fitness fiends have control over how they look as they sweat.
Features:
Connected GPS: Linking to your phone's GPS allows the Charge 2 to incorporate precise readings, such as pace and distance, for more accurate data. It also maps out your routes to view in the Fitbit app.
PurePulse heart rate monitor: The PurePulse heart monitor serves as the backbone for many of the Charge 2's other new features, such as the cardio score and breathing mode. It measures real-time heart rate data so you can evaluate your calorie burn and analyze both active and resting trends.
Cardio fitness level: This feature renders a cardio fitness score based on PurePulse heart rate stats, exercise data and user profile. The score gives you a better picture of your overall cardiovascular health and fitness by taking a mixture of stats and comparing them against others of the same age range and gender.
Multisport modes: The Charge 2 can track specific workouts such as running, cycling, weights and yoga. Some activities are linked to the connected GPS for improved data accuracy. You can then view the stats summary for any specified exercise.
Guided breathing mode: Fitbit helps you work out, and now it can help you recover. The guided breathing mode monitors your respiration post-training by reading your heart rate. The Charge 2 can determine how deeply and quickly you should be breathing, then provides coaching through two- or-five-minute exercises of proper inhaling and exhaling.
» MORE: Fitbit comparison: Which Fitbit activity tracker is best for you?
Fitbit Charge HR
Design: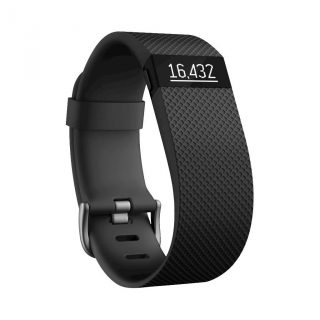 The Fitbit Charge HR tracker is a sweat- and splash-proof wristband with a slim OLED display. To switch between menus, press the button to the left of the monitor to show time, stats and caller ID. Unlike Fitbit's Alta, Blaze or Charge 2, you can't switch the bands, but the Charge HR is available in six colors.
Features:
PurePulse heart rate monitor: Fitbit's PurePulse technology tracks all-day cardiovascular trends, helping to measure overall wellness. You can also use the data to maximize and maintain intensity during workouts.
Exercise tracking: The Charge HR pools all of your exercise data into daily summaries so you can map your improvements over time in the app. These reports include run stats, routes and splits in your progress.
Workouts and all-day activity: This feature includes all measurements of activity, including heart rate, calories burned, floors climbed, active minutes and steps taken throughout your day.
SmartTrack: Instead of requiring you to select a workout every time, the Charge HR's SmartTrack feature automatically recognizes select activities and records your stats into the app for later review.
Find your fit
To sum it up, the Charge 2 is a beefed-up version of the Charge HR. Its new features provide a better overall picture of your health and fitness, thanks to more accurate and in-depth statistics. If you're a dedicated athlete and opt for the Charge 2, you'll have access to the data you need to elevate your performance.
Folks whose main form of exercise is their morning commute or casual moseying may find the Charge 2 is more than they need. The Charge HR is a simpler device, but it's still a fully functional tracker. It records all-day activity — including heart rate, steps, calories, sleep and workouts — to help you improve your health, even if it's at a less intense rate.
More from NerdWallet
Fitbit Blaze vs. Apple Watch Sport
Are store rewards programs worthwhile?
You got a gift card you don't want. Now what?
Nina Tabios is a staff writer at NerdWallet, a personal finance website. Email: [email protected].