In the world of portable, wireless Bluetooth speakers, shoppers have more than a few options to choose from. Some speakers focus solely on pumping out sound, while others are equipped with additional features.
But are the extra features necessary? We're comparing two models that boast advanced capabilities — the Jawbone Big Jambox and the Bose SoundLink III — to help you decide if one is right for you.
The basics
The Bose SoundLink III and Jawbone Big Jambox are both small enough to take on the go or move throughout the house, yet large enough to provide loud, full sound. Both can connect wirelessly to Bluetooth devices, such as smartphones or tablets, or with a cable to other devices, like TVs and MP3 players.
The Big Jambox retails for just a few cents more ($299.99, compared with the SoundLink III at $299.95), but it's no longer in stock on the Jawbone website. You can find it at other retailers, like Amazon, often at a lower price.
Design
These two speakers are comparable in design — both rectangular-shaped with metal grills — although the Big Jambox is a little more boxy. Both units have buttons on the top for power, volume and other basic controls. Most functions can be controlled using your connected device.
Although it has a sleeker design, the SoundLink III is slightly larger, weighing 3.03 pounds and measuring 5.18 inches high, 10.08 inches wide and 1.89 inches deep. The Big Jambox weighs 2.7 pounds and measures 10 inches long, 3.1 inches wide and 3.6 inches high.
The most recognizable design difference is color; the SoundLink III is available only in silver, while the Big Jambox has 10 body colors and 12 end-piece colors to choose from.
» MORE: Jawbone Big Jambox review
Features
The SoundLink III and Big Jambox have a lot in common. The transportable speakers can be used to play music from streaming services such as Spotify, or audio from the movies, games or music on your device.
The SoundLink III has a wireless range of up to 30 feet, while the Big Jambox reaches 33 feet. Both operate on rechargeable lithium-ion batteries that allow long-lasting play. The SoundLink III lasts up to 14 hours and the Big Jambox up to 15 hours.
But these speakers aren't entirely similar. Here's how they differ:
Jawbone Big Jambox
Price: $299.99
NerdWallet takes you shopping: The Big Jambox has a couple of popular features that are missing from the SoundLink III: a built-in microphone — so it can be used as a speakerphone for calls or video chats — and the ability to connect to two devices at the same time. It's also equipped with LiveAudio technology, which is designed to create an immersive surround-sound effect when you're up close to the speaker.
Some users noted that the Big Jambox offers good quality sound and big volume, but is a little lacking in bass. Shoppers can download new apps, features and software updates for the Big Jambox on the Jawbone website. It comes with a micro-USB cable, stereo cable and wall charger.
Good fit for: Individuals looking for a customizable speaker that offers an engaging listening experience.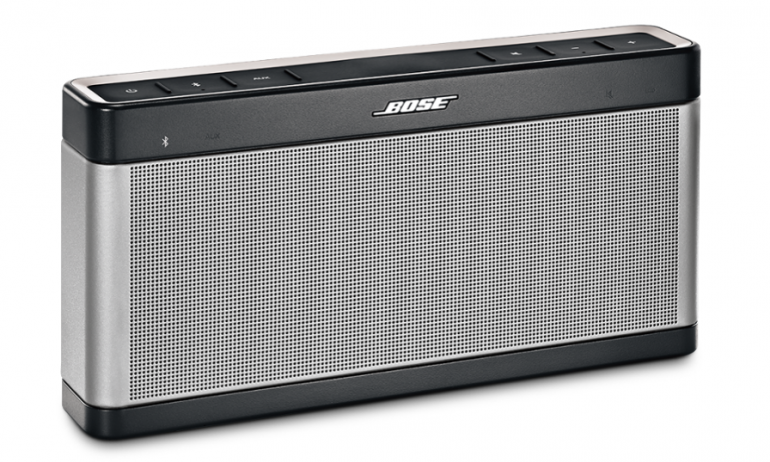 Bose SoundLink III
Price: $299.95
NerdWallet takes you shopping: The Bose SoundLink III earned praise from users for its loud, clear sound and ample bass. It has a slimmer build than the Jawbone Big Jambox, ideal for slipping into a bag. The SoundLink III can remember the last six devices used, making it convenient to reconnect. It comes with a wall power adapter that can fold flat and has a micro-USB port to connect to your computer for software updates.
Good fit for: Audiophiles who value portability.
Get the music going
Given that the retail prices of the Jawbone Big Jambox and Bose SoundLink III are nearly identical, you may want to base your decision on other factors.
If you're mainly interested in features, the Big Jambox offers more than the SoundLink III — such as a speakerphone and LiveAudio — and you can update it to add new features over time. If you're looking for extended play, the Big Jambox also has a longer wireless range and battery life.
But if you're all about that bass, we recommend the SoundLink III. And its sleek profile makes it easy for travelers to stow in a backpack or purse.
More from NerdWallet
Bose SoundLink vs. Beats Pill
Beats Studio vs. Bose QuietComfort 25
Amazon Echo vs. Sonos Play:1
Lauren Schwahn is a staff writer at NerdWallet, a personal finance website. Email: [email protected]. Twitter: @lauren_schwahn.