If you're a coffee fiend looking to get your daily fix at home, chances are you won't want to deal with a complicated machine. Thankfully, there are plenty of no-frills options on the market, which means you don't have to.
Keurig and Nespresso are two of the biggest names in coffee makers that are synonymous with convenience. We'll help you spot the differences between two of their comparable models, the Keurig K55 and the Nespresso VertuoLine, to see if one is right for you.
At a glance
The K55 and the VertuoLine are easy to use, single-serve coffee makers. They're two of the midlevel options in their respective brand's lineups. Both have simple designs and feature button controls on top, although the VertuoLine has a sleeker appearance than the K55. Plus, it can serve up espresso, unlike the K55.
What we found: The K55, formerly the K45, costs almost $80 less than the VertuoLine. It's larger than the VertuoLine by a couple of inches, so it will take up slightly more counter space in your kitchen, but it gives users more brewing options.
| | Keurig K55 | Nespresso VertuoLine |
| --- | --- | --- |
| Price | $119.99 | $199 |
| Brew sizes | 6-ounce, 8-ounce or 10-ounce cup | 1.35-ounce espresso or 8-ounce cup |
| Heating time | 15 seconds | 15 – 20 seconds |
| Brew time | Less than 60 seconds | 35 – 105 seconds |
| Water capacity | 48 ounces | 40 ounces |
| Pods, capsules or grounds | K-Cup pods or reusable filter for grounds | Nespresso VertuoLine capsules |
| Auto-off | Yes | Yes |
| Dimensions (H x W x D) | 13 inches x 9.8 inches x 13.3 inches | 11.9 inches x 8.3 inches x 11.9 inches |
| Colors | Black, rhubarb | Black, chrome |
| Buy on Amazon | | |
Beverage options
The K55 lets you brew a 6-ounce, 8-ounce or 10-ounce cup. The VertuoLine gives you two options, a 1.35-ounce espresso or an 8-ounce cup of coffee, and you'll have to use Nespresso VertuoLine capsules regardless of your choice. These capsules create crema, a layer of foam that rests on top of your drink, which some say is unnecessary, according to user reviews on sites such as Amazon and Williams-Sonoma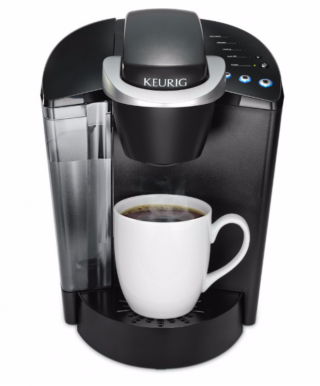 .
The K55 is designed to be used with Keurig's K-Cup pods, but you can use a separately purchased reusable filter if you prefer grounds. And the machine doesn't limit you to hot coffee; you can make tea, hot chocolate and iced coffee as well.
Features
Both models operate with the touch of a button and have an indicator light on top of the machine that tells you when it's ready to brew. The K55 has a separate button for each of its three mug sizes; press the one you want and your beverage will brew in less than a minute.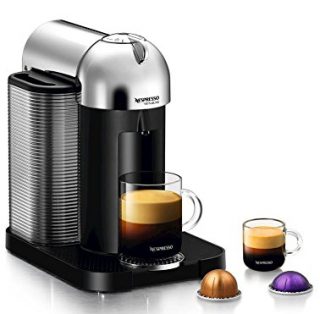 The VertuoLine has only one coffee control, but it provides a more customized brewing experience. The machine features a bar code reader that scans the capsule you use and adjusts the temperature and amount accordingly. Coffee may take closer to two minutes to brew, but espresso will take just about 35 seconds.
The VertuoLine has a couple of other features the Keurig lacks, such as a used-capsule container and its Centrifusion technology, which spins the capsule to help extract the coffee's flavor and aroma.
Both machines have a removable water reservoir on the side, but the K55's is larger. It holds up to 48 ounces, compared with the VertuoLine's 40 ounces. With either maker, you can remove the drip tray to accommodate a travel mug. You can also enable automatic shut-off; the K55 will turn off after two hours of inactivity and the VertuoLine after nine minutes.
» MORE: The best coffee makers
Price
At a retail price of $199, the Nespresso VertuoLine is about $80 more expensive than the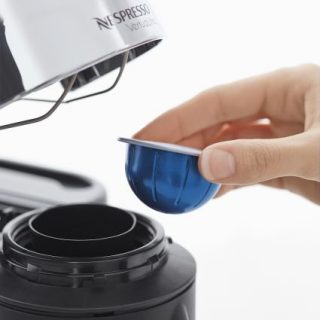 Keurig K55. But you may be able to find both models at a discount from retailers such as Amazon.
Don't forget to factor in the cost of coffee. You can use grounds, which are typically less expensive than pods and capsules, in the K55 but not in the VertuoLine.
Verdict
Both the Keurig K55 and Nespresso VertuoLine are simple to use and quick to brew, but the K55 offers more flexibility at a lower cost. It gives you more options, from the type of beverage you can make to the serving size. And if you don't want to stick with Keurig's K-Cup pods, you can buy grounds instead.
If you value technology over versatility, the VertuoLine is a little more advanced. It reads each capsule's bar code and brews accordingly to optimize your coffee quality, for example. And if espresso is your drink, the VertuoLine can hook you up. Just remember it can use only Nespresso VertuoLine capsules.
More from NerdWallet
The best Keurig coffee makers
How to clean your Nespresso machine
The best cheap coffee makers of 2016
Lauren Schwahn is a staff writer at NerdWallet, a personal finance website. Email: [email protected]. Twitter: @lauren_schwahn.