When the Christmas tree comes down and the last carol is sung, there will be a new year to look forward to and resolutions to make.
If 2016 is anything like 2015, fitness goals will once again top the charts as the most popular aspirations. Some 37% of Americans made goals to stay fit and healthy in 2015, according to Nielsen. If it's one of your goals this time around, you'll likely want someone (or something) to help you reach it. And that's where a fitness tracker comes in.
Before you go shopping, check out our comparison of the Microsoft Band 2 and the Apple Watch Sport.
The wearables: at a glance
Microsoft Band 2
Apple Watch Sport

Price

$249.99 from the

Microsoft Store

Starting at $299.99 from the

Apple Store

Colors

Black

Numerous interchangeable band color options

Sizes

Small, medium, large

38mm, 42mm

Activity tracking

Yes

Yes

Heart rate monitoring

Yes

Yes

Text/call alerts

Yes

Yes

Mobile payments

No

Yes

Compatibility

Windows Phone, Android, iPhone

iPhone 5 or later

Buy on Amazon
The wearables: up close and personal
Microsoft Band 2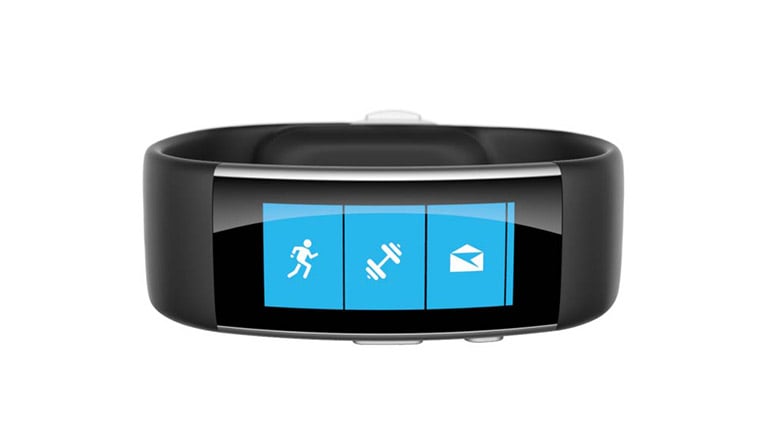 NerdWallet takes you shopping: The Microsoft Band 2 is the successor to Microsoft's original Band; it was released in late October 2015.
The Band 2 is perhaps most appreciated for its activity-oriented features: It tracks heart rate, calories, sleep quality, and activities such as running, biking, golf and more.
It's equipped with 11 sensors that monitor nearly every aspect of a typical fitness routine. These include an optical heart rate sensor, barometer, UV sensor, GPS and skin temperature sensor.
But it goes beyond fitness, too. The Band 2 also displays email, texts, calendar and call alerts, making it closer to a smartwatch than some of its fitness band brethren. It's compatible with Windows Phone, Android and iOS.
The Band 2 comes in small, medium and large and features a full-color curved display. Its battery can last for 48 hours of normal use and takes just under 1.5 hours to charge.
Good fit for: Fitness band hopefuls who don't necessarily have an iPhone and who are interested in setting athletic goals. Pick the Microsoft Band 2 if you're looking for a fitness-oriented band that has a few smartwatch functions to boot. And you don't need to have your phone with you to use the fitness features, which makes it a good choice for athletes.
Still not sure about the Microsoft Band 2? See how it stacks up against the Fibit Charge HR.
Apple Watch Sport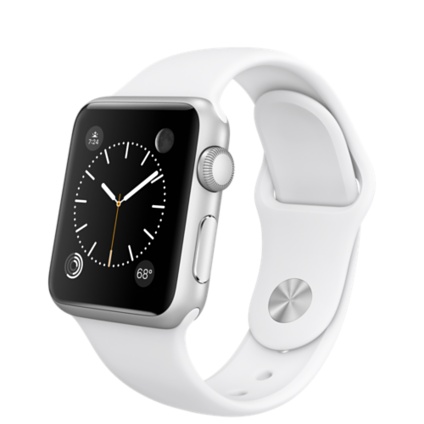 NerdWallet takes you shopping: Under its fancy exterior, there's a lot to appreciate about the Apple Watch. It includes an activity app, which tracks how many times you stand during the day (and gives you a reminder when you sit for almost an hour), registers how many calories you've burned and calculates how many minutes you've exercised. All of these are signified with colorful rings to track your progress toward daily goals.
The watch also provides progress updates, workout summaries, heart rate monitoring and GPS tracking (via your paired iPhone).
And fitness is just the beginning. The Apple Watch can be loaded with countless compatible smartphone apps and gives users access to Siri, Apple Pay, text/call notifications, changeable watch face backgrounds and much more.
The device requires an iPhone 5 or later to use it. The watch has an all-day battery life of up to 18 hours after an overnight charge.
Good fit for: People looking for a fully functioning smartwatch and who live in Apple's ecosystem. With the Apple Watch Sport, you'll enjoy activity tracking, heart rate monitoring and an athletic band, while also getting access to the phone apps, mobile payments and other features — but keep in mind you'll need your phone nearby to take advantage of all of them. If you're willing to spend the extra $100, you'll enjoy features that go well beyond activity tracking.
Looking for a different wearable? We compared the Apple Watch Sport to the Fitbit Surge.
Nerd note: If you're not totally set on the Apple Watch Sport, it might be worth waiting to make a decision — at least for a few more months. There are rumors swirling in the tech world about a possible Apple Watch 2 reveal as early as spring 2016.
Compare more of your favorite tech products:
Courtney Jespersen is a staff writer at NerdWallet, a personal finance website. Email: [email protected]. Twitter: @courtneynerd.
---
Image via iStock.