Portable speakers can help transform listening to music from a solitary experience into a social one. Ultimate Ears, which is owned by Logitech, has designed its line of speakers with a shared listening experience in mind.
We've compared the prices, features and other important factors of three of UE's wireless models — the Mini Boom, Boom and Megaboom — to help you decide if one is the right device for you and your crew.
The basics
These three wireless Bluetooth speakers are all lightweight and equipped with rechargeable lithium-ion batteries, so they're ideal if you want to take your music with you.
There's a designated app for each speaker that lets users check battery life, set an alarm and control other functions. It's available for free from the App Store for iOS devices and Google Play for Android.
But there are clear differences, such as price, wireless range and battery life. For instance, the Mini Boom sells for $100 less than the Boom and $200 less than the Megaboom. It's worth noting that the Mini Boom and Boom are no longer sold through the manufacturer, but both are available at Amazon.
| | Mini Boom | Boom | Megaboom |
| --- | --- | --- | --- |
| Price | $99.99 | $199.99 | $299.99 |
| Battery life | 10 hours, rechargeable via micro-USB port | 15 hours, rechargeable via micro-USB port | 20 hours, rechargeable via micro-USB port |
| Wireless range | 50 feet | 50 feet | 100 feet |
| Weight | 0.7 pound | 1.2 pounds | 1.9 pounds |
| 360-degree sound | No | Yes | Yes |
| Buy on Amazon | | | |
Design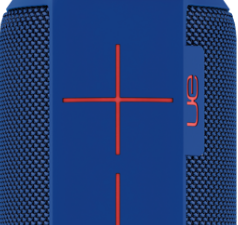 Each UE speaker is compact and comes in a variety of colors. The UE Mini Boom is the smallest of the three. It weighs 0.7 pound and has a brick-like body with curved edges so it easily slips into a pocket or bag. The mid-level UE Boom and the larger Megaboom are cylindrical towers, yet they're still portable, weighing 1.2 pounds and 1.9 pounds, respectively.
The two bigger speakers are designed to take more of a beating than the Mini Boom. The UE Boom features water- and stain-resistant coating, so you can use it by the pool without worrying. The Megaboom is waterproof and can survive 30 minutes submerged in about 3 feet (1 meter) of liquid, according to UE.
Music
All three speakers can play music from your device's library or from streaming services like Pandora, Spotify and iHeartRadio. Although some users say the bass is underwhelming, many have praised each model for delivering loud, clear sound.
But the Boom and Megaboom outperform their smaller counterpart. Their cylindrical bodies produce 360-degree sound for a more immersive listening experience, while the Mini can pump out audio in only one direction.
» MORE: Amazon Echo vs. Amazon Tap
Connectivity
These UE models share a majority of connection capabilities. They link wirelessly to Bluetooth devices — such as laptops and smartphones — but with a separately purchased cable, you can also connect iPods and other devices.
The speakers can pair with up to eight devices, making it easier to reconnect. Each can also connect to two devices at the same time, letting you and a friend take turns picking songs.
Each also functions as a speakerphone, so you can use it to answer your device's calls. And if you crave more volume, you can play music from your device through two Mini Booms, Booms or Megabooms at the same time.
The only connectivity feature that's not uniform across the three is wireless range. While the Boom and Mini Boom can both reach up to 50 feet, the Megaboom reaches twice as far, for a distance of 100 feet.
Power
If battery life is a top priority for you, all offer hours of wireless play. The Mini Boom can last up to 10 hours and the Boom up to 15. The Megaboom, unsurprisingly, boasts the longest battery life, up to 20 hours.
However, some users reported that their batteries had trouble holding a charge not long after purchase.
Which speaker is right for you?
With the lowest cost and smallest size, the Mini Boom is a suitable introductory speaker for those mainly looking for portability. It's good for more intimate gatherings. Listeners who want higher-quality sound and more features from their speaker without having to splurge on the most expensive model might find the Boom more suitable.
The Megaboom is a dependable choice for hardcore listeners. Although it's the largest and most expensive of the three UE speakers, it offers the longest battery life and best wireless range. The Megaboom's loud volume comes in handy in larger entertaining spaces, especially when paired with a second speaker.
More from NerdWallet
Bose SoundLink vs. Beats Pill
Amazon Echo vs. Sonos Play:1
Bose SoundLink Color vs. Mini II vs. Mini III
Lauren Schwahn is a staff writer at NerdWallet, a personal finance website. Email: [email protected]. Twitter: @lauren_schwahn.