Buying a Car, Gas or a Home: How Everything Is Different Now
Money News & Moves: How to budget to buy a car, and the forecast for gas prices. Also, how buying a home is changing.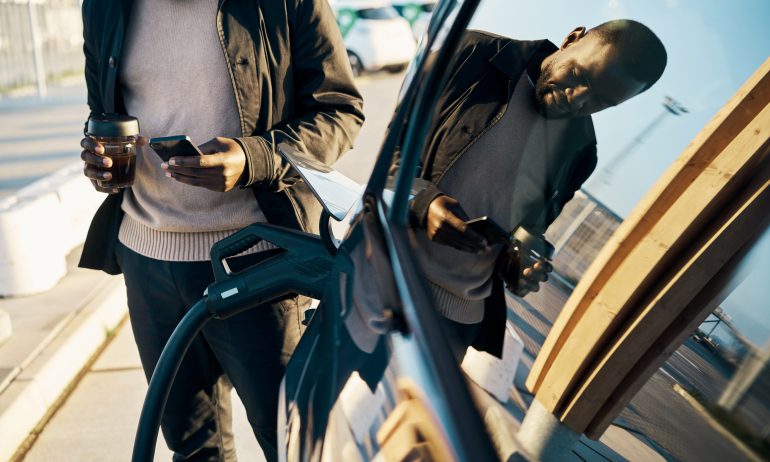 Many or all of the products featured here are from our partners who compensate us. This influences which products we write about and where and how the product appears on a page. However, this does not influence our evaluations. Our opinions are our own. Here is a list of our partners and here's how we make money.
The investing information provided on this page is for educational purposes only. NerdWallet, Inc. does not offer advisory or brokerage services, nor does it recommend or advise investors to buy or sell particular stocks, securities or other investments.
When it comes to driving these days, it's been feeling a little like, "You can't get there from here." For one thing, a typical monthly new car payment has shot up to over $700.
And it feels like it costs us about that much just to buy gas every month, am I right? How much was your first car payment? Somewhere around 200 bucks? And gas was around a buck fifty, maybe two dollars? Well, gas has eased down some from record prices, but average car payments have hit all-time highs. So good news, bad news.
Buying a house today is also fraught with good news/bad news scenarios. Buyers can negotiate more as the housing market slows — but rising interest rates are pricing some prospective homebuyers out of their budget.
Gas prices fall as oil slides to near $100 a barrel. What's the forecast?
The national average for a gallon of regular gas in the U.S. has dropped over 38 cents since hitting the all-time high of nearly $5.02 in mid-June, according to AAA. That's because oil prices briefly slipped below $100 a barrel and have remained near the century mark, after topping $120 just last month.
Lower prices could trigger increased demand — bringing back higher prices. But the government is optimistic.
The U.S. Energy Information Administration forecasts per-barrel oil prices to remain in the low $100s through the remainder of the year and to fall into the mid $90s in 2023. Of course, Russian oil production and tight supplies of oil inventory could spoil that prediction.
So it's not quite Oilmageddon. Yet.
How to save even more on fuel
Check out membership cards like Gas Buddy and Walmart+ for per-gallon discounts.

Remember to use rewards credit cards for cash back on gas purchases. (But be diligent in paying those purchases off each month, so you don't trigger interest expenses that can easily cancel out the rewards.)
Car loan payments soar. How much should you spend?
Buying a new or used car is no bargain either. Average monthly payments on new vehicles hit a high of $712 in May, according to Cox Automotive and Moody's Analytics. Used car wholesale prices have softened recently but were still up in June by nearly 11% from one year ago, Cox/Moody's reported. However, that's down significantly from March, when used car prices were up over 23% year-over-year.
How much should you spend on a car? The rule of thumb is no more than 10% of your take-home pay, with total vehicle expenses not topping 20%. Our article on how much car you can afford includes a handy calculator to help you do the math and come up with a payment you can feel good about.
Home buyers are walking away from deals
More home sales are falling through. Real estate brokerage Redfin says that some 60,000 purchase agreements were canceled in June — nearly 15% of the homes under contract for the month.
That's the highest contract cancellation rate since March and April 2020, when the pandemic roiled the real estate market.
Generally, higher mortgage rates are grinding down affordability and, as a result, sapping buyer demand.
Home purchase contingencies — such as favorable inspections and appraisals — are back in style. That's giving buyers opportunities to exit deals that slip out of budget, Redfin's deputy chief economist Taylor Marr said in a news release.
Marr added that qualified buyers still in the market are finding room to negotiate with sellers. That's something the prevailing near-coast-to-coast seller's market hasn't allowed much in recent years.
The latest measure of inflation: the worst so far this year
Finally, the latest inflation report was issued Wednesday. According to the U.S. Bureau of Labor Statistics, consumer prices rose 9.1% for the 12-month period ending in June 2022. That's the largest yearly increase in overall consumer costs since November 1981.
Energy, food and shelter costs accounted for the most significant impact on consumer prices. The government report defines "shelter" as the cost of renting a place to live; the price homeowners would have to pay if they were leasing their home; and lodging costs while traveling.
The Federal Reserve's goal of taming high prices by raising interest rates and slowing the economy is proving difficult. Last week's jobs report showed strong employment, despite ongoing expectations of a pullback.
All of this means the Fed is likely to raise short-term interest rates again — probably by at least another 0.75% — during its next meeting on July 27.