Beemers, Benzes and Other Luxury Used-Car Bargains
Some high-end models lose value faster than average — which can spell opportunity for shoppers.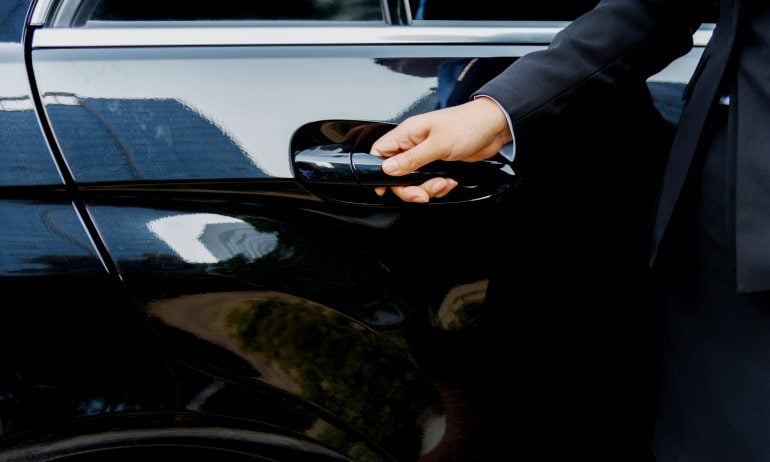 Many or all of the products featured here are from our partners who compensate us. This influences which products we write about and where and how the product appears on a page. However, this does not influence our evaluations. Our opinions are our own. Here is a list of our partners and here's how we make money.
While waiting for his BMW 5 Series sedan to be serviced, Bob Nagaishi browsed the car lot and noticed something amazing — 3-year-old luxury cars were selling for about half the price of the new ones. That got him thinking. And a few weeks later, he bought a loaded 2015 BMW 535i from a dealership in Beverly Hills, California. He paid $29,981 for a car whose sticker price was around $64,000.
"The car is immaculate, without any dings or wheel scrapes," says Nagaishi, a retired engineer who worked in the insurance industry. As a German car fan, Nagaishi likes the way his new BMW drives "substantially more powerfully" thanks to a turbocharged 6-cylinder engine.
But Nagaishi's luck on the car lot wasn't a one-off deal. Bargain hunters will be happy to know there are deals to be had on other lightly used high-end cars — and even on some strong-selling nonluxury models like the Volkswagen Passat and the Ford Taurus.
Although Nagaishi didn't know it at the time, his 2015 BMW topped a list of the best bargains on 3-year-old cars in a recent study by iSeeCars.com, which aggregates used-car listings.
The study found that the BMW 5 Series depreciated 52.6% after three years to an average price of $30,846, closely mirroring what Nagaishi found on the car lot. This is about 1.5 times the depreciation rate across all car segments combined, about 35% after three years, according to the study.
And Nagaishi's BMW wasn't the only luxury car on the list. Other high-end models, including the Mercedes-Benz E-Class, the Audi A3 and the Cadillac SRX, also made the cut. In all, the iSeeCars top 10 list includes six German cars, which have traditionally had high resale values.
"People who are in the market for a new-to-them vehicle are often surprised they can afford a 3-year-old luxury car," says Julie Blackley, communications manager for iSeeCars and author of the study.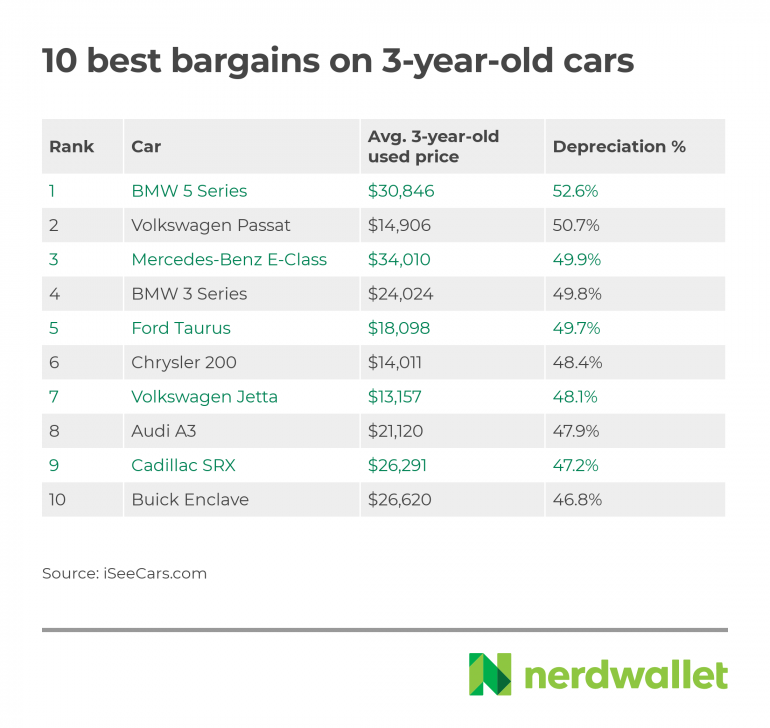 And beyond the deep discounts, buying a nearly new luxury car offers other advantages, according to the study:
Technology and options. Option packages, like the sport or luxury package, are costly for new-car buyers, but aren't sought after by used-car buyers. That means loaded cars cost less when resold.
More room to negotiate. Often, luxury cars are first leased, which means they're all returned around the same time period, flooding the market. Having many cars to choose from gives buyers leverage to negotiate a lower price.
Fewer miles, better condition. Since these cars were initially leased, the first owners were often careful not to exceed the mileage limitation and babied them to avoid turn-in penalties at the end of the lease.
Tips for luxury-car bargain hunters
The key to recognizing a bargain is to understand the current market and pricing. Reviewing the iSeeCars list is one way to find a solid car at a relatively low price. For example, the average price of a 2015 Volkswagen Passat is now $14,906, down 50.7% over three years. A 2015 Audi A3 goes for an average of $21,120, about 47.9% off the original price.
Once you find the market value of the car you want to buy, determine the value of your trade-in. Then be ready to negotiate.
The Beverly Hills dealership where Nagaishi bought his BMW had no-haggle pricing, making the transaction "as painless as car buying can be," he says. However, getting the right trade-in price for his previous car was more difficult. He wasn't satisfied with the initial offer for his 2011 BMW 5 Series, so he held out for a better price and ultimately got a $12,000 credit toward his newer car.
When buying a used car, Blackley also recommends getting a vehicle history report or running the vehicle identification number through iSeeCars' free VIN Decoder. You can use any negatives on the report as leverage in your negotiations, or pass on the car altogether.
"A 3-year-old car has a lot of life left, and if it's well-maintained, it should last 200,000 miles," Blackley says.
Depreciation in other segments
Other types of vehicles generally will not yield the same discounts for used-car shoppers. The lowest three-year depreciation in the iSeeCars study was in the pickup truck segment, at 23.3%. The biggest discount in that segment was the Ram 1500, which depreciated 33.2% over three years — still less than the average rate of depreciation among all segments.
Although luxury cars depreciate quickly, Blackley says sedans in general, and compact cars in particular, are "making a comeback" in popularity because of rising gas prices. This means they, too, will better hold their resale value — and be more expensive for used-car buyers.
Meanwhile, Nagaishi is enjoying his new-to-him 5 Series. It has only 24,000 miles on it, so he plans to have it for a long time.
Get more smart money moves – straight to your inbox
Sign up and we'll send you Nerdy articles about the money topics that matter most to you along with other ways to help you get more from your money.