What's My Car Worth? How to Find Its Resale Value
Your car's value depends on its condition and history, and how you plan on selling it.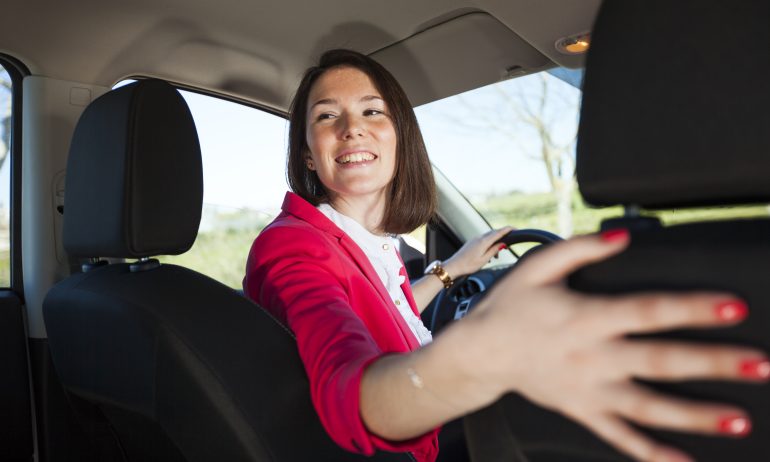 Many or all of the products featured here are from our partners who compensate us. This influences which products we write about and where and how the product appears on a page. However, this does not influence our evaluations. Our opinions are our own. Here is a list of our partners and here's how we make money.
There are many reasons you might want to find out what your car is worth. Maybe you've decided to sell your car and you wonder how to set a competitive price. Or maybe you're thinking about refinancing your auto loan and are worried you might owe more than the car is worth.
Fortunately, there are many tools to help you estimate your car's value — and now, many of them will offer to write you a check.
While it might sound odd, a car has different types of values. How you're selling it, if you're trading it in and who's paying for it affect a vehicle's estimated value. Here's a quick rundown of the types of values that are often discussed online when you're researching your car's worth:
Trade-in value: This is the lowest amount you will likely be offered for your car by a dealership, sometimes called the wholesale price. This tells you about what you should get if you trade in your car at a dealership when you buy another car. In most states, you'll need to consider the tax savings that could make a trade offer attractive.

Private party resale value: This is the amount you'll likely get for selling your car to anyone other than a dealer. This value is often more than the trade-in value but less than the retail value. If you advertised and sold your car yourself, this is about what you should expect to get after negotiations.

Dealer retail value: This is even higher than the trade-in or the private party price. It's about what the asking price would be if your car were being sold by a dealer.

Certified pre-owned value: Some used cars are inspected and sold along with a bumper-to-bumper warranty. These certified pre-owned cars command a higher price as indicated by some pricing guides.
When you're looking up car values, estimates are potential values. When it comes down to it, a price isn't a sure thing unless it's stated as an offer.
Information you'll need to estimate your car's value
You'll typically need to gather the following information to get a price on your vehicle. The more accurate you are, the more reliable your estimate or offer will be.
Year, make and model. Say you have a 2015 Nissan Sentra SL. "Sentra" is the model, and "SL" is the trim level. To find your trim level, look for the chrome letters on the back of the car. You may also find this in your owner's manual or on your vehicle's title, or by looking up the vehicle identification number (VIN) in a free online database like Carfax.
Color and optional equipment. The color of your vehicle can have an impact on its value, so be specific if given an option to select more than just standard colors. Optional equipment includes any features that don't come standard with the model, such as heated seats, a sunroof or leather upholstery. Sometimes, optional equipment is grouped in a package and given a fancy name like the sports or convenience package.
Vehicle condition. Pricing guides use varying terms to describe the condition of vehicles. Read the description of each condition level carefully and be honest when evaluating what matches your car to avoid receiving an inaccurate estimate. According to Kelley Blue Book, people tend to overestimate their car's condition. Unless the car is showroom fresh, it is unlikely to be "outstanding," for example.
Mileage. Every mile you drive reduces your car's value. Research by the U.S. Department of Transportation shows the average driver travels about 14,000 miles per year. If you've driven more than that, the value of your car is likely reduced. Provide the exact mileage of your vehicle for the most accurate offer.
Where to research car value
There are two primary resources for researching your car's value: pricing guides and online retailers. Guides provide estimated ranges, while online retailers make on-the-spot offers.
Pricing guides can give you an estimate of your car's value based on the information you provide about its age, mileage, condition and features. But since the guides don't write checks for cars, take them for what they are: data-driven estimates based on recent sales and seasonal trends.
Edmunds pioneered the concept of "true market value" pricing, based on real-world dealership transactions, to show the average price paid for a car in your area. Providing this impartial information helps consumers negotiate based on real-world data.

Kelley Blue Book offers an easy-to-use car value calculator that shows trade-in, private party and even certified pre-owned car pricing. Kelley has sometimes been criticized for presenting prices that favor car sellers — low numbers for trade-ins and high prices for dealer sales.

NADA guides, created by the National Automobile Dealer's Association, uses data on millions of car transactions to get an approximate value. This pricing estimator is backed by car sellers, and it is considered accurate by experts. The estimated value is what someone could reasonably expect to pay for a vehicle.
You'll probably notice some variation in pricing among the guides. That's because each uses different data and unique algorithms. However, the car values should be within several hundred dollars of one another.
Companies like CarMax, Vroom, AutoNation and Carvana allow you to sell, buy and trade in your vehicle from the comfort of your computer. Instead of driving to a dealership and talking with a salesperson, you can enter data about your car and receive an actual offer.
An online retailer's offer will generally be more reliable than an estimate from a pricing guide. That's because online retailer offers are based on real-time data and tend to reflect current market conditions specific to your location. What you get from pricing guides, on the other hand, are average ranges that aren't customized to you — and dealers can negotiate those prices down.
However, keep in mind that most online retailers will need to inspect your vehicle to ensure the information you provided is accurate. They may lower their offer if the car's condition is not as described. Online offers are often non-negotiable.
Online retailers can also lowball offers in certain conditions. This is common with older or rare cars where data isn't available to support demand. It can also happen if your car is not a big seller, in which case a retailer might offer a low amount because it'll be harder for them to resell.
If you feel that an online retailer's offer is lower than it should be, compare it with pricing guide estimates and offers from other online retailers. This will help you understand your car's value so you can better decide what you want to do with it.
Some online retailers will show you an offer and compare it to a pricing guide's estimated value range, which might make the offer look sweet. Keep in mind that pricing guides and online retailers might describe car conditions differently, so the two values may not be comparable. Do your own research to evaluate the comparison.
When you trade in your vehicle, you're negotiating the amount the dealership will pay to buy it from you. Trade-in value can be a tricky number to estimate on your own because a lot of factors can affect it. Here are the best methods for finding your car's trade-in value.
Get an online quote. By using online retailers like Carvana or Vroom, you can see an actual trade-in offer instead of an estimate. This can help you better understand how much your car is worth and give you a tool to use in your negotiation with the dealership. If the dealer's trade-in offer isn't the highest, you can always go with the online retailer's offer.
Visit a brand dealership. If you have a rare vehicle that might be difficult for online retailers to resell, consider visiting a dealership that sells your car brand. The dealership's team is likely to know the value of the vehicle because they sell it regularly.
Check pricing guides. Older cars or those with high mileage will be more difficult to value with online retailers, so check pricing guides. Check with more than one so you can compare estimates.
Selling direct to a dealer
Resale value is what a dealer is likely to pay to buy your vehicle outright without you buying one in return. Because each dealership's inventory and potential to sell specific makes and models varies, it's unlikely that two dealerships will offer you the same price. So it's good to get a benchmark to compare offers.
Start by using multiple online retailers to gather a good range of offers, which should only vary by about $1,000 or so. This will let you see where a dealership's offer should be and give you leverage to negotiate if a dealer comes in low.
To get a better idea of how much your car is worth, talk with a local dealership that commonly sells your make of vehicle and get an offer to use for comparison. They'll know how your car sells and if there's high demand for it. Compare the in-person offer to the online retailer offers — but keep in mind that the dealership has seen your car in person, while the online retailers have yet to inspect your car to ensure your description was accurate. In other words, don't be surprised if the dealer's offer is a little lower than the online retailers' offers.
It's perfectly acceptable to talk with a dealership to get a potential offer on your vehicle without agreeing to sell it beforehand. Don't let a dealership talk you into an agreement if you're just wanting an idea of how much your car is worth. If a dealership tries to pressure you into looking at other cars or agreeing to sell your vehicle before offering a value, find another dealership.
Selling to a private party
Private party value is what your car is worth if you sell it on your own without involving a dealership. The benefit here is that you are likely to make more money because no one but you is making a profit off the car. The downside is that you'll need to put more work into selling it.
You can start valuing your car by getting an online offer or two as a benchmark to see what retailers will give you. You should be able to ask for more than what you're offered through online retailers, so consider this a low number.
Your next step is to use pricing guides to get estimates for private party values — use several to get a good range. Pay attention to the following questions when filling out the information about your car:
How the condition is described. Pricing guides can use varying terms, but you'll want to be clear about the condition of the interior and exterior when you advertise your car.

Which features are labeled as standard and optional. Being able to speak to what features make your car valuable can help you sell it for a higher price.

Conditions that you otherwise wouldn't think to mention. Being able to say no one has ever smoked in your vehicle automatically makes it worth more. Things like this are important to note when discussing your car's history.
Once you have an idea of what your car is worth, take a look at comparable online listings from private parties. Compare the condition, features and mileage of your car to others that are for sale, and see what people are asking for them. Also check out the price that dealerships are asking for cars similar to yours. Browse local online marketplaces like Craigslist and Facebook Marketplace, which will show you what similar cars are going for in your area. Another option is eBay Motors, which reaches buyers across the country. Tapping into these resources will help you determine a price range for selling your car to a private party.
When you sell a car privately, you are responsible for signing the title to let the buyer transfer ownership into their name.
Get more smart money moves – straight to your inbox
Sign up and we'll send you Nerdy articles about the money topics that matter most to you along with other ways to help you get more from your money.