Would Credit Card Surcharges Benefit Your Business?
Surcharges can offset the expense of credit card processing fees, but there are limitations and legal guidelines.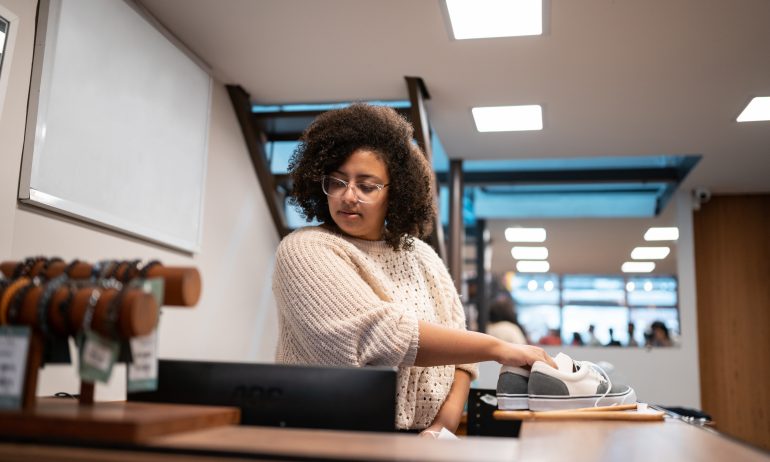 Many or all of the products featured here are from our partners who compensate us. This influences which products we write about and where and how the product appears on a page. However, this does not influence our evaluations. Our opinions are our own. Here is a list of our partners and here's how we make money.
Credit card processing fees eat into the profits of every small business. And the increased popularity of rewards cards can push this business expense even higher. Adding a surcharge fee to the sales price of credit card transactions may seem like a good solution.
However, there are specific rules that a business needs to follow when using surcharges. Customer acceptance, card network resistance and competitor practices should also be considered before moving forward with a surcharge program for your business.
What is a credit card surcharge?
A surcharge is a fee paid by a customer who chooses to use a credit card to purchase a good or service. A business adds this extra charge to the advertised price to help cover the cost of credit card processing fees. Surcharges are legal in most states, but there are rules that must be followed by the business.
Convenience fees and cash discounts are sometimes confused with surcharge fees. Although similar in some ways, there are some clear differences among them.
A convenience fee is an additional charge for allowing the customer to use an alternative form of payment. The alternative form of payment is different from what the business normally accepts. For example, a business that normally takes payments in person may charge a convenience fee for allowing a customer to pay over the phone. Convenience fees are legal in all U.S. states.
A cash discount is a reduction in price offered by a business to customers who pay with physical cash instead of cards or digital wallets. The discount is deducted from the advertised price when the customer pays. Cash discounts are also legal throughout the U.S.
Are merchant surcharges legal in my state?
A few states prohibit or limit the use of surcharges. According to Visa, these states include:
However, there is ongoing litigation in some states that affects surcharge rules. For example, Colorado passed a new law to allow surcharges, which will take effect July 1. Before moving forward with a surcharge program for your business, be sure to review the laws of your state.
What rules apply to surcharges?
A business's ability to add a surcharge to credit card purchases and the rules that govern the practice are primarily the result of a 2013 court settlement between a number of merchants and Visa and Mastercard:
A surcharge can't be applied to purchases made with debit or prepaid cards.

The surcharge fee can't be more than the cost of processing the credit card and is capped at 4% of the purchase price.

Notice of the surcharge must be given at the entrance of the business and at the point of sale. The surcharge notice must appear on the business's homepage for online transactions.

The surcharge dollar amount must appear on the receipt.

The surcharge can vary based on the card type for Visa and Mastercard transactions.
Card networks may have a few additional requirements. For example, Visa and Mastercard require 30 days' written notice be given to them and your payment processor before initiating surcharges.
Brand level or product level surcharges
A business can apply the surcharge in one of two ways:
Brand level surcharge. The same surcharge percentage is applied to all cards under a brand. For example, the surcharge for all Visa cards would be the same percentage. The percentage can't be more than the average processing cost paid by the merchant and is capped at 4%.

Product level surcharge. The surcharge percentage is different based on the type of card. For example, a higher surcharge percentage is applied to rewards cards because they typically have higher processing fees. The surcharge fee can't be more than the specific processing cost paid by the merchant for that type of card and is capped at 4%.
What should a merchant consider before adding a surcharge?
On the surface, adding a surcharge to credit card purchases may seem like an easy way to cut costs. It's true that the additional revenue generated by surcharge fees can defray the expense of credit card processing at the transaction level. However, before you make a decision for your business, there are other considerations to take into account.
While the 2013 settlement allows merchants to legally assess surcharges for credit card use in most states, the card networks strongly discourage it. Visa views surcharging as a practice that penalizes cardholders, and American Express goes as far as asking cardholders to report businesses that add surcharges on its cards.
Although the card networks often raise concerns about customer satisfaction and loyalty, customer acceptance is likely to vary based on an individual business's relationship with its customers. If given a choice, most cardholders would likely want to avoid any additional cost to a purchase. However, that doesn't mean that cardholders would not accept a surcharge, especially if they are notified in advance, as required by law, and given the business reason for the charge.
Another factor to consider is whether your competitors have surcharge programs. It can help if you aren't the only one charging your customers for credit card use. Customer acceptance tends to increase when something becomes common practice. Also, surcharge fees may be more prevalent in certain industries such as construction and medical services.
Alternatives to surcharges
While applying surcharge fees to credit card purchases can offset the cost of processing transactions, there are alternatives that could be more acceptable to your customers:
Build processing costs into pricing. A business can increase the overall pricing of products and services to cover card transaction fees.

Minimum purchase requirement. A business can set a minimum transaction amount for credit card users. The minimum can't exceed $10 and must be the same for card networks. For example, you can't set a $5 limit for Visa and a $10 limit for Mastercard.

Cash discount program. A business can offer a discount to customers who pay with cash to reduce the number of card transactions.

Reduce processing rates. Shopping around for competitive rates, asking for volume discounts and negotiating with your payment processor can also result in lower processing fees.