EVO Payments Review for 2021
Learn about the pricing, features and pros and cons of EVO Payments, plus top alternatives.
Many or all of the products featured here are from our partners who compensate us. This may influence which products we write about and where and how the product appears on a page. However, this does not influence our evaluations. Our opinions are our own. Here is a list of our partners and here's how we make money.
EVO Payments is a New York-based merchant services provider with a global presence. EVO Payments currently maintain divisions in the United States, Canada, Mexico and a variety of European countries, including England, Ireland, Germany, Spain, Poland and the Czech Republic.
Although EVO Payments seems to offer a variety of products and services that would be particularly appealing to businesses participating in international commerce, it's impossible to know exactly what EVO offers without working with one of its sales representatives. Additionally, EVO doesn't offer any transparent pricing information, making it difficult not only to estimate your costs but also to know if you're getting a good deal from its services. Read on for more.
EVO Payments is a merchant acquirer that offers a range of products and services including merchant accounts, payment gateways, POS tools and developer tools. With these services, EVO can offer you the products and tools you need to accept payments in a way that works best for your business.
While EVO Payments operates internationally, this review focuses on the products and services offered to U.S.-based merchants. Its products and services will vary significantly based on your country, and it's less than transparent with the information it provides on its website.
On the whole, there is very limited information about the details around its product offerings. It distributes products and services through a large network of third-party independent sales organizations (ISOs), sales agents and developers.
In essence, this means your pricing terms, contract terms and product offerings could vary greatly depending on the reseller you work with. Generally, we don't recommend using resellers for merchant services solutions, as these types of organizations often lack transparency and aren't always upfront with their customers.
So if you are going to consider using EVO, you'll want to go through it directly to learn more about its products and services.
EVO Payments doesn't provide much pricing information on its website. It simply states: "Open an all-in-one EVO merchant account and take advantage of simple pricing, free setup and global payment processing."
Based on customer reviews and the way that merchant service providers like EVO Payments typically work with resellers, this essentially means that the company operates on a quote-based pricing structure.
If you apply for an account through EVO, an EVO sales representative will price its services based on the specifics of your business and the particular products you need. If you work with a reseller, the pricing you receive will be up to the discretion of that company.
Estimating the cost of EVO Payments
Although it's impossible to determine EVO Payments pricing without working directly with its team or with a reseller, there are some things you can keep in mind with regard to the cost for your business.
First, EVO will likely quote your business by taking into account the size of your business, your sales volume, your industry and more. Then, your pricing will also be determined based on the products and services you need. These costs might include software costs, hardware costs and the cost of credit card processing.
In addition, EVO might charge you a range of recurring, one-time or incidental fees. In fact, as a more traditional merchant account provider, you're more likely to see some of these types of fees than you are with newer payment service providers, like Square or Stripe. Some fees you might encounter are:
EVO Payments gives a general sense of the merchant services it offers but doesn't go into very many specifics.
EVO Payments is a direct processor, meaning it will provide you with a dedicated merchant account and manage your credit card processing.
Merchant accounts are provided via either Deutsche Bank Trust Company Americas or Wells Fargo. EVO aims to make the process of applying for your merchant account as seamless as possible through what it calls "On-Time Approval." With On-Time Approval, EVO evaluates applicants in real-time via an online portal, making it possible to receive same-day acceptance.
Once onboard, EVO Payments will allow you to process magstripe, EMV (chip card) and NFC (digital wallet) payment methods, as well as e-commerce transactions.
EVO Payments can also accept payment in over 130 different currencies. Credit card types accepted include Visa, MasterCard, American Express, Discover, Diners Club International, EBT and debit cards. Other accepted payment methods include echecks and ACH transfers.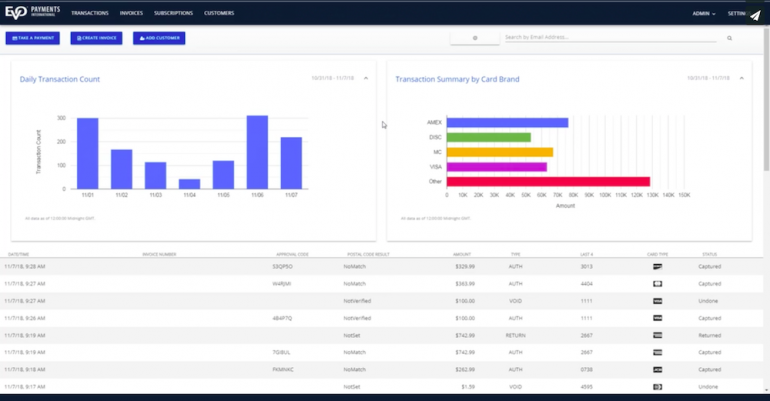 EVO Payments does not sell any proprietary POS hardware but does partner with major providers in the industry. You can acquire a variety of different types of credit card terminals from leading brands like Dejavoo, Verifone and Ingenico. You can also process mobile payments using your smartphone.
EVO isn't particularly specific about the POS solutions it offers, but it does seem like you can use EVO Payments with a variety of different kinds of POS terminals and software.
If you need a payments solution for your e-commerce website, you can use one of the many online-based solutions offered by EVO Payments.
EVO offers payment gateways, virtual terminals and recurring payments, plus the omnichannel EVO Snap* platform that allows developers to integrate an all-in-one online payment solution for e-commerce businesses.
Perhaps the most information-rich section of the EVO Payments U.S. website is the section on EVO's developer tools, primarily EVO Snap*.
EVO Snap* provides payment APIs and toolkits that make it possible to integrate EVO Payments into a broad array of third-party apps, POS systems, shopping carts and other software.
EVO Marketing allows you to "connect consumer data with payment and marketing services to create and enhance customized loyalty programs, card-linked offers and real-time rewards at the point-of-sale."
There is also a service that allows you to create branded gift cards and process them via your EVO Payments merchant account.
EVO provides its merchants with a web portal where it can "easily track sales and customer spending patterns, measure marketing effectiveness, process returns and voids and a lot more."
EVO Payments says it can provide merchants with short-term capital in as little as 24 hours.
Merchants would repay EVO Payments with a percentage of their sales each month.
EVO provides merchants with data protection and fraud-fighting tools.
On the website, it says "EVO's sophisticated fraud-fighting tools reduce the time, cost and complexity of PCI compliance."
For U.S.-based merchants, EVO Payments offer 24/7 technical support by phone. In terms of other resources, perhaps the best information can be found within the developer's tools on the EVO Snap* website.
Let's explore the possible advantages and drawbacks of using this merchant service provider for your business.
First, here are a few benefits to consider:
Variety of services: Although EVO Payments fails to provide a lot of information on its products and services, it does seem to offer a lot of options for businesses. This is typically one of the benefits of working with a large merchant acquirer; it has usually scaled to the point where it can be an end-to-end solution for its merchants. Any business that works with EVO Payments will have the flexibility to pick and choose the products it needs to create a truly bespoke payments service. And because EVO operates around the world, it can be a reliable partner as your business scales.

International reach: If your business operates outside of the U.S., or if you are an e-commerce merchant, EVO Payments makes it easy for you to process a broad range of currencies. Furthermore, EVO can provide merchant accounts in 50 different markets around the world, meaning you won't have to find a new merchant account provider if and when you begin operating abroad.
Of course, there are drawbacks to keep in mind as well:
Lack of information and transparency: Even for a merchant service provider, EVO's website is sorely lacking in information. In an industry that is already rife with transparency issues, this is certainly troublesome. There are already enough merchant services providers out there that don't offer specific pricing information and rely on third-party resellers. On top of all that, EVO also doesn't give a sufficient amount of information on the products it offers. It may be difficult to trust a vendor that gives you so little to work with.

Negative customer reviews: The majority of online customer reviews written about EVO Payments merchant services are extremely negative.
Unfortunately, despite having an A+ rating from the Better Business Bureau, EVO Payments has had a total of 166 complaints in the past three years on that site. Other online reviews available about this merchant service provider are also generally negative.
Although there are some more positive reviews discussing the service in the U.K., U.S. business owners have a number of complaints about the service they received from EVO.
More specifically, these negative reviews typically focus on:
Unhelpful customer service.
It's important to take negative reviews with a grain of salt, as customers with a poor experience are more likely to leave reviews than those with a positive one. This being said, however, considering the number of BBB complaints and generally negative sentiment toward EVO Payments, these reviews are certainly worth keeping in mind.
At this point, whether or not you think EVO Payments merchant services are right for your business, it's important to consider top alternatives, and determine whether there are other options out there that can better serve your business's needs.
Square is a payment service provider, meaning you get an aggregated merchant account with a built-in gateway. Square also offers a transparent processing rate of 2.6% plus 10 cents for in-person transactions and 2.9% plus 30 cents for online transactions (on all credit card types).
Furthermore, with Square, you get free add-ons like POS software and a mobile magstripe reader. Perhaps most importantly, the Square website is loaded with information on all its products and services, including pricing details.
If you'd prefer a dedicated merchant account, you might look into CDGcommerce.
This merchant acquirer offers a pricing model based on your transaction volume. If you process under $10,000 in monthly volume, you'll only have to pay for the price of credit card processing: 2.75% plus 30 cents per transaction for in-person payments and 2.90% plus 30 cents per transaction for online payments.
There are no monthly fees, annual fees or other extraneous fees. Plus, CDGcommerce includes a free payment gateway, free mobile application and compatibility with a handful of POS systems.
A version of this article was first published on Fundera, a subsidiary of NerdWallet.