How to Get Handyman Business Insurance
Most handymen will need general liability insurance. Additional coverage may be a good option depending on the risks you face.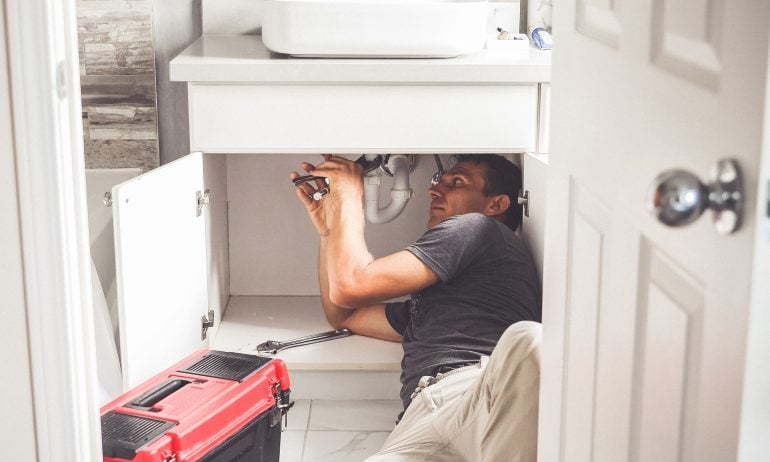 Many or all of the products featured here are from our partners who compensate us. This influences which products we write about and where and how the product appears on a page. However, this does not influence our evaluations. Our opinions are our own. Here is a list of our partners and here's how we make money.
To protect your handyman business from third-party claims of bodily injury, property damage or advertising injury, you'll need general liability insurance. General liability coverage may be sufficient for some handyman businesses, but others may benefit from additional policies, such as tools and equipment insurance or commercial auto insurance.
You can shop for handyman business insurance by contacting providers directly, using an online marketplace or working with a broker.
Here are the types of small-business insurance that handymen should consider, as well as the steps you can follow to find the right coverage for your needs.
To perform work in certain states, you may need a handyman or contractor's license. You may be required to show proof of business insurance to be eligible for a license, among other requirements. Check your state and local regulations to ensure that you're in compliance.
A handyman business with several employees will likely have different insurance needs than a self-employed, sole proprietor. The business with employees will probably need workers' compensation insurance to cover employee medical expenses in case of work-related injury or illness, whereas the self-employed handyman wouldn't need this coverage.
Understanding the potential risks you face, like employee injury, will help you decide which insurance policies are right for your needs.
Here are some of the other common risks handyman businesses face:
Accidents that cause injury to someone.

Damage to someone's property.

Theft of or damage to tools and equipment.

Accidents or damage to business vehicles.
Think about the hazards, weather events and accidents that may impact your business. You'll also want to consider how factors such as your location, type of work, years of experience, business assets and number of employees contribute to your level of risk.
2. Decide which types of insurance you need
The insurance policies you purchase should protect your handyman business from the different risks you've identified.
General liability insurance for handyman businesses
At a minimum, most handymen will need general liability insurance, especially since this coverage can be a state, city or client requirement for certain projects or work agreements.
General liability insurance typically covers:
Bodily injury: Third-party injuries that occur as a result of your business operations. If a client trips and falls over your tool box, this policy would help pay for any associated medical, legal or settlement costs.

Property damage: Damage to the property of a third-party caused by your business. If you're installing curtains in a client's window and accidentally shatter the glass, your general liability policy would help cover the costs to replace it.

Personal or advertising injury: Claims of libel, slander or copyright infringement made against your business. If you create marketing materials for your business, unknowingly using a trademarked phrase, and the owner of the trademark sues, this insurance would cover associated legal and settlement costs.
Additional handyman insurance options
The chart below shows some of the types of business insurance — in addition to general liability insurance — that may be applicable for handyman businesses, and what these policies generally cover.
Employee medical expenses for illness and injuries sustained while on the job. Most states require employers to have workers' compensation for their employees. If your employee falls off a ladder while hanging a painting on the wall, their medical expenses would be covered by workers' comp.

Vehicles used for business purposes. Covers accident-related costs that result from injuries or property damage.

If you're delivering materials to a job site and accidentally sideswipe another car, this policy would cover damage to the vehicle and any injuries the driver sustains.

Damage to business assets, equipment and inventory caused by certain hazards, accidents or weather events.

Commercial property insurance would cover the cost to replace tools and supplies if they were destroyed by an electrical fire in your workshop.

Tools and equipment insurance

Repair and replacement of stolen, damaged, broken or vandalized tools and equipment. Can cover equipment on the job, stored in a workshop or in your vehicle.

If your truck is broken into while parked at a client's house and your tools are stolen, this policy can help cover the costs to replace them.

Claims against your business for errors or oversights, professional negligence, breach of contract or failure to deliver a service on time.

If you recommend and install a series of light fixtures for a client and the client later sues you, claiming the fixtures led to a drop in customers, your professional liability insurance would cover associated legal or settlement costs.
You might also consider bundling multiple handyman insurance policies into a business owner's policy, or BOP. Business owner's policies typically combine general liability insurance, commercial property insurance and business interruption insurance. However, coverage can be customized to your needs.
What's the best fit for your business?
Answer a few questions and we'll match you with an insurance partner who can help you secure quotes.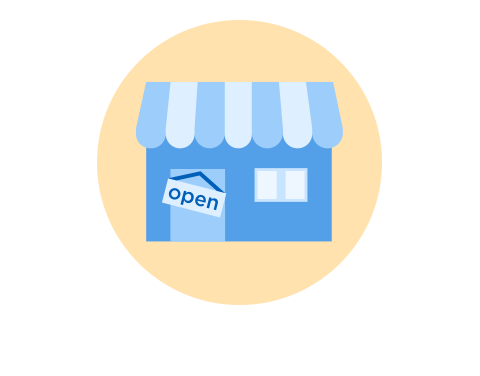 You have a few different options to shop for the right insurance for your handyman business:
Contact insurance providers directly
Online insurance companies like Next and Thimble, as well as more traditional companies, like Progressive, offer policies designed specifically for handyman businesses.
If you have an existing relationship with a provider or have a good understanding of the coverage you need, you might decide to contact them directly to get quotes and purchase your policies.
| | |
| --- | --- |
| | |
| You have an existing relationship with an insurance provider. | It can be time-consuming to contact multiple providers for quotes. |
| You already know what types of insurance your business needs. | You may not have one point of contact or the same level of personalized attention you would have with a broker. |
| You want to get quotes and purchase your policies quickly. | |
| You only need to purchase a general liability policy or BOP. | |
Use an online marketplace
Online marketplaces allow you to compare quotes from multiple insurance providers simultaneously. These marketplaces typically provide access to customer support representatives who can discuss your coverage needs and answer any questions you may have.
Most marketplaces allow you to get quotes online, however, some also offer phone-based quotes.
| | |
| --- | --- |
| | |
| You want to be able to compare quotes from several providers at once — without the hassle of contacting each company separately. | The quotes you receive will be limited to the insurance providers within the marketplace network. |
| You want to streamline the shopping process and purchase a policy quickly. | You may not be able to manage all parts of your policy, post-purchase, through the marketplace. |
| You want to manage the buying process on your own, but would like the option to contact an expert for advice and support. | Processes may become confusing with several points of contact involved — between you, the marketplace, the provider you choose, etc. |
Insurance brokers offer a greater level of personalized attention. They work with you to understand the types of policies you may need, contact providers for quotes and help you compare your coverage options.
| | |
| --- | --- |
| | |
| You want a single point of contact for shopping and purchasing insurance. | Some brokers charge a fee for their services. |
| You are unsure what type of insurance you need; you've never purchased business insurance before. | Brokers are not required to find you the most affordable policies. |
| | Brokers work on a commission structure, which means they might try to sell you additional policies or add-ons. |
The knowledge and experience of an insurance broker can be useful, especially for businesses with more complex coverage needs. On the other hand, handyman businesses that only need a standard general liability policy may find that working with a broker is slow and not as beneficial compared to other choices.
NerdWallet recommends getting quotes from multiple providers to compare your options before deciding which company is right for your handyman business.
Here are some points of comparison to keep in mind when making your decision:
Coverage: What is covered under the policies the provider offers? What isn't covered? Are there add-ons available that may be useful to your handyman business?

Liability limits: What is the maximum loss that the provider will cover under the policy? For example, Thimble offers two policy options for general liability insurance for handyman businesses. You can choose a $1 million or a $2 million liability limit, based on your needs and level of risk.

Cost: How much will the policy cost? Is there a deductible? If so, how much is it? Can you save money by bundling multiple policies into a BOP?

Reviews: Is the insurance provider well-reviewed? What have other businesses reported about their experience with the provider? You can check the National Association of Insurance Commissioners website to see how many complaints have been filed against providers.
Once you've determined the insurance provider that offers the best coverage for your business, it's time to buy your policies. After you purchase your policy, you should create an online account, if available, as well as set up payments and learn how to file a claim.
If you know that you're going to need a certificate of insurance to start a handyman job or validate a work contract, you'll want to be sure that you walk through the process of requesting that document from your provider. Some providers may even allow you to log in to your online account and send your certificate of insurance via email or text to your client.
Similarly, some clients may require that you add them to your policy as an additional insured, so it can be helpful to understand how this process works, as well.
6. Renew your policies annually
You should review your handyman business insurance on an annual basis and make sure that your coverage is up to date. If your business experiences significant growth or change before your policies are up for renewal — like hiring your first employee — you may decide to reevaluate your insurance coverage at that time.