Host Merchant Services Review: Cost, Features, Alternatives
This Host Merchant Services review breaks down the merchant services provider's features and pricing.
Many or all of the products featured here are from our partners who compensate us. This influences which products we write about and where and how the product appears on a page. However, this does not influence our evaluations. Our opinions are our own. Here is a list of our partners and here's how we make money.
If you own a high-risk business — for example one that processes foreign currency, or is in an industry with traditionally high chargeback or fraud rates — it can be challenging to find a merchant services provider that will do business with you.
Host Merchant Services works with high-risk businesses, and offers many services like payment processing, POS systems and even business cash advances. With its positive reviews and an A+ rating with the BBB, it may be the solution your business is seeking. Here's what you need to know.
Find the right payment provider to meet your unique business needs.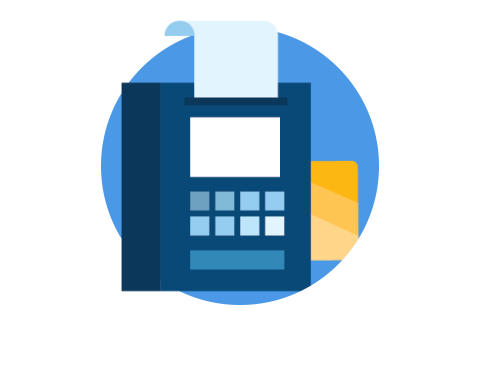 What is Host Merchant Services
Host Merchant Services is a merchant services provider that works with some high-risk businesses, as well as non-high-risk businesses. It specializes in providing payment processing, but it also helps businesses get set up with point-of-sale systems and business tools like websites and loyalty programs.
Some of the high-risk businesses Host Merchant Services works with include debt collection and recovery, e-cigarettes and vape shops, airlines, timeshares, gambling and casinos, real estate and more. Other industries that it works with that aren't necessarily high risk include auto, retail, restaurant, hospitality and more.
Host Merchant Services has a number of features available to help your business run more smoothly, even if it is a high-risk business.
Payment processing is likely the feature you were looking for when you started searching for a merchant services provider. Host Merchant Services has a no-term commitment with its payment-processing services, which is good news for you as the customer. It also offers customer support 24 hours a day, seven days a week, 365 days a year.
Host Merchant Services will allow you to accept credit, debit and EMV chip cards, as well as NFC payments. According to its website, 98% of businesses it works with qualify for free equipment. It also offers wireless terminals and mobile solutions, if that's a better option for your business.
For e-commerce companies, Host Merchant Services supports over 100 payment gateway options and provides virtual terminal and online shopping cart functionality. In terms of security, its products are EMV and PCI compliant.
Host Merchant Services offers four different point-of-sale systems for your business needs. It works with Clover, Vital, Bonsai and SwipeSimple to provide you with the right POS system for your business. Each one offers a unique set of features: Some come with different additions like inventory management, while others simply handle the actual point-of-sale.
You'll likely want to work with Host Merchant Services to choose the right POS system and the right POS hardware for your business.
If you run a high-risk business, you're likely all too familiar with the less-than-reputable companies out there that try to take advantage of high-risk business owners. That said, while there isn't a ton of pricing information on Host Merchant Services website, it does claim to have no application fees, no setup fees and no hidden charges. Additionally, you may qualify for free equipment.
Its transaction fees will vary depending on what type of business you have. For restaurants the processing rate is 0.20% plus nine cents per transaction, for retail it's 0.25% plus ten cents and for e-commerce it's 0.35% plus ten cents.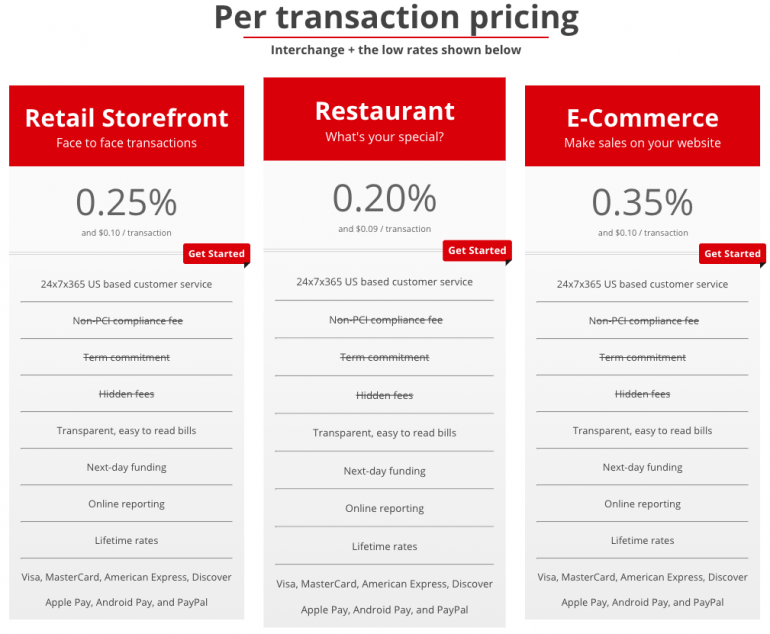 There are other fees associated with using its services. While there's no application or setup fee, there is a monthly fee ($14.99) along with an annual 1099 reporting fee ($24). There are different costs depending on the featured gateway you choose as well.
Not all of the fees are made available on the site. To get a good idea of what your costs would be, you can get a free quote from Host Merchant Services by filling out an online form, then going through the quote process with a specialist. It says that if it "can't match or beat another price," it'll give you a $50 gift card.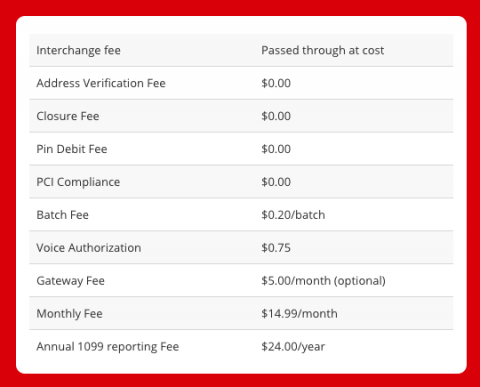 Tailored business solutions
Host Merchant Services will work with you to help create a custom-fit solution for your business that includes an affordable point-of-sale system, possible free equipment for your business, low rates and more. It works with you to find the right solution for your business and the right POS, as well.
You don't need to worry about being locked into a contract with Host Merchant Services. It offers services without requiring a commitment, which is not always the case for companies that cater to high-risk businesses. With Host Merchant Services you also don't have to pay a PCI compliance fee or a closure fee.
The company only has one complaint with the Better Business Bureau and both of the Host Merchant Services reviews also on the site highlight the customer service experience those customers had with the company. "Outstanding customer service. Always available to help, and customer support is first class," one of the reviews wrote.
Host Merchant Services offers customer service 24/7/365. It's available for you to contact whenever you need assistance.
The processing cost for Host Merchant Services could be expensive for some smaller businesses. The fact that not all of the prices for its services are listed on its website can be a drawback too. You do have to contact the company directly for a complete quote, and without transparent pricing you don't know if your quote is higher than quotes for comparable services.
If you're a regular business owner and not in one of the high-risk industries or businesses, you don't need to go with a specialized company like Host Merchant Services. While its specialization in high risk is great for high-risk businesses, it's not necessary for your non-high-risk business.
Before making your final decision, it's important to determine whether your business is considered high-risk and whether you truly need a high-risk merchant services provider. If you don't need a high-risk provider, there are other providers to explore. If you do run a high-risk business, however, here are some Host Merchant Services alternatives you'll want to consider.
Durango Merchant Services
Based in Durango, Colorado, Durango Merchant Services has been in business for more than 15 years. It has an A+ rating with the Better Business Bureau and only one complaint listed alongside otherwise five-star reviews.
Durango Merchant Services offers free rate quotes, quick setup, fraud-protection services and customer service that's been highlighted by current customers. It's also a good option for companies that work with international customers and different types of currencies.
For high-risk businesses in digital streaming, document preparation, fantasy sports industries and more, consider Soar Payments. It offers instant price quoting on its website, and all the paperwork is available online too. It also claims to offer industry minimum pricing, although you'll still have to contact the company directly for the specifics.
Soar Payments provides merchant accounts for low, medium and high-risk businesses. Like Host Merchant Services, Soar offers retail, mobile, virtual terminal and e-commerce payment-processing solutions.
PaymentCloud offers high-risk businesses a little more customization than some other solutions. With PaymentCloud you have the option to integrate a third-party payment processor with its system, as well as your online shopping cart — and PaymentCloud will handle the deployment process.
There are also some drawback to consider however. Users report difficulties using the software and that the website is a little confusing to navigate. That said, customers also highlight how helpful the customer service team is.
A version of this article was first published on Fundera, a subsidiary of NerdWallet.
Find a payment provider tailored to your needs
Compare options
Compare features and pricing from our top payment picks.
Find a payment provider
Identify a payment provider that best suits your needs.
Open an account
Sign up with a provider directly on their website.