Imonggo Review 2022: Features, Pricing, Top Alternatives
We'll explore features, pricing and more to help you determine if the Imonggo free POS software is right for you.
Many or all of the products featured here are from our partners who compensate us. This may influence which products we write about and where and how the product appears on a page. However, this does not influence our evaluations. Our opinions are our own. Here is a list of our partners and here's how we make money.
Running a business can be expensive, especially if you're paying a substantial monthly fee for a crucial piece of your operations. Although not nearly as prevalent as paid software, some free point-of-sale systems solutions are available to business owners, one of which is Imonggo.
With the Imonggo free POS software, solid base features and a variety of hardware options, this system is best-suited for smaller businesses or those just starting out. This detailed guide will help you determine if Imonggo is the right choice for your unique business.
Imonggo is a free POS software designed to accommodate small-business owners. Imonggo POS is web-based, meaning you can access your account anywhere you have internet access and use your point-of-sale account on your computer, smartphone or tablet. You can use Imonggo to run the whole of your business operations — including processing customer purchases, accepting payments, managing inventory and more.
Because Imonggo is web-based and has a large focus on affordability, you can choose from a variety of compatible hardware options or use devices you already own. In addition to its signature free POS software, Imonggo also offers a paid, premium plan.
Here's a brief overview of the Imonggo free POS software's capabilities.
With the Imonggo POS system, you'll be able to run one store with one user account. You can access your Imonggo account wherever you have internet, on a variety of different devices. Imonggo also gives you the ability to use its offline mode, if necessary, and sell items without an internet connection.
The Imonggo free POS software allows you to add up to 1,000 products. Imonggo lets you create products easily — adding photos, pricing, tags, types and descriptions. Imonggo also allows you to use a CSV file to bulk upload your products.
Additionally, you can download a product list and sync your catalog to an e-commerce site. The Imonggo product dashboard allows you to view a product's stock and price history, as well as label products as kits, compositions or even inactive.
Selling and accepting payments
As soon as you've added products to your Imonggo POS account, you can start selling and taking customer orders in your store. When you ring up a customer's purchase, you can use the Imonggo advanced functions for open price, split payments, layaways, reward points and email receipts.
You can also designate your currency, default payment type and create custom payment types. With the free Imonggo account, there is no direct credit card processing integration, so in order to accept credit card payments, you'll have to use an outside service.
Imonggo accommodates payment types such as cash, gift cards, checks, deposits and points. In addition, Imonggo allows you to manage taxes — including inclusive or exclusive, single or multiple and item-specific tax options.
The Imonggo free POS software limits you to 1,000 transaction lines per month. A transaction line refers to every item on an invoice. Therefore, if you sell five different items, that accounts for five transaction lines, even though you may have sold more than one of the same item. Once you've reached this limit, you must wait until the next month to start selling again or upgrade to the Imonggo premium plan.
With Imonggo, you can track your product inventory, manage your suppliers and monitor inventory orders. The Imonggo inventory dashboard (which it also calls the Stockroom) allows you to filter based on inventory types — such as "out of stock," "low inventory" and "fast or slow moving" items.
You also can download your inventory list, search based on product name, stock number, barcode or description and print individual or multiple barcodes. Moreover, if your business sells services, you can indicate items as such, so Imonggo will not track the quantity in the Stockroom.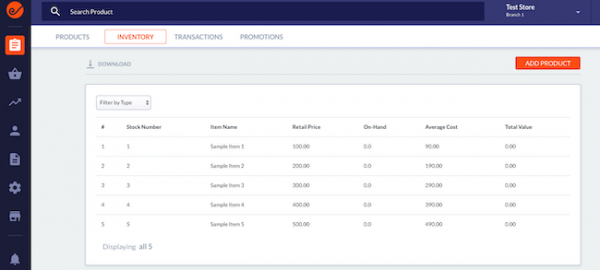 Customer relationship management
Imonggo allows you to develop promotions and offer discounts, as well as create a customer loyalty program. When customers become members of your loyalty program, you can give them instant discounts or points every time they purchase products. Additionally, from the Imonggo customer dashboard, you can record customer information, purchase history and indicate their membership status, if they have one.
With Imonggo, you have access to all of your sales data and can view items sold, gross sales and transactions on a daily, weekly or monthly basis. Imonggo also allows you to view your top products in any given period, track sales by salesman and manage inventory data.
In addition, Imonggo POS gives you the ability to generate reports based on a wide variety of business categories, including sales, discounts, products, customers, payments, points and taxes.
As a free POS software, Imonggo does not offer many integration capabilities. Imonggo only accommodates two direct integration options — Shopify and Xero.
Even with the Imonggo free POS software, you have access to a few customer support options. Imonggo offers tutorials and informational blog posts on its website and a knowledge base with frequently asked questions and answers from the Imonggo team. Additionally, you can use Imonggo's 24/7 live chat feature to ask questions directly to customer support staff.
If you opt for the Imonggo premium plan, you'll receive a few notable differences in functionality.
First, the Imonggo premium plan has no limits for products or transaction lines. Additionally, the premium plan allows you to create multiple users and multiple "branches," or stores. Perhaps most importantly, the premium plan gives you the ability to accept credit cards using direct payment gateway integration with either Worldpay or Authorize.Net.
You will also have access to advanced features in terms of customer loyalty, invoice downloading, access to mobile apps, etc. — but Imonggo doesn't clarify exactly what this entails. If you're interested in the premium plan, create a free account, test your capabilities and then reach out directly to Imonggo for more information.
One of the significant features of Imonggo POS is that you have a wide range of hardware options. As a web-based system, you can use Imonggo directly from your computer, smartphone or tablet, without needing to purchase additional POS hardware. Imonggo offers an iPad app where you can log in, access all of your data and sell in your store using your iPad.
Imonggo is compatible with numerous POS peripherals, including barcode scanners, cash drawers, as well as receipt, barcode, BlueTooth and ethernet printers — and lists recommended models on its website.
If you have the Imonggo premium plan and utilize its credit card processing integration, you'll have to work with your chosen provider to receive a compatible payment terminal.
Imonggo offers two POS software options, its free account and its premium plan. The free account, is of course, free — with no contract required and the ability to upgrade at any time. The premium plan costs $30 per month, per branch.
In addition to the cost of your software, you'll also want to consider the cost of payment processing. If you want to accept credit cards with the free Imonggo account, you'll have to do so outside of your POS software, which means finding and choosing a processor and incurring any associated monthly or transaction fees.
With the Imonggo premium plan, you'll pay the respective credit card processing fees from either Worldpay or Authorize.net, depending on which provider you choose.
In terms of the cost of Imonggo POS hardware, you have the option to use devices you already own or purchase new hardware. The price of POS terminals and peripherals can range depending on the device and seller. Peripherals like receipt printers and cash drawers will typically cost anywhere from one hundred to a few hundred dollars.
Here are some of the most notable highlights of this free POS system.
As a small-business owner, "free" is always a top benefit of any tool. Even with its free POS software, Imonggo doesn't lack functionality but instead offers a variety of capabilities — from products and inventory to customer loyalty and promotions. There's no doubt that a business, especially new and smaller businesses, could manage its operations with this POS system.
As an additional plus, since the free Imonggo account is accessible wherever you have internet, you can likely can operate this system without having to purchase a specific POS terminal or additional hardware.
Another significant benefit of Imonggo POS is the system's usability. If you sign up for a free account, you can see just how simple and clear the system is to use. With the left-hand navigation, you can toggle through various parts of your POS, view your sales dashboard and process customer purchases. Plus, all of the necessary items in your system, like products and inventory, can be viewed, edited, filtered and searched.
By all accounts, the Imonggo system is intuitive and user-friendly, especially for business owners who are new to point-of-sale systems.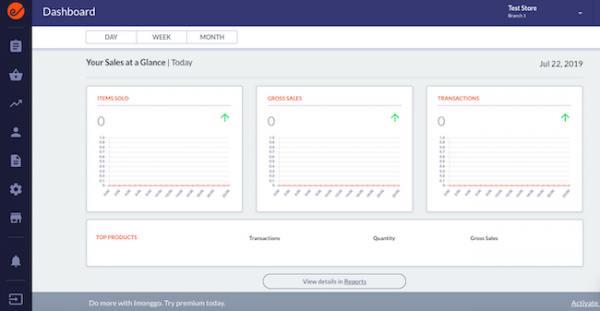 Despite these advantages of Imonggo POS, there are also some drawbacks to consider.
With the prevalence of credit cards in this day and age, it's become more and more necessary for small businesses to accept credit cards, debit cards and even digital payment methods. As such, the fact that the free Imonggo POS account does not include any direct payment processing integration is a significant downside.
Imonggo does allow you to create custom payment types and accept credit cards outside of the POS system, but these abilities simply do not compare to other solutions on the market. Moreover, even with the premium Imonggo plan, you're limited in your processing options — as you can only choose from two providers.
Imonggo is limited in the overall functionality it offers. Although it certainly offers sizable capabilities for a free solution, it leaves little room for business growth or expansion with the included features. Since Imonggo only offers two integration options, if you want to use additional third-party tools, like those for email or social media marketing, you'll have to do so outside of your POS.
Even though Imonggo offers a premium plan that allows for direct payment processing integration, the premium plan is rather lacking in other advanced capabilities — especially considering the $30 per month cost. There are other POS options on the market that can provide your business with greater functionality (some of which are also free).
Unfortunately, Imonggo reviews on the internet, especially current ones, are relatively limited. Reviews that are available suggest that users are pretty satisfied with this system.
Imonggo reviewers write that the system is inexpensive, easy to use and state that the customer support team is helpful — while also acknowledging that the product does have limitations.
With so many point-of-sale options available, you may want to explore these alternatives before making your decision:
If you like the affordability of Imonggo but want a little more from your POS system, you might think about Loyverse POS. Like Imonggo, Loyverse offers a free POS software with a variety of features and hardware options.
With Loyverse, you can run your POS using an iPad or iPhone, as well as an android tablet or smartphone — meaning you may very well be able to operate using hardware you already own. Loyverse offers several peripheral options including cash drawers, barcode scanners, printers and more.
Loyverse stands out from Imonggo with more advanced features — such as item variants, multiple stores (without an additional cost), stock notifications, tax reports, customer notes and end-of-shift balancing. Plus, Loyverse offers functionality designed specifically for restaurants, like a kitchen display system and dining options.
Additionally, Loyverse POS includes integrated credit card processing through Worldpay, as well as paid add-on options for employee management and advanced inventory.
Perhaps one of the most well-known POS systems out there, you might also consider Square POS. Although Square offers paid software for both retail and restaurant businesses, there's no doubt that the basic Square POS can service a variety of different businesses.
Like Imonggo, the basic Square POS software is completely free. Your first magstripe reader to accept card payments is also free. With Square, you'll pay card processing fees. Most in-person transactions cost 2.6% plus 10 cents.
Square runs on most Apple and Android devices. Square also offers its own hardware: Square Stand, Square Register and Square Terminal, which range in price from $149 to $799.
Despite the hardware costs, Square POS can offer much greater functionality and integration options than Imonggo. First and foremost, Square POS includes in-house credit card processing, which includes fraud protection, PCI compliance and dispute management. Its point-of-sale software specifically offers features such as: invoicing, saved credit cards on file, customer notes, employee management, offline payment acceptance and more.
Also, Square has its own paid product suite for additional capabilities like marketing, payroll and loyalty, as well as an app marketplace where you can connect to third-party tools ranging from inventory to analytics to accounting.
A version of this article was first published on Fundera, a subsidiary of NerdWallet.