Linga POS Review 2021: Pricing, Features, Top Alternatives
Linga POS can do way more than process payments. Our guide covers pricing, features and alternatives.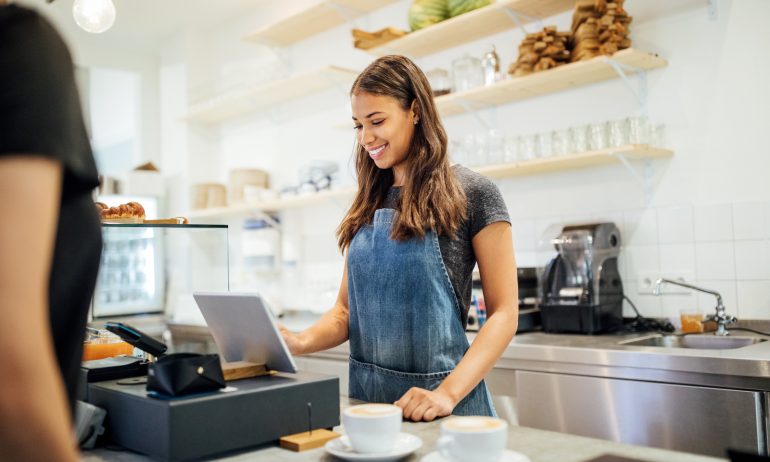 Many or all of the products featured here are from our partners who compensate us. This may influence which products we write about and where and how the product appears on a page. However, this does not influence our evaluations. Our opinions are our own. Here is a list of our partners and here's how we make money.
Restaurant and bar owners have very specific needs when it comes to running their businesses and the point-of-sale systems they use are no exception to that. It only makes sense that a POS system specifically designed for your restaurant or bar's needs would be a great fit for keeping things running smoothly.
You need your POS system to be able to accept payments and keep your business running. Some POS systems can do way more than process payments. The newest most modern ones can also offer you reporting and tax help as well, among offering other features. That's where Linga POS comes in.
Restaurant and bar owners might recognize the name Linga POS because it's a POS made specifically for those in the food service industry. It's part of Benseron Hospitality, a company that provides POS, online ordering, merchant services and payment technologies.
Benseron was founded in 2004 and by 2005 was the service provider for 400 Subway restaurants. Today it's known for being a cloud-based POS provider, including the restaurant POS system offered by Linga.
As stated before, Linga POS is the point-of-sale system from Benseron specifically designed for restaurants and bars. It has a number of features made specifically to help your business run more smoothly, which we'll go over in this review.
Accepting payments is one of the basic services offered by Linga and registers are usually available on a subscription basis. It offers alternative hardware payment options if you want to buy the hardware on a plan, though details on those hardware options are not readily available on its website.
The Benseron website, however, does have hardware options displayed online. You can opt for POS bundles that come with an iPad, printers and any card readers you need as well. You also have the option to solely purchase individual items like cash drawers, kitchen displays, card readers and other accessories if you already have some of the hardware at your disposal.
For your POS system, you can personalize the seating options in your establishment and note the number of people at each table. You can also easily split checks any way you need to and process to-go orders.
As far as the actual process of collecting payment goes, Linga makes it easy for you to provide digital receipts if you want and collect signatures electronically from customers as well.
This is one of the features Linga really tries to drive home about its system. With Linga POS you can still operate even without an internet connection so business doesn't have to halt if you lose your connection.
With Linga POS, you can elevate your customers' experience by adding customer loyalty or rewards programs, creating gift cards and offering discounts and happy hours.
You can also manage your Wi-Fi network that's available for customers. You can use it for collecting customer data beyond what you can regularly by encouraging customers to sign in to your Wi-Fi using their email and Facebook information. This information can be used to increase your marketing resources through email marketing, digital campaigns and surveys.
Linga offers tools to analyze the ins and outs of your business, like net sales and your total transactions. You can also see details on inventory like what inventory you had from the week or month before so you can compare it to your current inventory to help you figure out how much inventory you should carry.
You'll also have access to payroll reporting, so you know whether you're scheduling staff efficiently. Running your business has just as much to do with staffing as it does making sure you have the right inventory. The food cost analysis tool allows you to view the cost of your ingredients and then the overall cost to you for each item, so you can see what you're making on each item.
The sales reporting offers detailed reports for you to see the best and worst items you have to offer and the most popular hours at your business to help you run things more efficiently.
If you're opening a pizzeria, for instance, you can customize the POS system down to the pizza slice by selecting from a host of register options.
Linga also offers more than 30 languages, and can add more upon request. Multiple currencies are supported as well.
If you're looking for the option to add an extra layer of security to your business, you can easily integrate Nest hardware. You can add Nest cameras to your POS with Linga and use them to live stream your CCTV so you can keep an eye on things even if you aren't around.
The Nest setup can be used to control the temperature of your restaurant or bar, too. You can use the Nest thermostat with your Linga POS to control the temperature.
With the Basic, Pro and Enterprise plans you get one register and can add an unlimited number of extra registers for an additional cost. The Linga One plan comes with three registers included. All of the plans come with unlimited users and unlimited products as well.
The Basic plan for Linga costs $19.99 a month billed annually, or $39.99 paid monthly.
This plan comes with a ton of features you'd expect like the capability to complete returns, void transactions, do offline transactions and more, but we'll go over some of the most exciting extras below.
Discounts: You can add coupons and happy hours to make it easy for your employees to input or charge certain offers and discounts — and you'll be able to track how well those deals do right in the POS.

Nest: Easily connect your Nest camera and thermostat and then control it from the POS when you need to.

Marketing: There are some marketing tools that come with this plan as well, like email marketing, the ability to add a message on the printer receipt and the option to collect data on customers who opt to use the Wi-Fi hotspot at your business.

Check-splitting: You can easily split checks for your customers by seat, split it evenly or by guest.

Employee management: You can track your employees' performance in the app and assign them different security levels, so only an authorized few can do certain things within the POS system.
The Pro plan with Linga will cost $49.99 a month billed annually, or $69.99 if you pay monthly. With this plan, you get everything that comes with the Basic plan but you also get dozens of other features as well, including more options for managing checks and tabs, the ability to transfer checks and tables, merge checks and tables, move bar tabs to tables and more.
This plan will also get you detailed inventory reports and more reporting on employee hours. The 24/7 customer support is also included with this plan, but all of the other add-ons will cost you more.
The Enterprise plan with Linga is $89.99 a month paid annually, or $109 a month paid monthly.
While there are some major upgrades between choosing the Basic plan and the Pro plan, there's a more narrow gap between Pro and Enterprise.
If you opt for this plan, you'll  gain access to enterprise gift cards, multi-site management, country-level management, consolidated reporting, and Royalty/ACH reporting. You'll also get 24/7 customer support, customer loyalty programs, customer analytics and house accounts.
The pricing for this plan is not available online, so you'll have to call them directly for information for your specific business.
With this plan, though, you don't get enterprise gift cards, multi-site management, country-level management, consolidated reporting or royalty ACH reporting. You do get 24/7 customer support, customer loyalty, customer analytics, house accounts, online ordering, customer display, caller ID, texting alerts and waitlist reservations. This plan also includes three registers.
Linga POS isn't rated with the Better Business Bureau but its parent company, Benseron, has an A+ rating with the BBB and has been accredited since April 2017.
Linga POS has a 4 out of 5-star rating from Capterra and a 4.5 out of 5-star rating from Merchant Maverick. Users give the POS glowing reviews and highlight the ease of use it offers and the extensive features that they can pick and choose for their business needs. Reviews are largely positive, though they note that there can be some bugs after an update.
Full-service restaurants sometimes need a few extra bells and whistles when it comes to their POS. The more options the better for full services establishments that have the potential to grow and that's exactly what TouchBistro can offer you.
TouchBistro started as a restaurant-specific POS so it specializes in exactly what you need for your business. It's designed for iOS devices specifically and you can sync multiple devices together if you have several terminals or iPads. It includes a lot of the usual POS features, as well as floor plan management, self-ordering tools and a customer-facing display that allows them to review complex order information.
TouchBistro's pricing begins at $69 a month for only the software and one license. For two licenses you'll pay $129 a month, three to five licenses cost $249 and six or more will cost $399. All of these plans are billed annually. If you also need hardware to run the software, each plan will cost you a bit more.
Toast is set apart from other POS options because it doesn't require an iOS device; it's actually Android-based. The least expensive Toast POS option is $79 a month and gets you most of the basic options you need for your restaurant POS. It allows you to manage inventory, offers real-time reporting, loyalty programs and gift cards like many of the other options.
If you already have an Android device you can get the software alone, but if not you can purchase a bundle that includes the hardware as well. If you choose to work with Toast, it'll also be your payment processor.
With Toast, you can also integrate with GrubHub, OpenTable and similar websites that can be used to manage your business. You can also get personalized one-on-one training and support from Toast customer service.
Square is one of the most popular point-of-sale systems out there, and that rings true for restaurants as well.
With Square, you won't have your own merchant account. Rather, the payments you receive will be put into the same merchant account as all of Square's customers.
Square also comes with the usual management tools for front-of-the-house operations, inventory management, employee management, customer management and more. Depending on what you need, there are several products for you to choose from. If you have your own iPad and don't need to purchase hardware, Square can cost you as little as $0 a month (though there are processing fees). It also offers a free trial.
Customers consistently rate Linga POS highly, and it seems to have many options to fit the expected and unexpected needs of running niche restaurants, whatever yours might be. Not to mention, there's a free option for customers to choose if they want, meaning there's not much you can lose by trying it out. Consider a one-on-one consultation and free trial to determine if it's right for your business.
This article originally appeared on Fundera, a subsidiary of NerdWallet.