What Is Supply Chain Management (SCM)?
Small businesses can be more competitive and meet demand for their goods or services by managing their supply chains.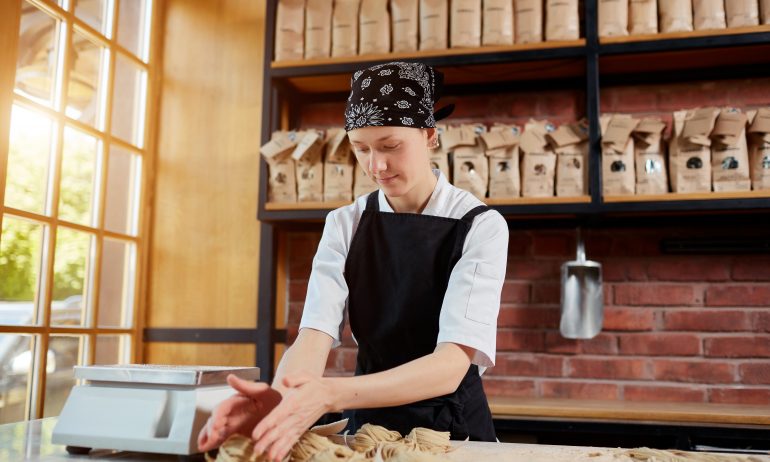 Many or all of the products featured here are from our partners who compensate us. This influences which products we write about and where and how the product appears on a page. However, this does not influence our evaluations. Our opinions are our own. Here is a list of our partners and here's how we make money.
Supply chain management, or SCM, is the process of managing and transforming all of the inputs that your business needs so you can successfully create products or provide services, attract and satisfy customers, and compete in your market.
Giant corporations that can buy up entire container ships full of supplies have a lot of power in the supply chain, but small businesses aren't out of luck.
"[Small businesses] can benefit from the supply chain … but they have to do it differently," says Steven Melnyk, professor of supply chain management and operations management at Michigan State University. "You have to be agile. You have to work with companies. You have to develop relationships."
Here are answers to some common questions small-business owners might have about the supply chain and how it can affect a business' inventory management.
What kinds of businesses need supply chain management?
Just about every kind of business needs supply chain management. "Unless your market and source of supply is local," Melnyk says, "you will be impacted by the supply chain."
Small-business owners are feeling that impact. In a November 2021 survey by CNBC and Momentive, 75% reported rising costs for supplies and 58% reported supply chain disruptions when asked about their current experiences.
The manufacturing, construction, retail, accommodation and food service industries — all industries with large numbers of small businesses — report the highest rates of supply chain disruptions in ongoing U.S. Census Bureau surveys that measure the effects of COVID-19 on small businesses.
Supply chain management can help mitigate disruptions to your inventory and make small businesses of all kinds more effective, efficient and competitive.
What are the benefits of supply chain management?
Here are some of the benefits small businesses can achieve from supply chain management:
Avoiding disruptions. For example, a cafe specializing in imported coffee could stockpile extra inventory or prepare to change the menu in case of shipping delays.

Efficiency. For example, a siding business could monitor demand and only keep on hand materials for the most popular colors and styles. The business could purchase only the necessary amount of materials for each job when buyers custom-order other products.

Quality control. For example, a farm-to-table restaurant could coordinate with a variety of local suppliers to buy peak in-season produce, meat and dairy throughout the year.

Sustainability. For example, an apparel store might highlight responsible and ethical business practices by using materials with low environmental impact, paying textile workers fair wages and making durable clothing meant to last longer than "fast fashion."
What are the five functions of supply chain management?
Melnyk calls supply chain management "the foundation of competitive advantage." Your business can gain a competitive advantage through five key functions of supply chain management:
Managing flows of goods and information.

Identifying and developing your core competencies.

Building relationships with critical customers and suppliers.

Recognizing and working within your financial limitations.

Refining your business model to meet customers' demand.
How can small businesses get started with supply chain management?
"If you're a small- to medium-sized company, what should your major goal be? Make credible promises that you can realistically deliver on," Melnyk says, "which means you have to know your capacity. You have to have the data. You have to manage your processes. You have to understand scheduling. Those are big foundations."
There are several questions small-business owners need to be able to answer, Melnyk says:
What are your key capabilities? The answer can illustrate what your business does best and what inputs you need to make it happen.

What's your key customer? The answer can tell you whose demand you should prioritize meeting with your supply.

What's your brand promise? The answer can help you define yourself to customers and differentiate what's necessary for your business versus what's nice to have.

Who are your key competitors? The answer can help you figure out what you'll need to do to compete. Can you be more sustainable? Innovative? Efficient?
All of the answers can define what's crucial for your supply chain. For example, you can identify critical suppliers and prioritize those relationships, secure backup sources for crucial materials, or work on expanding your capabilities to meet customers' demand.
Trade groups such as the Association for Supply Chain Management and the Council of Supply Chain Management Professionals offer training to help you get started. Many colleges and universities with business or supply chain programs also offer courses and certifications, including online and other programs aimed at business owners.
What tools should small businesses use for supply chain management?
"You can do things without investing a lot of money," Melnyk says. Tools you may already be using can contribute to supply chain management.
Inventory tracking helps you keep an eye on what you have in stock and what might be getting low. Many POS systems have inventory tracking built in, and there are also dedicated inventory management apps.

Sales analytics helps you identify trends in what's selling so you can anticipate future needs, expand on what works and consider scaling back less successful offerings.
Customer relationship management, or CRM, helps you track and communicate with your customers so you're ready to meet their needs and keep them coming back again and again.
Small businesses with well-thought-out business models can best take advantage of these tools. "Technology is spice. It's an enhancer," Melnyk says. "It makes a bad process worse. It makes a good process better."
How can small businesses compete with larger companies in the supply chain?
"Small companies have got to understand that they don't have the buying power," Melnyk says, "but what they do have is the ability to compete on other dimensions."
Small businesses can be more agile than larger ones, adapting on the fly to market conditions and the state of the supply chain. When small businesses throughout the supply chain work together, they can be especially effective at meeting customers' needs for responsiveness, innovation, ethics, sustainability and sourcing.