WePay vs. Stripe: Which Is Right for Your Business?
Compare two leading names for the best white-label payment service provider: WePay vs. Stripe.
Many or all of the products featured here are from our partners who compensate us. This may influence which products we write about and where and how the product appears on a page. However, this does not influence our evaluations. Our opinions are our own. Here is a list of our partners and here's how we make money.
As a small-business owner, the intricacies of merchant services can be a bit of a mystery. If you've been deciding between WePay and Stripe, you will want to explore each provider's services and comparing their features, pricing and more.
Overall, WePay offers a highly customizable online checkout experience without the need to know much coding. Stripe's white-label service can be more complex, but also provides more flexibility and customer support.
Stripe has transparent fees at 2.9% plus 30 cents for card-not-present transactions. WePay pricing starts at 2.9% plus 25 cents, but there are additional charges for various plans not listed on its website.
Ultimately the victor in WePay vs. Stripe will depend on your specific business needs.
What are payment gateways and payment service providers?
Accept payments without worry
See our payment provider recommendations that fit your business.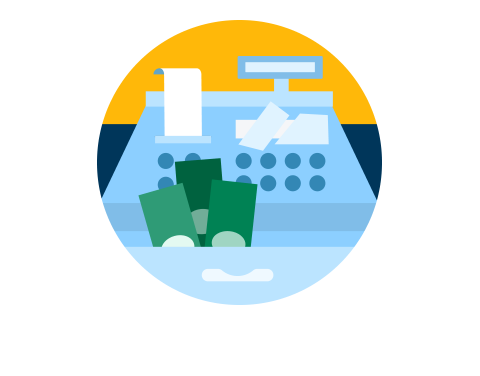 WePay vs. Stripe: How to choose
When deciding between WePay vs. Stripe, here are some scenarios where one of these two white-label solutions might come out on top for you.
You're a crowdfunding or software as a service (SaaS) company: These are the companies that WePay advertises as its core demographic. Its developer tools and online customer service hubs have content specifically dedicated to guiding owners and developers through the process of using WePay to collect payments for these types of companies.

You use a Chase business bank account: Since WePay is a property of Chase, merchants who use Chase as their business bank receive perks like same-day deposits. In addition, for its Core product, WePay says that Chase offers "aggressive, relationship-based pricing," which might bode well for you.

You don't have much developer knowledge: Between WePay vs. Stripe, WePay is certainly the friendlier alternative to business owners who don't have much time to get into the intricacies of coding.
You do business internationally: Stripe is able to accept payments online from over 30 countries worldwide and accepts a variety of payment types. Additionally, customer service will be available to you 24/7, so you can serve customers from any time zone.

You have a brick-and-mortar store: Stripe offers a terminal to integrate your online store with your brick-and-mortar store and can provide you with credit card readers while hosting all your data on cloud-based storage.

You need a more robust payments solution: Stripe is constantly updating its features to provide you with increased customization and flexibility. If you value streamlining the payment process for your customers on mobile and desktop, Stripe may be the option you're looking for.
WePay is an online payments service based in the United States and affiliated with Chase Payment Solutions. WePay offers payment solutions for platform businesses, including crowdfunding sites like GoFundMe.
WePay accepts payments from all major credit card companies and banks. You have the option of either embedding pre-written code into your site to accept payments or using WePay's API to fully customize your checkout experience. If using a Chase bank account, you'll receive same-day deposits from WePay.
WePay's site notes that processing fees start at 2.9% plus 25 cents, but it is unclear if there are additional fees for different plans.
WePay offers three products: Link, Clear and Core.
WePay Link functions as a basic payment processor. Once you integrate your account, merchants on your platform can accept credit, debit and echeck payments within the United States, the U.K. and Canada. Fortunately, WePay Link features instant onboarding, which means that you can set up your account within minutes. There is a 2.9% plus 25 cents processing fee when completing credit card payments. However, note that WePay's Terms of Service lists a slightly different price.
WePay advertises Clear as "a white-label solution to power your payments business." WePay Clear helps to create a seamless branding and shopping experience. However, while you can use your own branding visuals, the term "Powered by WePay" will be visible to customers. The fees for this plan aren't listed.
Platform operators who want total control over the transaction process may look to WePay Core. Integrating directly into Chase's core infrastructure allows you to manage merchant accounts, offer support and handle risk and compliance directly on the merchant platform. WePay does not post pricing for this product, meaning you'll need to contact them directly to request a quote.
Depending on which WePay products you choose, you gain some enticing advantages:
Merchants have greater control over customization options for the signup and checkout processes, and even emailing customers.
With other PSPs, like PayPal, you see their branding during the checkout process. White-label payments allow for you to input your own branding at the checkout screen, offering customers a seamless shopping experience with your store.
WePay offers instant onboarding, meaning the signup process is quick and easy — something customers frequently point to as a pro. Users report that they didn't need any technical knowledge to start using WePay right away.
Compatible With Chase Bank Accounts
In addition, WePay delivers same-day deposits to your account if you use a Chase account, which means you won't need to wait days to transfer the funds from your merchant account to your bank account. This should be especially attractive to businesses that already use Chase, as account freezes are something business owners may need to plan for with these kinds of aggregate payment service providers.
Transparency With Pricing
The website only lists the payment processing rates for WePay Link. If you're interested in buying WePay Clear or WePay Core, you would need to contact a WePay sales representative to receive a quote. Also, WePay's Terms of Service lists a slightly different fee: 2.9% plus 30 cents, as opposed to the 2.9% plus 25 cents fee listed on its product pricing page.
WePay offers tons of customization options with its products, but it's unfortunate that it lacks customer phone support. If you have any questions or run into problems, you would need to submit a support ticket. Ticket support is only available during weekdays, so it may take days to receive a response if you submit a ticket on Thursday or Friday.
Stripe has risen to the top as one of the most commonly-used payment service providers — you've probably used them at some point to make a payment online or through an app. Stripe has served some prominent business names like Kickstarter, Shopify, Slack and Pinterest.
With Stripe, you can manage all of your business transactions, including accepting payments and resolving payment disputes. It offers a wide range of ways to implement its various products with your e-commerce site because it built everything with developers in mind.
It accepts payments from major credit card companies, mobile wallets, ACH payments and more. A convenient feature of Stripe is that it also offers a payment terminal for in-person card transactions if you have a brick-and-mortar store.
Stripe charges a flat fee of 2.9% plus 30 cents for each online transaction.
Stripe Connect is targeted toward larger payment platforms, like Kickstarter. With Stripe Connect, you can process over 100 types of currencies and complete transactions in over 30 different countries. Connect offers a highly customizable experience for your customers, where you can control signup, onboarding and payout timing and get financial reporting. You can choose from pre-made user interface components or customize everything yourself with access to the Stripe API.
The Standard version of Stripe Connect has no platform-specific fees, but a custom version starts at $2 per account per month, with 0.25% charge on payout volume and 25 cents per payout.
Stripe is known for its built-in reporting features through Stripe Sigma. Sigma can generate in-depth reports and is fully customizable if you can write in the programming language SQL. Sigma will cost 2 cents per transaction.
Stripe Relay streamlines the checkout process on mobile phones for your customers. With Stripe Relay, merchants can use this API to list products to sell on mobile or link their e-commerce sites. Relay can even allow instant purchases on third-party sites like Twitter. Relay is free to Stripe customers.
Here are the advantages for Stripe users:
Research is easier for small-business owners when companies post their pricing online, and Stripe is very clear that its credit card processing fee is a flat 2.9% plus 30 cents for online transactions. It also lists add-on prices for other features, like Stripe Sigma. Pricing is quote-based for its custom Connect plan, but aside from that, Stripe pricing is clearly laid out.
It's important that your payments solution is as accessible as possible, and Stripe gives you the flexibility to offer that in several ways. Stripe's services makes the payment process a seamless experience across all devices, including desktop, tablet and mobile devices. It accepts a wide range of currencies and alternate types of payment. Finally, it has a number of tools that it frequently updates specifically to help you create a highly customized checkout experience for your customers.
Though Stripe allows for a decent amount of customization and flexibility with its products, it should be noted that Stripe designs with developers in mind. That means that if you're not the most tech-savvy business owner, there might be limitations to how you'll be able to use Stripe's API and subsequent tools.
There has been a myriad of instances where merchants discovered their accounts were canceled or frozen. Unfortunately, this can happen with third-party payment service providers, where merchants can instantly be onboarded. If you sign up with Stripe and months later, Stripe deems your account high-risk, it can withhold your funds with little notice.
On websites like the Better Business Bureau, there are similar complaints about WePay, but perhaps because WePay serves fewer companies, most complaints about frozen accounts are directed at Stripe.
WePay vs. Stripe: Fees and pricing
Stripe's pricing structure is transparent and straightforward. Stripe's pricing rate is 2.9% plus 30 cents per successful charge for all online credit and debit card payments. Any disputed charges incur a $15 fee, an industry standard that WePay shares.
Stripe also allows you to design a custom package for your business. According to Stripe's website, your rate may vary depending on volume discounts, multi-product discounts and country-specific rates, though it does list starting rates.
WePay actually offers a baseline rate starting at 2.9% plus 25 cents for transaction processing with WePay Link. However, it does disclose in its Terms of Service that certain platforms and products would carry additional charges, and it also notes a slightly higher fee.
Unfortunately, it has only disclosed its rates for Link, one of its three products. To gain a more accurate quote specific to your own business, you would need to contact the company for more information.
WePay vs. Stripe: Customer support
Both WePay and Stripe offer support by way of email, live support and tickets. However, Stripe wins by a landslide in this category because it offers 24/7 live chat and phone support. WePay's customer support is only available on weekdays from 9 a.m. to 9 p.m. ET, and it usually responds through customer tickets.
Many business owners enjoy speaking with a live representative on the phone. This is attractive for small-business owners who want phone support to help address concerns in real time. Moreover, Stripe offers training support to help its new clients get familiar with its tools.
WePay vs. Stripe: Currencies and service
Stripe absolutely outranks WePay in this category. WePay's tools are only available to the United States and Canada. This makes it inaccessible for other countries to use WePay's services.
Stripe, in contrast, supports a variety of customers from different countries and can process over 135 currencies. Languages that Stripe supports include: Chinese, Spanish, French, Dutch and Italian. If you are starting your business in the United States but hope to expand overseas, then Stripe's additional language support will greatly serve you.
Top alternatives to WePay and Stripe
While WePay and Stripe both have certain advantages, there are other excellent online payment processing solutions to consider.
Square is one of Stripe's main competitors, and for good reason. Square can offer the same services, like accepting payments on mobile and desktop as well as in person.
Square's rates also start at 2.9% plus 30 cents for e-commerce transactions, like Stripe — and Square also accepts a wide variety of payments. Square has a host of partners in the Square App Marketplace that may be helpful to you if you use an online builder like Wix or an e-commerce platform like WooCommerce.
However, because of its extensive credit card processing options, like its free mobile reader, Square may be better suited for brick-and-mortar companies.
Everybody knows PayPal as a pioneer in delivering digital payment options to consumers. No matter what company you shop with, with every online transaction you make, paying via PayPal always seems to be an option.
Also, the signup process is fairly straightforward. To gain access to PayPal's payment gateway, all you need to do is sign up for a free business account and purchase Payflow.
Payflow accepts all major credit cards and has the added bonus of also accepting a wide variety of foreign payment methods. However, Payflow does have a higher rate, starting at $25 per month plus 2.9% plus 30 cents for every online transaction.
Still, with the wide usage of PayPal's services as a trusted brand, it could encourage more buyers to purchase from your online store.
WePay vs. Stripe: The verdict
Stripe offers superior customer support, caters to a global customer base and has designed an API with mobile shoppers in mind. WePay, on the other hand, offers a white-label payment system that is easier to integrate into your store, which might be important to your branding strategy.
One thing to note as a small-business owner is that WePay targets large platform operators, rather than individual merchants. Ultimately, the choice rests in your hands. There are many options for payment service providers, so be sure to continue your search if you're not completely sold on these services.
A version of this article was first published on Fundera, a subsidiary of NerdWallet.