Roadside Assistance Benefits From Your Credit Card
Many credit card issuers offer this service, which can provide help if you have a dead battery or flat tire.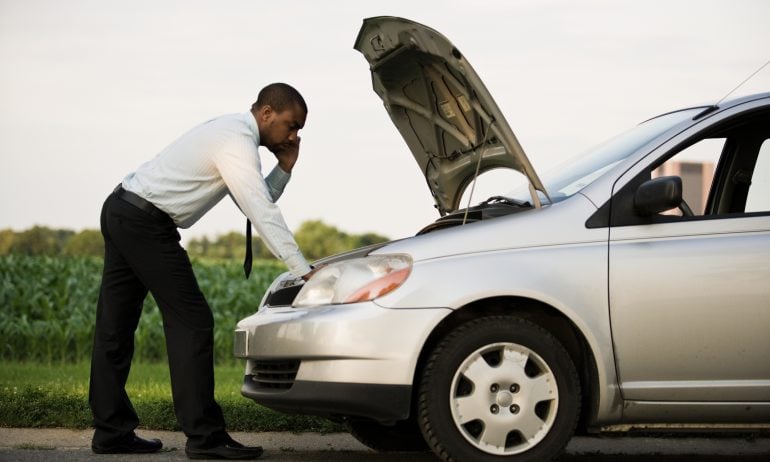 Many or all of the products featured here are from our partners who compensate us. This may influence which products we write about and where and how the product appears on a page. However, this does not influence our evaluations. Our opinions are our own. Here is a list of our partners and here's how we make money.
Dealing with an emergency like a flat tire or a dead battery when you're on the road can be distressing and expensive to resolve. Even if you don't have a AAA membership, you may have access to a roadside assistance program if you have a credit card that offers this perk. Here's what you need to know about the credit cards that offer various roadside assistance benefits.
Roadside assistance (also known as roadside dispatch) is a service that helps individuals with a roadside emergency such as a dead battery, flat tire, running out of gas, mechanical failure and more. This service is available through motor clubs, like , certain credit cards (i.e. ) or travel insurance policies, such as from  and can be used for your own vehicle or on a car rental.
Generally, roadside assistance services available through membership clubs like AAA, are comprehensive than those provided for free on your credit card.
Credit cards offer differing forms of roadside assistance, ranging from a complimentary benefit to a pay-per-use service. Some with high annual fees include roadside assistance as a complimentary benefit that can be used several times a year. Low-fee or no-fee credit cards may offer roadside dispatch as a service that you pay for each time you need to use it.
Here are the roadside assistance benefits are included on the ) and The Ritz-Carlton Rewards® Credit Card:
Each incident is covered up to $50 and the benefit can be used four times per year while traveling in the U.S. and Canada. The perk applies to cardholders driving a car or truck (subject to weight limit) but commercial vehicles are excluded. Assistance is available 24/7/365 by calling the Cross Country Motor Club hotline at 866-860-797.
Although isn't accepting applications, the , which has an annual fee of has the following welcome offer: . In addition to free roadside assistance, these premium Visa cards have a number of other benefits, making them excellent companions for those who use their services.
Cardholders of Chase's low-fee and no-fee Visa credit cards receive these services for an additional fee while traveling in the U.S. and Canada:
Although these benefits aren't as exhaustive as those provided on the , they can still come in handy if you're stranded on the side of the road. You will receive coverage on any vehicle as long as its 10,000 pounds or less. Assistance is available 24/7/365 and can be reached by calling 800-847-2869.
(annual fee: $0): Earn 5,000 points after making your first purchase within the first three months. That's redeemable for $50 cash back.
Bank of America, Capital One and Wells Fargo are some of the other credit card issuers that offer roadside assistance benefits for a fee. In addition, all include roadside dispatch service. Refer to each card's benefits guide or call customer service for a full list of the exact benefits offered.
Capital One offers roadside assistance on all of its Visa and Mastercard products. Our favorite Capital One travel card is the . For a full list, refer to to all personal and business Capital One cards.
Note: and formerly offered roadside assistance on certain credit cards, however the benefits are no longer available.
If you don't have a credit card that provides roadside assistance/dispatch or your vehicle type is excluded from coverage, you can still receive this service by purchasing a membership with an automobile club, like AAA or a travel insurance policy for when you're on vacation.
AAA offers with varying levels of coverage for different kinds of cars. AAA's higher membership levels include increased limits and more coverage options. AAA memberships offer a wide range of perks including discounts on hotels, restaurants and attractions and can be a great option for those who don't have roadside coverage through their card.
Travel insurance plans can also include roadside assistance benefits, sometimes as part of the policy and at other times as an optional upgrade.
If you're undecided about getting a membership with AAA or a credit card that offers roadside assistance, it's important to consider the other benefits you may want.
The cards above offer a slew of other perks that can be useful on your road trip. For example, the offers 3x on points at restaurants, DoorDash dining credits and a DashPass subscription, which you can use to save money when ordering food online while you're traveling within the U.S. Cardholders also have access to the Visa Infinite Concierge Service, which assists with ticket requests to music and sporting events and dinner reservations.
Another example, the offers 3x points per dollar at gas stations and restaurants (order in or take out).
Roadside assistance is an important credit card benefit that can help you if you're stuck on the side of the road. Many credit card issuers offer this perk so you don't necessarily need a AAA membership to have access to these benefits.
The information related to the ,  and Chase Freedom® Student has been collected by NerdWallet and has not been reviewed or provided by the issuer of this card. The is no longer accepting new applications.
You want a travel credit card that prioritizes what's important to you. Here are our picks for the , including those best for: