Every year, airlines often make subtle changes to their reward programs. At American, the annual adjustments have turned into a variety of changes that both help and hinder regular travelers who want to make the most of their miles.
Are the changes a wholesale devaluation? Or are there gains yet to be made for regular American passengers? It depends on what you value the most, and what you want out of your AAdvantage membership.
Canada awards drop in price, while Hawaii increases in price
There's good news for travelers who spend much of their travel time in North America. Starting on Jan. 16, 2019, American will put Canada on the same awards plane as the contiguous U.S. As a result, award flights to the northern country may drop in price, or stay the same — but probably won't increase in price.
On the downside, Hawaii awards in business class or first class will get more expensive in 2019. Mileage levels to and from the islands in the premium cabin will increase for most regions, according to the Dallas-based carrier. If you're hoping to fly to Hawaii in the front of the aircraft, plan on spending more miles for your ticket.
»Learn More: Why you should fly first-class at least once, and how to afford it
Book more travel awards online
Even with the changes, booking tickets with miles will get easier in 2019. The airline recently updated their smartphone app to allow simple award booking. To get started, download the American app, log in to your AAdvantage account and search for award flights.
Members will also have expanded access to partner awards online. By January 2019, AAdvantage flyers will have access to award space on:
Air Tahiti Nui
Cape Air
Fiji Airways
Malaysia Airlines
Qatar Airways
S7 Airlines
SriLankan Airlines
Changes in elite qualifying miles awarded on some flights
If you would rather pay for your flights to earn award miles or elite qualifying miles toward status, how many miles you earn may change based on who operates your flight. There is good news and bad news in this situation – and it all depends on who you fly the most.
» Learn More: American Airlines AAdvantage: The complete guide
On British Airways, Finnair, Iberia and Japan Airlines, your elite qualifying miles (EQMs) and elite qualifying segments will match what you earn flying American Airlines starting Jan. 1, 2019. Aboard any of these airlines, you will earn: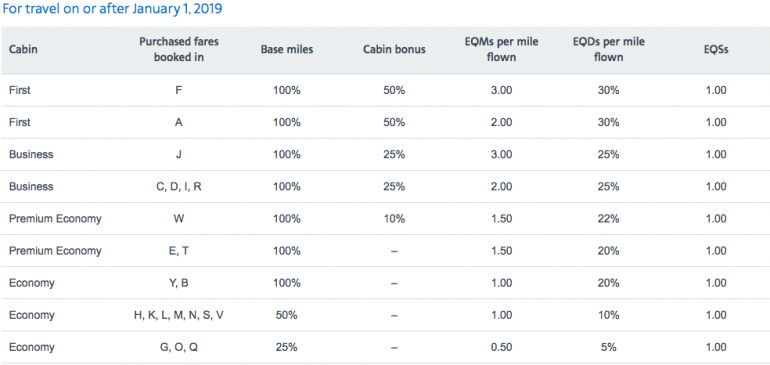 But on the downside, some flights marketed by American — known as "codeshare flights" — will earn less EQMs than before. In 2019, full-fare economy flights (or "Y" fares) EQMs will drop by 50%, from 1.5 to one per mile flown. American says the change will "be more in line with the ticket value."
No more elite qualifying miles on some credit cards
To make qualifying for elite status even harder, some American co-branded credit cards will not earn EQMs in 2019. Starting in January 2019, the AAdvantage® Aviator® Red Mastercard® will no longer earn elite qualifying miles for meeting spending targets. Instead, only AAdvantage® Aviator® Silver Mastercard® accounts will earn 5,000 elite qualifying miles for every $20,000 in qualifying purchases, up to 10,000 EQMs every calendar year. Barclays is also holding upgrades from the Aviator Red Mastercard to Aviator Silver Mastercard, so you may not be able to move up to earn more rewards.
Those who hold the Citi® / AAdvantage® Executive World Elite™ Mastercard® can also earn EQMs for their spending in 2019. Members earn 10,000 EQMs after spending $40,000 in purchases in the year.
» Learn More: Find the best airline credit card for you
Qualifying for Executive Platinum gets harder but comes with more rewards
Why do the changes in elite qualifying metrics matter? Because if you fly enough to gain top-tier status, you'll have to spend more money to get Executive Platinum status.
In 2019, you will have to spend $15,000 in elite qualifying dollars to qualify for Executive Platinum Status through 2020, an increase of $3,000 from 2018. Elite qualifying dollars are based on ticket price, defined as: "base fare plus carrier-imposed fees, but excludes government-imposed taxes and fees."
»Learn More: Is airline elite status right for you?
But once you fly beyond 150,000 elite qualifying miles, you will start getting bonuses from American:
After flying 150,000 EQMs, choose one bonus:
· Two systemwide upgrades
· 40,000 bonus miles
· Gift AAdvantage Gold status to another member
After flying 200,000 EQMs, choose one bonus:
· Two systemwide upgrades
· 40,000 bonus miles
· Gift AAdvantage Platinum status to another member
After Flying 250,000 EQMs, choose one bonus:
· Two systemwide upgrades
· 40,000 bonus miles
· Gift AAdvantage Platinum status to another member
Bottom line: Is it a devaluation?
As a result of the changes, there are some devaluations for very specific flyers. Top-tier elites who don't necessarily spend $15,000 in elite qualifying dollars and AAdvantage members who enjoy using their miles to fly first class to Honolulu will feel the pain first and foremost. AAdvantage® Aviator® Red Mastercard® will also be at a disadvantage in 2019 because their ability to earn additional miles will be removed.
But for most flyers, there is a lot more upside than down. Reducing prices on awards to Canada will open up more destinations, and the award chart standardization between American and their key partners will help some travelers get closer to elite status sooner.
How to maximize your rewards
You want a travel credit card that prioritizes what's important to you. Here are our picks for
the best travel credit cards of 2020
, including those best for:
Planning a trip? Check out these articles for more inspiration and advice:
NerdWallet's top travel credit cards
Which American Airlines credit card should you choose?
New American Airlines discount mileage tickets available