Orbitz Rewards Visa Review: Complex Terms for High Rewards
You'll earn an extra 5% on eligible Orbitz bookings. But you don't have a lot of redemption options. Only one, really.
Many or all of the products featured here are from our partners who compensate us. This may influence which products we write about and where and how the product appears on a page. However, this does not influence our evaluations. Our opinions are our own.
Our Take
The bottom line: If you prize simplicity in a travel rewards program, forget about this card. But if you're willing to jump through a few hoops to earn the best rates — and you're comfortable with prepaying for bookings and redeeming only for hotel stays — maybe give it a chance.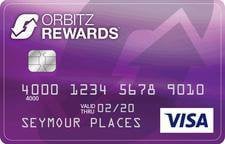 Orbitz Rewards® Visa® Card
Annual Fee
Regular APR
17.49% - 26.49% Variable APR
Intro APR
Quick Facts
Pros & Cons
Pros
High rewards rate

No annual fee

No foreign transaction fee
Cons
Rewards only redeemable for hotel stays
Alternate Pick: Simple, flexible rewards
Discover it® Miles
1.5 miles per dollar, no hassles
These rewards are easy to earn ... and understand: 1.5 miles per dollar on every purchase. Plus, you can redeem those miles for any travel expense — flights, hotels, etc.
Read our review
Compare to Other Cards
Regular APR

11.99% - 22.99% Variable APR

Regular APR

15.99% - 22.99% Variable APR

Regular APR

14.99% - 22.99% Variable APR

Intro APR

0% intro APR on Purchases for 14 months and 10.99% intro APR on Balance Transfers for 14 months

Intro APR

0% intro APR on Purchases for 12 billing cycles
Get more smart money moves — straight to your inbox
Become a NerdWallet member, and we'll send you tailored articles we think you'll love.
Full Review
The rewards on the Orbitz Rewards® Visa® Card can seem dazzling at first. The card gets you an extra 5% back in Orbucks — Orbitz's rewards currency — on eligible Orbitz bookings and 2% on all other purchases. But its restrictions on both earning and redeeming can greatly diminish the card's luster.
Because of how the card's bonus categories are defined, for example, hotel bookings through Orbitz need to be prepaid to qualify for the top rewards rate. And although the Orbitz site can be used to book airfare, lodging, cruises, and rental cars, your Orbucks can be used only toward qualifying hotel stays. That means the Orbitz Rewards® Visa® Card is a good choice for only a narrow band of travelers: Orbitz loyalists who are OK with making prepaid bookings and using their rewards solely toward free nights. For travelers who don't fall into that category, other cards offer greater flexibility and value.
Orbitz Rewards® Visa® Card
: Basics and benefits
Sign-up bonus: Receive a $100 statement credit when you spend $1,500 with your Orbitz Rewards® Visa® in the first 90 days of account opening
5% in Orbucks on qualifying Orbitz bookings, including prepaid hotel bookings, flight bookings and package bookings. (Rental car bookings don't qualify for 5%; instead, they earn 2%.)

2% in Orbucks on all other purchases.
These rewards are in addition to what you'd normally earn as an Orbitz member. More on that later.
Nerd tip:
Like some airlines and hotel loyalty programs, Orbitz also has its own
dining program
, which earns 5% in Orbucks at select restaurants. You can enroll in the program with any credit or debit card. With the
Orbitz Rewards® Visa® Card
, you're automatically enrolled, so you'll earn a total of 7% back in Orbucks for these purchases (5% through the dining program, 2% via the card).
Interest rate: The ongoing APR is 17.49% - 26.49% Variable APR.
Foreign transaction fees: None.
Balance transfer fee: Either $10 or 3% of the amount of the balance transfer, whichever is greater.
Automatic Gold status, which can get you free Wi-Fi, breakfast and waived resort fees at certain properties.

Travel protections, including lost and stolen baggage coverage, accident coverage and rental car insurance.

Cardholders who qualify for additional Visa Signature benefits will also receive free room upgrades at Visa Signature luxury hotels, exclusive discounts at top retailers and access to select sporting events and other experiences.
How the rewards program works
The card earns rewards equal to a percentage of your spending, and those rewards are paid in the Orbucks currency. Rewards earned on the Orbitz Rewards® Visa® Card come on top of what you earn by being a member of the separate Orbitz Rewards Program. (Program membership is free, but if you're not already a member, Orbitz will ask you to join in order to apply for the credit card.)
Adding to the complexity, when you book travel through Orbitz with your Orbitz Rewards® Visa® Card, you'll earn rewards at different rates based on:
What kind of travel you book — hotel, airline, car rental, etc.

Whether you book on the web at Orbitz.com or through Orbitz's mobile app.
Here's how it breaks down:
| Type of booking via Orbitz | Rewards rate for Orbitz Rewards Program members | Total rewards rate for Orbitz Rewards members who also book with the Orbitz Rewards® Visa® Card |
| --- | --- | --- |
| | • 3% via Orbitz.com • 5% via mobile app | • 8% via Orbitz.com • 10% via mobile app |
| | | |
| | | |
| | | |
| | | |
All other purchases with the Orbitz Rewards® Visa® Card earn 2% back.
There's no limit to the number of Orbucks you can earn with the card, although reward caps on airfare spending do apply to base earning through the rewards program. (These caps depend on your program status: Silver, Gold or Platinum.)
Orbucks that you earn on purchases won't expire if you use your card at least once every 12 months.
Why you might want the 
Orbitz Rewards® Visa® Card
When you use this card to prepay hotel bookings through Orbitz on the mobile app, you'll get an impressive 10% rewards rate: 5% in Orbucks from your card and another 5% from Orbitz's loyalty program. That potentially makes this card quite valuable if you book this way frequently — especially since it has an annual fee of $0.
Even if you don't use the card for qualifying Orbitz purchases at all, you still get 2% back in Orbucks on all other purchases. That's also noteworthy, considering that travel cards with bonus categories generally only offer the equivalent of 1% back on all purchases that fall outside of bonus categories.
Just temper your excitement at those kinds of rewards by keeping in mind you can only use Orbucks toward hotel bookings.
No annual fee or foreign transaction fees
The Orbitz Rewards® Visa® Card doesn't charge an annual fee, so even if you don't use it often, you can still come out ahead on rewards. It also doesn't charge foreign transaction fees, making it a good card to use abroad.
Orbitz Rewards® Visa® Card
: Drawbacks and alternatives
Restrictions on earning rewards
Earning the highest tier of rewards — 5% back in Orbucks from the loyalty program and 5% back in Orbucks from the card for a total of 10% — requires some effort. Not only do you have to book your hotel stay via Orbitz's mobile app, you also have to prepay for your stay using the Orbitz Rewards® Visa® Card.
It might be easier to research travel options on your desktop computer — but your earnings rate would decrease if you booked that way. And paying upfront for your hotel can be unpalatable, especially if your travel plans change and you have to go through the hassle of getting a refund. Or perhaps you're trying to book something far in advance and don't have the money saved up yet. You can put it on your Orbitz Rewards® Visa® Card, but you'll accrue interest if you can't pay the entire bill right away. For a card with fewer restrictions on earning rewards, check NerdWallet's best travel credit cards.
Limited redemption options
Although you can earn rewards with this card on anything, you can redeem rewards for only one thing: hotel bookings through Orbitz. If you were hoping to save up for a discounted flight or a cruise, you're out of luck.
If you still love the idea of a co-branded card with an online travel agency, but are daunted by the Orbitz Rewards® Visa® Card's redemption restrictions, take a look at the Priceline Rewards™ Visa® Card. This card is aimed at those who regularly use the online discount travel agency and want to earn rewards quickly toward future travel. The card earns 5 points per dollar for every eligible purchase, which includes cruises, Name Your Own Price purchases, Express Deal purchases, Pay Now bookings and trip protection products. All other purchases earn 1 point per dollar. Redemption time is where the Priceline Rewards™ Visa® Card really shines. All eligible purchases of $25 or more that post to your account within 120 days will earn points worth 1.5 cents each when redeemed for statement credit. And, you'll also get a 10% points rebate back in your account on all travel purchases and redemptions made with the card, not just those made through the Priceline site.
For more information about credit cards that can help you with hotel stays, visit NerdWallet's roundup of best credit cards to have.
Is the
Orbitz Rewards® Visa® Card
 right for you?
The Orbitz Rewards® Visa® Card can offer solid value — but only if you're willing to jump through hoops and accept that you can only redeem for hotel stays. If that's not you, this isn't your card.
Comments
NerdWallet reviews are the result of independent research by our editorial team while cardholder reviews are contributions from independent users not affiliated with NerdWallet. Banks, issuers and credit card companies are not responsible for any content posted on the NerdWallet site, nor do they endorse or guarantee any posted comments or reviews.

Some of the reviews on the NerdWallet site were purchased through a third party provider. Users who post a review directly on the NerdWallet site will not be compensated in any way. Please see our Terms of Use and Posting Guidelines for more information.