Costco Mortgage Review 2020
Ideal for borrowers, especially members, who want to compare loan options and mortgage rates from several lenders through an online marketplace.
Many or all of the products featured here are from our partners who compensate us. This may influence which products we write about and where and how the product appears on a page. However, this does not influence our evaluations. Our opinions are our own.
Our Take
The bottom line: Costco's lending marketplace is open to all, but only members get discounts on lending fees.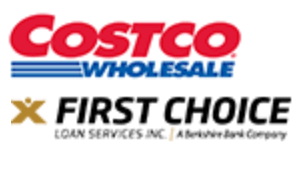 Costco: NMLS#N/A (not a lender)
National / Regional
Min. Down Payment
3%Conventional loans are available for as little as 3% down, but minimum down payments can vary by lender.
Loan Types and Products
Purchase, Refinance, Home Equity, Reverse, Jumbo, Fixed, Adjustable, FHA, VA, USDA
Pros & Cons
Pros
Caps lenders fees to $350 for Executive Costco members and $650 for Gold Star Costco members.

Lets you compare products and rates from several lenders.

Has a mobile-enhanced website and automated mortgage-application process.
Cons
Loan fee discounts available only to Costco members.

No physical locations for face-to-face service.
Compare to Other Lenders
Min. Down Payment

3%On conventional loans, Quicken offers down payments as low as 3%.

Min. Down Payment

3%NBKC offers conventional loans for as little as 3% down.

Loan Types and Products

Purchase, Refinance, Jumbo, Fixed, Adjustable, FHA, VA, USDA

Loan Types and Products

Purchase, Refinance, Home Equity, Jumbo, Fixed, Adjustable, FHA, VA
Get more smart money moves — straight to your inbox
Become a NerdWallet member, and we'll send you tailored articles we think you'll love.
Full Review
When you think of shopping at Costco, what comes to mind? Bulk produce, perhaps, or mega-packs of diapers and enough rib-eyes to feed a small army. But mortgages? Not so much.
Believe it or not, though, you can shop for a mortgage (even jumbo ones) through the big-box wholesaler's Mortgage Services for Costco Members — a lending marketplace available to Costco members and nonmembers alike.
While you can't exactly shop for a home loan as you peruse camping gear or flat-screen TVs, you can go online to get rate quotes, contact participating lenders and apply for a purchase or refinance. Costco doesn't actually sell you a mortgage itself; it connects you with a platform of lenders to choose from.
For Costco members, the major advantage of the program is that the loan origination fees are capped at $350 for Executive members and $650 for Gold Star and Business members. That could be a substantial savings considering that buyers typically pay 1% of the loan amount for loan origination fees.
How a Costco mortgage works
The Mortgage Services for Costco Members program is essentially a multi-lender marketplace where consumers can choose from several participating lenders and numerous loan options online, says John Alexander, president and CEO of Affinity Partnerships, the technology administrator of Costco's mortgage lending platform. First Choice Loan Services, a division of Berkshire Bank, handles the initial customer intake and mortgage leads that come through the platform, he says.
Participating Costco lenders (as of April 2019):
First Choice Loan Services
How to apply for a Costco mortgage
Alexander walked NerdWallet through each step of the online application process.
A potential borrower landing on the mortgage website can enter information about a new or existing loan to get more precise rate quotes. You'll be asked for your Costco membership number, but you won't be asked for any personal information that would result in a credit check. (Note: Non-Costco members can still get a mortgage with competitive terms, but do not qualify for the fee discounts available exclusively to Costco members.)
Next, you can request quotes and compare the results of rates, points, fees and terms from up to four lenders at a time. You'll then receive emailed summaries from each lender, complete with rate and monthly-payment quotes that are time-stamped and dated. Borrowers have the ability to lock in one of these quoted rates even though they haven't technically been preapproved. If they choose not to lock, they risk losing the rate they were quoted at the start.
Each lender must offer the same rates and terms at closing that were quoted online as long as the rate was locked on the same day the quote was provided and a borrower's financial information is accurate and does not change, Alexander says. Otherwise, Affinity will hold lenders accountable.
"We always have the consumer's back [to ensure] they get the deal they were offered from the start," Alexander says. "We're sort of the sheriff in the process, and we monitor every single loan application and investigate any differentials in pricing."
A look at Costco mortgage products
For starters, Costco's multi-lender marketplace offers conventional (fixed-rate and adjustable) loans, as well as FHA, VA and USDA loans.
Costco lenders offer Fannie Mae and Freddie Mac's low down payment programs, which allow buyers to put as little as 3% down, Alexander says.
Borrowers looking for a jumbo mortgage or a home equity line of credit, or HELOC, will find those options, too, but they won't find reverse mortgages, Alexander says.
Loan amounts range from as little as $75,000 up to $10 million.
So far, more than 72,000 Costco members have obtained a purchase or refinance loan through the program since its inception in 2010, Alexander notes. On average, most purchase and refinance loans offered through the Costco program close in 17 to 45 days, he adds.
NerdWallet's star ratings for mortgage lenders are awarded based on our evaluation of the products and services each lender offers to consumers who are actively shopping for the best mortgage. The five key areas we evaluated include the variety of loan types and products offered, online conveniences, online mortgage rate information, and the rate spread and origination fee lenders reported in the latest available Home Mortgage Disclosure Act data. To ensure consistency, our ratings are reviewed by multiple people on the NerdWallet Mortgages team.