Southwest's Companion Pass Offer Is Back. But Can You Do Better?
Southwest just launched an offer for new applicants of their co-branded credit cards to earn the Companion Pass.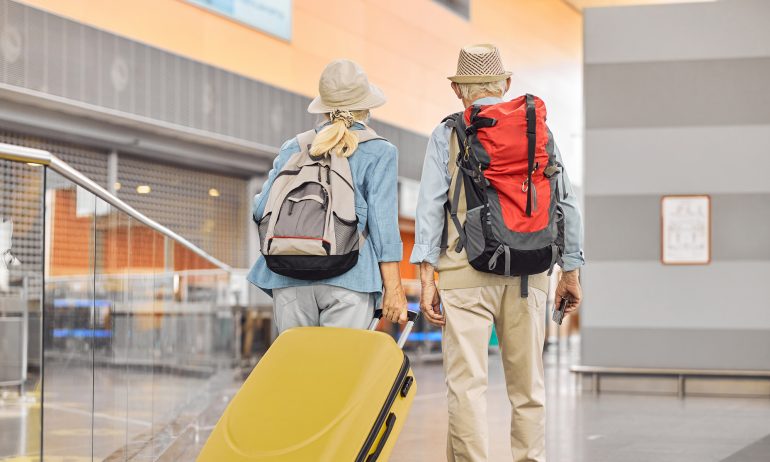 Many or all of the products featured here are from our partners who compensate us. This may influence which products we write about and where and how the product appears on a page. However, this does not influence our evaluations. Our opinions are our own. Here is a list of our partners and here's how we make money.
Go to the card's details page to learn about current offers.
---
If the past year spent at home has you itching to jump on every airplane you can with your BFF, here's a deal for you: Southwest's Companion Pass has just become much easier to earn. That's because Chase, which offers three Southwest co-branded credit cards for consumers — the Southwest Rapid Rewards® Plus Credit Card, Southwest Rapid Rewards® Premier Credit Card and Southwest Rapid Rewards® Priority Credit Card — has launched a new offer that's pretty tantalizing.
Here's the deal if you're approved: Earn 40,000 points after you spend $1,000 on purchases in the first 3 months. Plus, earn 3X points on dining, including takeout and eligible delivery services, for the first year.
What is the Southwest Companion Pass?
The Southwest Companion Pass is a much-coveted perk among travelers — it's essentially a buy-one-get-one deal on Southwest flights (aside from taxes and fees, which typically start at $5.60 each way). You book a flight with cash or your own Rapid Rewards Points, and your designated companion gets to fly with you for just those taxes and fees.
Good news for commitment-phobes: You can change your designated companion up to three times in one calendar year.
How do you (usually) earn a Companion Pass?
In normal times, earning the Southwest Companion Pass is a challenge. To qualify for a standard Companion Pass, you'll either need to:
Fly 100 qualifying one-way flights in a calendar year, or

Earn 125,000 Rapid Rewards points in a calendar year. Qualifying points include any points earned through paid flights booked via Southwest, points earned by spending on Southwest credit cards and base points earned from Rapid Rewards partners.
Upon meeting those requirements, you'll earn the Companion Pass for the rest of the year, as well as the entire following calendar year (so a pass earned in February 2021 would be good through December 2022).
Unless you're flying round trip pretty much every week, you're probably not going to achieve 100 one-way flights. It's more likely you would earn it through the rewards points, but even that means a lot of spending with Southwest. Of course, the welcome offers (typically 50,000 to 80,000 Rapid Rewards points) on Chase's Southwest cards can help you get to those 125,000 points.
Southwest did customers a favor this year by granting all Rapid Rewards members an additional 25,000 Companion Pass qualifying points due to COVID-19. Given that, you'd have to spend $20,000 on general purchases in order to spend your way to a Companion Pass (assuming you got an 80,000 point welcome bonus).
Nerdy tip:
You can make this even easier by getting approved for a business credit card through Southwest. See "An Alternative Plan" section below.
Is the Companion Pass worth getting under this new offer?
This new Companion Pass offer could potentially be one of the easiest ways to earn it. But everything comes at a cost, and just because it's the easiest way doesn't make it the best.
The standard pass is harder to earn, but has a better payoff
The pass you earn under this offer is good through Feb. 28, 2022. By the time you apply for the card and spend enough to earn the pass (and then actually receive it), spring break will likely have already passed. Depending on how quickly you can earn the pass, you might only have nine months (or less) to actually use it.
Compare that with customers who earn it the more standard, yet harder route. Depending on timing, it could be used for nearly two years of Companion Pass eligibility.
A Companion Pass is worthless if you can't travel
The value of the Southwest Companion Pass is really what you make of it. If you and your partner have to attend four weddings this year on top of your sister's graduation, Christmas with the in-laws and your anniversary in Hawaii, then — assuming your local airport is served by Southwest — you're looking at a swell deal. But if those weddings get postponed, graduation is held over Zoom and family Christmas is canceled (as many experienced in 2020), then you might find that a BOGO ticket is worthless when COVID-19 prevents you from traveling in the first place.
Remember, this Companion Pass is good through February 2022 only. While optimists hope something resembling normal will return by then, be realistic about when you'll get vaccinated, when travel will be relatively safe and when restrictions will be eased.
You'll likely be ineligible for future offers
This offer isn't available for current cardmembers of any Southwest credit card, or for previous members who received a bonus within the last 24 months. This is typical of most, if not all, offers on Southwest branded cards. You might not want to make yourself ineligible for future offers by applying for this one now.
Given that spring break doesn't look likely in 2021 (and even summer vacation isn't a guarantee) due to slower-than-expected vaccine rollouts, you might be better off waiting to earn the Companion Pass next year when you can more confidently use it.
2022 might bring an even better offer
It's not actually that many bonus points
This offer will earn you 30,000 points and an automatic Companion Pass if you meet the spending requirements. NerdWallet values those Rapid Rewards points at about $480. But it was common to see past offers on Chase's consumer cards that earned 80,000 Rapid Rewards points (though no automatic Companion Pass), a 50,000 point deficit.
We value those 80,000 point offers at around $1,280 — an $800 difference from the current offer. Would you rather have $800 worth of Rapid Rewards points that you can use anytime, or a Companion Pass good through February 2022?
If the former, skip this current offer.
If you want a Companion Pass that's valid beyond Feb. 28, 2022, and you qualify for the Southwest Rapid Rewards® Performance Business Credit Card, then here's a better deal than the one above. The welcome offer on that card could get you 100,000 points: Earn 80,000 points after you spend $5,000 on purchases in the first 3 months.
Thanks to Southwest's complimentary status boost, you need to earn only 100,000 more tier qualifying points in 2021 to earn the Companion Pass. If you're approved for that card and can hit the spending requirement, you could earn a Companion Pass good all the way through Dec. 31, 2022.
That means you could hold a Companion Pass for two rounds of winter holidays and summer vacations — potentially more savings than the new consumer card offer.
Nerdy tip:
If you have the patience and want to take a risk, hope that the Southwest Rapid Rewards® Performance Business Credit Card offer will be similar in early 2022 and earn the Companion Pass then for travel in 2022 and 2023. Hopefully, a more vaccinated and travel-friendly world will await you.
This latest Companion Pass offer is certainly attractive — and it's one of the easiest ways to get your hands on the highly-coveted BOGO ticket deal.
Especially if you're planning to go crazy on travel in the second half of 2021 and will be flying Southwest to make up for lost time in 2020, then holding a Companion Pass is an incredible way to save money every time you fly with a friend.
But if you aren't quite certain you should go for it, this should cure your FOMO: Past offers on these same cards have awarded more Rapid Rewards points, which can often be more valuable than a Companion Pass. Plus, considering this Companion Pass expires Feb. 28, 2022, you might want to wait to earn your pass in a year when you're more certain of your travel plans.
---
How to Maximize Your Rewards
Get more smart money moves – straight to your inbox
Sign up and we'll send you Nerdy articles about the money topics that matter most to you along with other ways to help you get more from your money.