Contractor Insurance: What It Is, How to Get It
Contractor insurance can protect your business in case of lawsuits and other claims. It's usually a package of policies.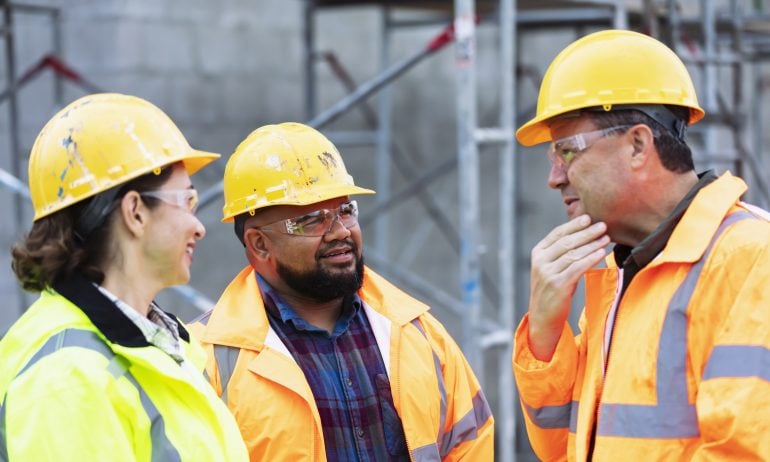 Many or all of the products featured here are from our partners who compensate us. This influences which products we write about and where and how the product appears on a page. However, this does not influence our evaluations. Our opinions are our own. Here is a list of our partners and here's how we make money.
Contractor insurance protects your construction business in case of lawsuits, on-the-job injuries, damage to your equipment and more. You may be required, either by law or the company that hired you, to have this coverage.
Most contractors need several business insurance policies to protect against these different risks, but you can usually buy them together from the same insurance company. Here's how to find the best contractor insurance for you.
What is contractor insurance?
Contractor insurance is usually a package of insurance policies that protects your business from financial losses in case someone files a claim against you.
Most contractors need general liability insurance and inland marine insurance. Whether you need other types of coverage depends on how big your company is, what's required in your state and what kind of work you do, among other factors.
Contractor insurance is important in situations like:
You accidentally cause damage to a customer's home or belongings while repairing one of their appliances.

Your materials are stolen out of your truck.

A customer accuses you of faulty work and files a lawsuit.
What does contractor insurance cover?
Business liability for third-party bodily injury, property damage and more. Your general contractor may require you to carry general liability insurance to protect your business and others on the project in case of lawsuits.

For example, if you spill paint on a customer's one-of-a-kind rug, the customer could sue you for the cost of replacing the rug. General liability insurance can help cover your legal and settlement costs.

Business property while it's being transported, or while it's being stored by a third party.

If you're driving from one landscaping project to another and supplies are stolen from your truck while you're stopped at a gas station, inland marine insurance will cover replacement costs.

Damage or loss to buildings during construction or renovation as a result of fire, weather events, vandalism or other hazards.

If the windows of a house that your company is building are broken during a windstorm, builder's risk insurance can cover the cost to replace them.

Employees who are injured or get sick while at work. Almost every state requires employers to have workers' comp for their employees.

If your employee falls off a ladder while painting a house and breaks an arm, their medical expenses would be covered under workers' compensation.

Vehicles that you use in the course of doing business. Protects you from expenses related to accidents, such as property damage and injuries.

If you're backing up your electrician's van and collide with another driver, your commercial auto insurance will cover damage to the car and any injuries the driver receives.

Business property that's damaged by certain accidents, weather events or other hazards.

A fire destroying your roofing inventory (shingles, tiles, other materials) would be covered under your commercial property insurance.

Claims against your business for mistakes or oversights in performing a service, breach of contract, professional negligence or failure to deliver a service on time.

If a client sues your general contracting company for missing the deadline on a construction project, your professional liability policy would cover legal and settlement costs.
Your contract may also require you to purchase a surety bond. Surety bonds act as promises that, if you can't complete the work you were hired for, the bondholder — usually an insurance company — will make whoever hired you financially whole.
How much does contractor insurance cost?
Median costs for contractor insurance can add up to as much as $595 per month, according to business insurance marketplace Insureon. That estimate is based upon purchasing multiple individual policies, though, and you may not need all that coverage.
Insureon reports the following median costs of insurance policies for contractors:
Less than $70 per month for general liability insurance.

$275 per month for workers' compensation insurance.

$150 per month for commercial auto insurance.

Less than $15 per month for contractors' tools and equipment insurance, which is a kind of inland marine insurance.

$85 per month for professional liability insurance.
How much business insurance costs can vary widely depending on how big your business is, where you're located and whether you've filed insurance claims in the past. Policies with higher limits or lower deductibles are usually more expensive.
There's variation within the construction industry, too. For example, roofers may pay twice as much for general liability insurance as plumbers and five times as much as sheet metal contractors, according to Insureon. That's because roofing comes with higher risks — both for injury and for causing damage to customer property.
Insurance companies tell you how much contractor insurance will cost when they give you a quote. NerdWallet recommends comparing several quotes to find the best coverage for your business at the best price.
Where can you get contractor insurance?
Lots of insurance companies sell the policies that contractors need. Which company fits your needs best depends on how quickly you need to shop.
If you need coverage right away, consider:
Thimble. If you're the person hiring other contractors, you can use Thimble to make sure they have insurance that complies with your requirements. And if you're the contractor who needs coverage, you can purchase a temporary or ongoing policy through Thimble.

Next Insurance. If you want coverage tailored to your specialty, Next sells insurance packages for everyone from drywall contractors to welders. Once you buy a policy, you can share certificates of insurance digitally with clients and contractors who request them.
Both Thimble and Next sell insurance entirely online. You can get a quote online by entering information about your business. If you decide to buy the quoted policy, you can do so online right away.
If you have more time and want hands-on support, consider:
Nationwide. If you want to customize your policy — like setting a per-project policy limit or adding pollution coverage, which is usually excluded from commercial general liability policies — Nationwide's contractor insurance may be a good fit. Nationwide also sells construction bonds.

The Hartford. If you want a business owner's policy, The Hartford offers one with lots of add-ons tailored to contractors — like coverage for your tools and equipment and protection against damage to property you're installing.
Nationwide and The Hartford's contractor insurance policies are sold through independent agents. A local insurance agent can help you figure out what policies you need and compare quotes from these providers and others.