General Liability Insurance for Contractors: What You Need to Know
General liability insurance protects your business from potential lawsuits and other claims and may be required as part of a contract.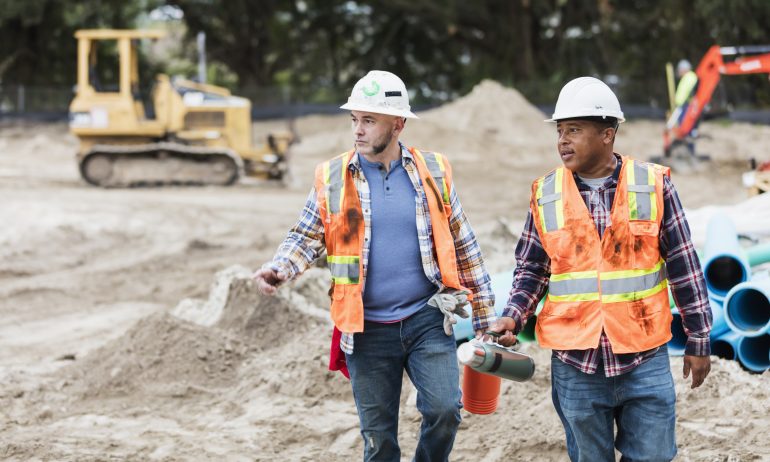 Many or all of the products featured here are from our partners who compensate us. This may influence which products we write about and where and how the product appears on a page. However, this does not influence our evaluations. Our opinions are our own. Here is a list of our partners and here's how we make money.
General liability insurance, or GL insurance, can protect you from third-party claims of bodily injury or property damage as a result of business activity. General contractors, carpenters, roofers and other construction workers should carry this type of liability policy and may be required to do so by their employer, city or state.
You might also consider additional coverage, such as commercial auto insurance, professional liability insurance or workers' compensation.
Here's what you need to know about general liability insurance for contractors and construction businesses, as well as how to find the right coverage for you.
Contractors, people who work in trades and construction businesses that may need this type of liability coverage include:
Clients may require that you show proof of general liability insurance before agreeing to work with your business. Your contract may stipulate that you provide a certificate of insurance, or COI, as part of the agreement.
Similarly, depending on the project or type of construction your business performs, your city or state may also require that you meet general liability insurance requirements when seeking a permit or license for that work.
Typically, policies cover:
Bodily injury. If a customer trips and falls at a job site where you're doing construction work, you could be held liable for their injuries. If the person sues you, your general liability insurance can help cover associated legal, medical and settlement costs.
General liability insurance doesn't, however, cover injuries sustained by employees — for that coverage, you'll need .
Property damage. If you're renovating a client's house and accidentally damage some of their furniture in the process, you could be held responsible for that damage. Your general liability insurance can cover the cost to replace or repair the furniture, as well as any legal costs if the client sues over the property damage.
A general liability policy will cover damage to third-party property only. You'll need to protect your commercial assets.
Personal and advertising injury. If an employee who works for your contracting company makes false statements about another general contracting company and that company sues you for slander, a general liability policy can help cover legal and settlement costs. Your policy also can cover personal injury claims associated with copyright infringement and libel.
Some insurance companies offer add-ons for general liability policies. Add-ons offer extra protection that basic coverage doesn't provide. Here are a few examples of add-ons that may be available for contractors and construction businesses:
Although general liability insurance can protect against common risks associated with running a business, it doesn't offer complete coverage. The chart below shows some of the that may be applicable for contractors and construction companies — and what these policies typically cover.
You might also choose to bundle multiple types of insurance into a , or BOP. Business owner's policies usually combine general liability insurance, commercial property insurance and business interruption insurance, but can be customized to meet the needs of a contracting or construction business.
The will vary based on a variety of factors, including:
Data from Insureon customers indicates that contractors and construction companies pay a median premium of less than $70 per month, or $825 per year, for general liability insurance. According to Insureon, higher-risk businesses, like roofers, pay more for general liability insurance, however, compared with lower-risk companies like paving contractors and locksmiths.
The cost of your contractors liability insurance will also depend on the number of policies. If you need several policies in addition to general liability insurance, the cost of your coverage will increase.
The best way to get a sense of how much a policy will cost is to get a customized quote for your business.
To get liability insurance for a contracting or construction business, you can follow these five basic steps: