When it comes to opening a food business, some entrepreneurs start on wheels before expanding to a brick-and-mortar location. Food trucks can give aspiring restaurateurs a chance to perfect menu items, build a customer base and establish a brand before investing in an expensive permanent location.
"The nice thing about a food truck is it's a lower barrier to entry, and you can make a lot of adjustments — where you're vending, your menu, your customer base,"  says Matt Geller, founder of the National Food Truck Association, which represents regional food truck groups around the country.
When food-truck owners eventually do open restaurants, many decide to keep their vehicles operating as an advertising tool. "Your food truck just ends up being a moving billboard," Geller says.
Regulations for food trucks vary by location, but all operations need a health permit and a business license, Geller says. In some places, food trucks also need parking permits, and some cities require all food to be prepared off the truck in a commissary, or production kitchen.
NerdWallet talked to six successful entrepreneurs from around the U.S. about making the transition from food truck to restaurant.

Skillet
Seattle
Skillet began selling classic American fare in 2007 out of a vintage Airstream trailer. Since then, the company has expanded to include two additional trucks, three brick-and-mortar locations and a catering company.
"Running a food truck is profitable, but the margins are on the low side because of gas and parking permits," Skillet Group President Jon Severson tells NerdWallet. "In a brick-and-mortar, you need more money to start up, but you have more opportunities to create a complete guest experience."
Skillet also has a line of products, including its original bacon jam, spreads and pumpkin ketchups, sold in specialty food stores and some Costco and Whole Foods locations. Travelers on Alaska Airlines will find Skillet's bacon jam slathered on the grilled cheese sandwiches offered on the in-flight menu.
Curry Up Now
San Francisco Bay Area
Curry Up Now began as a single food truck in 2009 and has since grown to five trucks, three brick-and-mortar restaurants and a catering business. It has plans to open three additional locations later this year. Although they had always been aspiring restaurateurs, owners Akash and Rana Kapoor had no experience in the restaurant business prior to opening their first truck.
"We wanted to prove our concept on a truck with a low budget," says Akash, a native of northern India.
Curry Up Now puts a new spin on Indian street food, with menu items such as "Naughty Naan," which Kapoor describes as pizza on Indian naan bread, and "Sexy Fries," sweet potato fries topped with cheese, fried leeks and meat.
The Peached Tortilla
Austin, Texas
 The Peached Tortilla started its food truck in 2010. It later added a catering company, and then opened a permanent restaurant location in December 2014. Founder Eric Silverstein considers each component integral to his business: The food truck was the catalyst, the restaurant is the art and the catering company is the moneymaker.
"With a restaurant, it's more about painting your own masterpiece." Silverstein tells NerdWallet. "Catering is more lucrative. It's less about ego and more about making the customer happy."
A fusion of Asian cuisine and Southern comfort food, The Peached Tortilla serves bahn mi and BBQ brisket tacos, pork belly bowls with kimchi, egg and pickled daikon carrots, and "Southern Fun" — an item with braised brisket, kale, bean sprouts and rice noodles.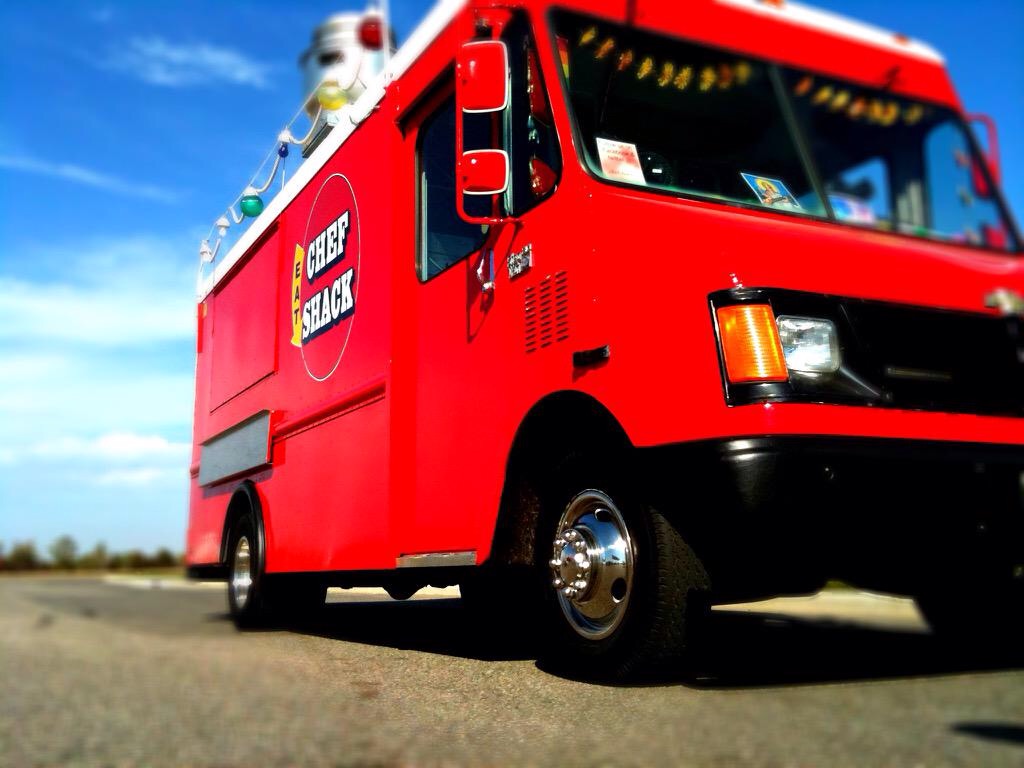 Chef Shack Ranch
Minneapolis
Chefs Carrie Summer and Lisa Carlson started the Chef Shack food truck in 2008. They opened a brick-and-mortar restaurant, Chef Shack Ranch, four years later, partly because they were uncertain about the future of the food truck trend.
"What if people get tired of it? What if gas prices shoot up to $10 per gallon?" Summer recalls wondering. "We really wanted to be ahead of that."
Having worked in professional kitchens prior to the Chef Shack, Summer and Carlson bring a level of sophistication to the otherwise traditional barbecue menu. In addition to the usual suspects — smoked brisket, biscuits and slaw — the Chef Shack serves Indian-spiced donuts, creme brulee and chocolate mousse.
Korilla BBQ
New York City
The Korilla BBQ food truck began rolling in 2010, with owner Edward Song essentially learning on the job. In the food truck's early days, Song didn't know how to turn on the truck's propane grill, which led to lost eyebrows, singed eyelashes and even third-degree burns. Song got slammed with parking tickets and, like all food truck owners, had to deal with frequent truck repairs.
 "Trucks break down at the worst times possible," Song says. "It's what we call a double whammy: Not only do we have to pay for the repairs, but we also miss out on that revenue."
 Korilla BBQ survived those struggles, and Song opened a brick-and-mortar location in October 2014 in New York's East Village. He says running a restaurant is easier than running a truck because now there's a permanent location where customers can consistently find Korilla BBQ's burritos, rice bowls, noodles and salads.
Mei Mei
Boston
Mei Mei Street Kitchen is a sibling-run food truck that began in 2012. Andrew, Margaret and Irene Li wanted to source ingredients from local farms, and that was easier to pull off on the smaller scale of a truck than in a full restaurant. It was also less expensive, and it allowed them to test their menu and build a brand before opening their brick-and-mortar restaurant in 2013.
Mei Mei, which means "little sister" in Chinese, serves seasonal dishes, including green coconut curry, pumpkin spice fritters, dumplings, soy ginger noodle salad and steam buns. Even before opening the truck, the siblings rented space in another restaurant to host a pop-up event where they tested recipes and passed out surveys for guests to give feedback.
"There's so much you can do to build a brand these days with pop-up events," Margaret tells NerdWallet. "You don't have to have your own space to get your name out there."
For more information about how to start and run a business, visit NerdWallet's Small Business Guide. For free, personalized answers to questions about starting and financing your business, visit the Small Business section of NerdWallet's Ask an Advisor page.
Teddy Nykiel is a staff writer covering personal finance for NerdWallet. Follow her on Twitter @teddynykiel and on Google+. Contact her at [email protected].
---
Images courtesy of Skillet, Curry Up Now, The Peached Tortilla, Chef Shack, Korilla BBQ and Mei Mei.