Franchesca Buttram has been passionate about the fashion industry for decades, and her decision to start her own company was based on her belief that every young woman should be able to look and feel confident in stylish, affordable clothing. Based on these principles, Franchesca founded KocoSky.com, a women's clothing e-commerce boutique featuring an array of dresses and accessories for fashionable women who love the convenience of shopping online.
Franchesca is committed to fostering confidence in young women, and her goal is for KocoSky to offer a wide range of options that flatter every body type. KocoSky has been able to differentiate itself in the increasingly crowded e-commerce apparel market by giving each woman a personal shopping experience.  KocoSky sends personalized thank you notes to each customer with their purchase along with a friendly follow-up after the delivery of the products. Franchesca also differentiated KocoSky by creating a Know Your Shape feature which educates women on what dress styles work best for their body types.  
When the website officially launched on October 17, 2010, KocoSky started its journey to become the go-to place for women seeking unique and flattering dresses. Franchesca hit a bump in the road when she applied for a bank loan for working capital and was declined because her start-up was too new. Yet, despite this roadblock, Franchesca remained focused on building her business and sought alternatives.
Unfazed, Franchesca turned to a coaching program offered by Working Solutions, a nonprofit providing Bay Area businesses with up to 5 years of coaching, mentorship and planning as well as funding for up to $50,000. She and her Lending Team, Agnes and Roberto worked through basic business planning and walked through the loan application process step by step.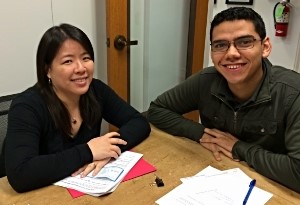 Ultimately, Franchesca was able to obtain a $25,000 loan from Working Solutions to expand her inventory and build out her website. She has taken advantage of Working Solutions' business coaching programs by working with a marketing mentor and promoting her business at networking events.  Since her loan was funded, her business has thrived and she has created one new job.