Taddesse Haile emigrated to the United States with 20 years of experience running a cafe in Ethopia and a dream of bringing Ethiopian food to his new neighborhood in the Haight district of San Francisco.
In 2009, Taddesse was ready to realize his dream by opening Oasis Café, but lacked the credit history in the United States to receive a traditional bank loan for working capital. Taddesse had a perfect space in mind for his coffee shop, and received Working Solutions' funding in 2009. As Taddesse noted, Working Solutions helped make my dream come true of opening my own café… I've created 4 new jobs and look forward to my ongoing quarterly business coaching sessions." Taddesse received a $10,000 loan to renovate and furnish his space to get him ready for business!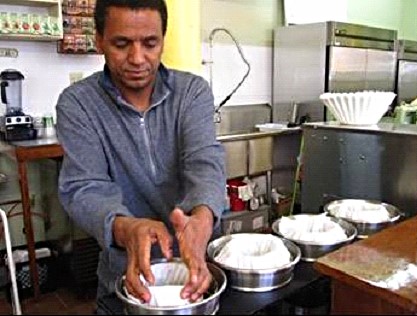 Working Solutions worked with Taddesse to review his leases and contracts and find opportunities for him to market his café. Within three years, his revenue increased enough that he was ready to expand his space and create a full service Ethiopian restaurant. With his good repayment history, he was approved for a second $45,000 loan. Taddesse was able to buy new kitchen equipment, apply for permits and expand his marketing efforts to get Oasis Cafe on the map!