Like many great entrepreneurs before him, Lance Pickens dropped out of college to start his company, MadeSolid, which develops advanced materials for 3D printers.
The materials give 3D printer owners the ability to create real 3D objects, such as engine parts for cars and trucks, dental parts, and even jewelry.
"It's the idea of being able to take anything from your head, and having this magical box that can turn it into reality," says Pickens, who had been in a chemistry PhD program at the University of Southern California. "Fundamentally, a 3D printer takes atoms and ideas, and turns [them] into physical stuff. I mean, that is powerful."
---
You might also like:
Pickens first encountered 3D printers at nonprofit group Crash Space in Los Angeles in 2012. At the time, he also had a job as a programmer, but he says he found himself spending more and more time "skipping out of work to play with 3D printers." So, Pickens followed his instincts and passion, and launched MadeSolid in 2013 in Oakland, California.
So far, it certainly seems like Pickens has made the right choice. The company grew its monthly revenue from under $5,000 in late 2013 to more than $30,000 by late 2014 – a total growth rate of about 600% and an average monthly growth rate of 34%, according to MadeSolid's Wefunder campaign.
The worldwide market for 3D printing is expected to balloon over the next few years, growing from a $5.2 billion market in 2015 to a $20.2 billion market by 2019, a compound annual growth rate of 44%, according to consulting and market analysis firm Canalys.
"Cheaper printers, great software and amazing new materials are opening up 3D printing to users of all skill levels to see and access this incredibly exciting technology," says Aaron Roy, vice president of operations at 3DPrinterOS, which creates software for 3D printer users.
A big success for MadeSolid came in 2014, when the company was accepted into Y-Combinator, a Silicon Valley seed accelerator that provides money, advice and connections for start-ups. There Pickens first heard of Wefunder – an online investment crowdfunding service that connects start-ups with investors – as Wefunder had gone through the Y-Combinator itself, a year and a half earlier.
After he was invited to a networking event hosted by one of Wefunder's founders, Pickens was impressed with the company and decided to try to raise money on the platform.
A crowd investing platform for start-ups
Wefunder believes that anyone – regardless of his or her financial situation – should be able to invest in a small business or start-up. Mike Norman co-founded Wefunder back in 2012, when he said he had friends who were starting companies all around him, but was "frustrated at the idea that he wasn't legally allowed to invest in them."
"Being able to support something from the ground up — investing in a person and idea that you think is really compelling — is such a great experience," Norman says. "And we thought it was ridiculous we were prohibited by law [from doing] so."
The site provides "insider access" to high-growth, pre-initial public offering companies (such as MadeSolid), with minimum investments of as little as $1,000.
Wefunder was one of the companies that lobbied the Securities and Exchange Commission (SEC) and Congress for the passing of the Jumpstart Our Business Startups (JOBS) Act. The JOBS Act encourages the funding of small businesses by allowing private start-ups to advertise and solicit investments and letting the general public invest and receive equity in companies.
"We got involved to really help them understand how entrepreneurship works, how the Internet works, and how to formulate some legislation that would actually work in practice," says Norman, who was in the White House when President Obama signed the JOBS Act into law on April 5, 2012.
However, while Titles I, V, and VI of the JOBS Act became effective immediately, Title III — which would allow unaccredited investors to participate on sites like Wefunder — was delayed. Currently, only accredited investors (those with $1 million in net worth or $200,000 annual income) can legally invest on Wefunder and other equity crowdfunding platforms.
Norman says the SEC will release final rules in late 2015 to allow nonaccredited investors to participate. So anyone – regardless of his or her financial situation – may soon be able to invest in the next Google or Microsoft, or at least support his or her friend's new small business.
Keeping up with demand
To help MadeSolid meet growing demand and to get a little more aggressive by launching new products, the company decided to try its luck on Wefunder.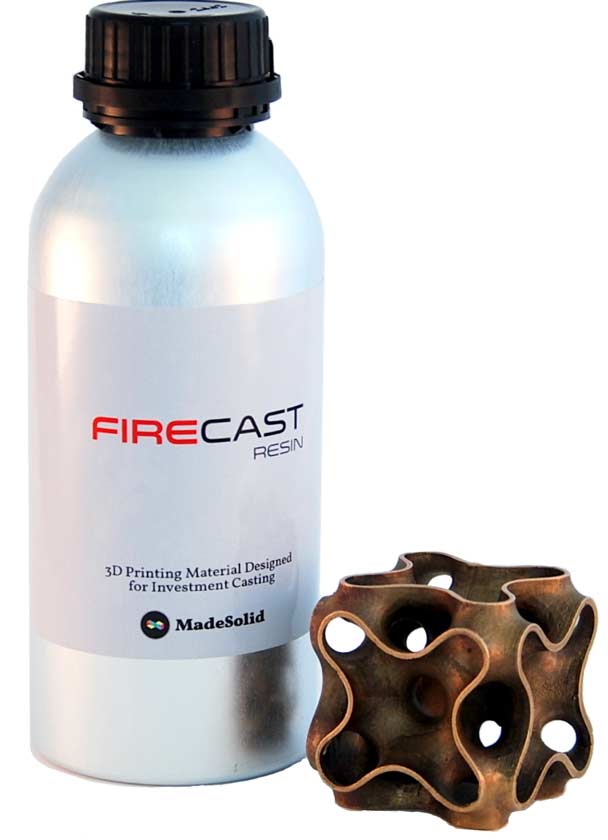 Originally, the company's target was to raise around $100,000 on the site, but it ended up blowing past that figure, raising $303,000.
"MadeSolid is really riding the wave of an industry, which is on the rise," Norman says. "It's clear there's going to be so many different applications for technology and things that have been manually assembled beforehand that are now going to be printed. So, for our investors and for us, we've been able to see the very clear trajectory of this industry."
"Within the industry, the materials side, they've come up with a few applications where they're making money, they have sales, and they have a very smart roadmap and plan for how it is they're going to grow moving forward," Norman adds. "They were able to bring that out in their profile in a way investors can get their hands around."
According to Pickens, Wefunder "basically did everything" for MadeSolid, from bringing the investors together and vetting them to creating the best content.
"Wefunder curates who's going to be on the platform — they care about who's on the platform," Pickens says. "So, you're not going to be necessarily competing with a lot of other companies at the same time. You're going to get more hands-on than what you would get on any other site, and I think that's the chief advantage."
As a start-up, you're constantly busy – trying to increase sales, building new products, dealing with customers – which can make raising money a distraction. So the fact that Wefunder handled a lot of the work was huge for MadeSolid, according to Pickens.
"You can run your company – you don't have to stop to do fundraising. The advantage is just awesome," he says.
How to raise money on Wefunder
To get started on Wefunder, you simply apply on the website and submit information about your company. Wefunder will then decide if it thinks you're a good fit for the platform. According to Norman, factors taken into consideration include: Does the product respond to the need of the marketplace? Does the management team have experience in this space? And does the business have traction – how far along is the company?
"Then, we'll pick generally one company a week from all those that apply, and we'll work with them to build out a really compelling profile to give investors a really clear idea of what it is they are doing," Norman says. "We would then launch it to our community to start taking investments."
What makes Wefunder unique is the company makes money only if the start-ups on its platform are successful. That's because Wefunder gets paid 10% of a company's profits, a figure known as carried interest. This is about half of what the typical hedge fund or venture capital firm takes, according to Wefunder.
"It's really important to us that we be aligned with our investors in terms of finding good companies and being compensated on the success of those good companies, so that's why the carried interest model makes sense," Norman says. "So if the company fails … we don't make anything. We are invested alongside our investors."
The future for MadeSolid and Wefunder
Thanks in part to the equity funding on Wefunder, MadeSolid plans to launch three new products over the next six months.
One of these products, called FlexSolid, is potentially game-changing, as it will give 3D printers the ability to create soft objects such as shoes and other wearable items or wheels for a skateboard.
"I think it's really going to change the way people think about 3D printing, and it will bring a lot more people into the market," Pickens says. "We have more products we are launching that will essentially turn 3D printing from a toy into a manufacturing technology for everyone."
Wefunder is eagerly waiting for the SEC to publish the final rules of the JOBS Act, expected in October 2015, which will allow non-accredited investors to participate in crowdfunding platforms.
"It changes fundamentally what we are as a company," Norman says. "What happens when the rule come into effect, start-ups can think differently about fundraising. You can have your customers on board as investors; people that believe in you in the beginning, they can become investors instead of just customers. And those are the people who are going to believe in you the most."
For more information about how to start and run a business, visit NerdWallet's Small Business Guide. For free, personalized answers to questions about starting and financing your business, visit the Small Business section of NerdWallet's Ask an Advisor page.
Steve Nicastro is a staff writer covering personal finance for NerdWallet. Follow him on Twitter@StevenNicastro and on Google+.
---
Photos courtesy of Lance Pickens
Main image via iStock.