Last week, as the Federal Reserve held off on hiking short-term interest rates — a move that would eventually steer home loan rates higher as well — potential homebuyers decided to wait no more. Mortgage applications surged 14% higher than the preceding week, according to the Mortgage Bankers Association. The MBA also reports refinance activity was brisk: up 18% for the week ending Sept. 18, 2015.
Meanwhile, mortgage rates reported by Freddie Mac slipped slightly:
30-year fixed-rate mortgages averaged 3.86% with an average 0.7 point for the week ending Sept. 24, 2015.  A year ago, the rate averaged 4.20%.
15-year fixed rates averaged 3.08% with an average 0.6 point. The same term priced at 3.36% a year ago.
5-year adjustable-rate mortgages priced at 2.91% with an average 0.5 point. Last year at this time the same ARM averaged 3.08%.
"Mortgage rates have remained below 4% for nine consecutive weeks and have remained range-bound between 3.8 and 4.1% since May," Sean Becketti, chief economist for Freddie Mac, said in a release. "These low mortgage rates have supported strong home sales, and 2015 is on pace to have the highest home sales total since 2007."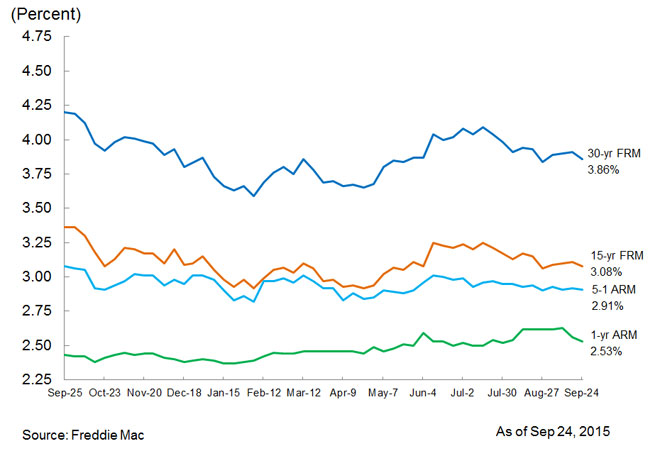 Rents still growing faster than home values
Potential buyers may bemoan the rising prices of homes, but new research says rising rents continue to outpace home values. The Zillow Rent Index, a component of the firm's August real estate analysis, rose 3.8% year over year while home values increased 3.3% over the same period.
Harvard University's Joint Center for Housing Studies reported this week that over 13 million households will be paying more than half of their income on rent by 2025.
Meanwhile, the Zillow analysis indicates the rise in home prices is beginning to moderate.
"We're not going in reverse, but we are hitting the brakes a bit in some markets," Svenja Gudell, Zillow chief economist, said in the August report. Gudell said national price appreciation has leveled off over the past five months, a sign the housing market is "returning to normal."
New mortgage loan procedures go into effect next week
Facing more mortgage-related complaints than any other financial service, the Consumer Financial Protection Bureau has put into place a growing number of consumer protections, the latest of which goes into effect next week. The CFPB's "Know Before You Owe" initiative rolls out Oct. 3.
Designed to provide borrowers with streamlined, easier-to-understand loan closing documents, the CFPB says the new disclosures will give consumers more time to understand mortgage terms and fees prior to signing. Also, changes made to the loan terms or closing requirements will automatically trigger a three-day review period.
The bureau began handling consumer issues in 2011 and as of Sept. 1, 2015, has processed over 190,000 mortgage-related complaints.
The end of the lawn and garden?
The detached single-family home may be a rare residential option in the future, according to a Washington Post analysis. Compiling data from the 2014 American Community Survey, the Post found that multifamily housing is replacing the sprawl of single-family settings: Buyers are forgoing lawns, driveways and green spaces for row homes, condos and towers.
And it's not just a trend in D.C., New York and Chicago.
"Seattle, for one, has been reassessing this summer all the land it has historically protected for single-family homes in an effort to create more affordable housing," the Post reports.
More from NerdWallet:
Hal Bundrick is a staff writer at NerdWallet, a personal finance website. Email: [email protected]. Twitter: @halmbundrick