For just the second time this year, mortgage rates edged higher, but they remain attractively low for homebuyers looking to jump into the busy spring sales season.
Meanwhile, 6 million homeowners owe more than their homes are worth in some amount as depressed home values continue to plague some major cities such as Chicago and Las Vegas.
Freddie Mac's just-released weekly survey of lenders shows the following average rates for the most popular home-loan terms:
30-year fixed-rate mortgages averaged 3.68% with an average 0.5 point for the week ending March 10, 2016. A year ago, the rate averaged 3.86%.
15-year fixed-rate mortgages averaged 2.96% with an average 0.5 point. The same term priced at 3.10% a year ago.
Five-year adjustable-rate mortgages were priced at 2.92% with an average 0.4 point. Last year at this time, the same ARM averaged 3.01%.
"The 10-year Treasury yield ended the survey week exactly where it started; however, the solid February employment report boosted the yield noticeably on Friday and Monday," Sean Becketti, chief economist for Freddie Mac, said in a release. "Our mortgage rate survey captured the impact of this temporary increase in yield, and the 30-year mortgage rate rose 4 basis points to 3.68%. This marks the second increase this year. Nonetheless, the mortgage rate remains 33 basis points lower than its end-of-2015 level."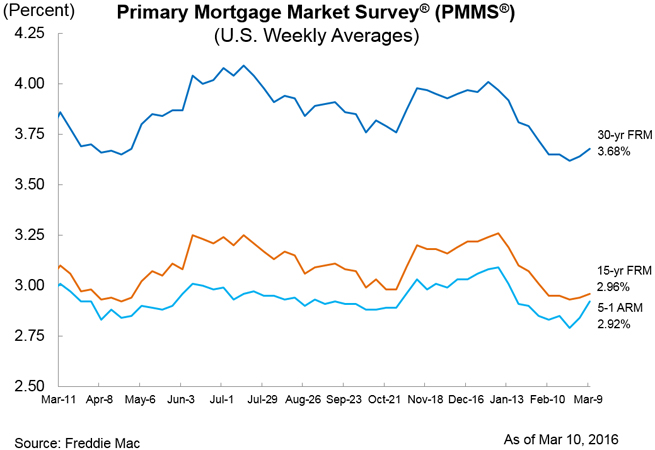 Mortgage applications rose 0.2% for the week ending March 4, according to the Mortgage Bankers Association weekly report, driven by new borrowers entering the market.
Purchase applications were up 4%, as refinancing applications fell 2% from the previous week.
Overall, home-purchase loan applications remain 30% higher than the same week one year ago.
Zillow: 6 million homeowners are underwater
Rising home values have swept across many markets in the country, but for millions of homeowners in some cities, it's not enough to rescue them from negative equity.
By the end of 2015, 6 million homeowners were upside down in their mortgages, with more than 820,000 of those borrowers owing the bank twice the amount their homes are worth, according to the fourth quarter Zillow Negative Equity Report.
Nationally, the negative equity rate edged down slightly by 0.3 percentage points in the fourth quarter driven by rising home values. The boost has brought 10 million homeowners out of negative equity in the past four years, which is good news when you look at the overall picture.
But that's little consolation to borrowers in markets such as Chicago and Las Vegas where one in five homeowners owes more than their homes are worth, Zillow found.
"Even though the number of underwater homeowners has fallen significantly since the peak of the housing crisis, negative equity persists in many markets, as it fell at its slowest pace in a year," Zillow Chief Economist Svenja Gudell said in a release. "Things are moving in the right direction, but some owners are still deeply underwater. As we move into the home shopping season, inventory is already low, and negative equity is keeping potential additional stock from becoming available."
More from NerdWallet:
How much house can I really afford?
Deborah Kearns is a staff writer at NerdWallet, a personal finance website. Email: [email protected]. Twitter: @debbie_kearns
---
Image via iStock.