Mortgage rates headed lower for the fifth week in a row, confounding the experts, and are now at their lowest level since late April 2015. Meanwhile, a couple of reports are noting two years as an important touchstone for potential homebuyers.
Freddie Mac's just-released weekly survey of lenders shows the following average rates for the most popular home loan terms:
30-year fixed-rate mortgages averaged 3.72% with an average 0.6 point for the week ending Feb. 4, 2016. A year ago, the rate averaged 3.59%.
15-year fixed rates averaged 3.01% with an average 0.5 point. The same term priced at 2.92% a year ago.
5-year adjustable-rate mortgages priced at 2.85% with an average 0.4 point. Last year at this time, the same ARM averaged 2.82%.
"Market volatility — and the associated flight to quality — continued unabated this week," Sean Becketti, chief economist for Freddie Mac, said in a release. "Both the Treasury yield and the mortgage rate now are in the neighborhood of early-2015 lows. These declines are not what the market anticipated when the Fed raised the Federal funds rate in December. For now, though, sub-4% mortgage rates are providing a longer-than-expected opportunity for mortgage borrowers to refinance."
Mortgage applications sagged 2.6% for the week ending Jan. 29 from the week prior, according to the Mortgage Bankers Association weekly report. The results reflected an adjustment for the Martin Luther King holiday.
Purchase applications were down 7%, as refi applications rose incrementally, 0.3%. Overall, home purchase loan applications remain 17% higher than the same week one year ago.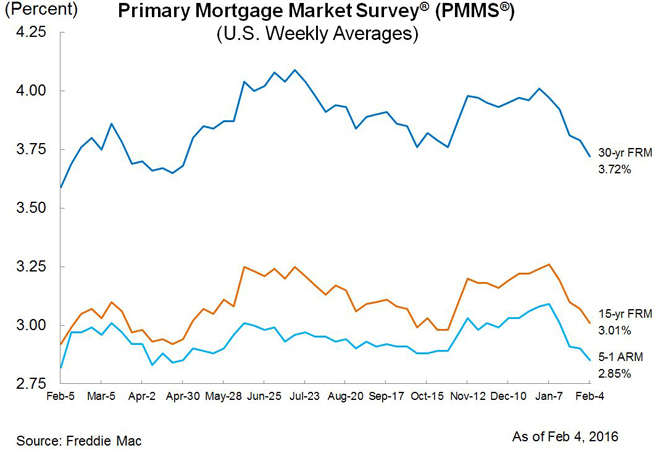 Buying beats renting in less than 2 years
In 70% of the major markets across the nation, it takes just 1.9 years to break even on a home purchase, compared to renting the same house. A Zillow analysis of rent-versus-purchase costs examined data through the fourth quarter to determine the "break-even horizon."
Considering the largest 35 metros, the home purchase break-even point is longest in Washington D.C. (4.5 years) and shortest in Dallas (1.3 years).
You would also need to live in a home for three years or more to break even on comparable rent in Baltimore, Boston, New York, San Jose, San Diego and Los Angeles, according to the report.
But Cleveland, San Antonio, Kansas City, Houston, Atlanta, Detroit, and Indianapolis — along with Dallas — are cities where the break-even period is 1.5 years or less.
However, home affordability may be slipping away within the next 2 years
But two years is also a benchmark for another important home buying timeline. In an analysis of national price appreciation and household income, Black Knight Financial Services finds home affordability to currently be favorable by historical standards, but headed in the wrong direction within the next couple of years.
Today, 21% of median income is required to purchase a median-priced home with a 30-year fixed-rate mortgage. That's down from 33% in 2006 and still below the average of 26% in the "stable years before the housing bubble," the research firm says.
However, considering the current rate of home price appreciation, combined with a half-point (0.5%) annual increase in mortgage interest rates, the near-term forecast is not so optimistic.
"We see that in two years home affordability will be pushing the upper bounds of that pre-bubble average," says Black Knight senior vice president Ben Graboske. "At the state level under that same scenario, eight states would be less affordable than 2000-2002 levels within 12 months and 22 states would be within 24 months."
The firm says both Hawaii and Washington, D.C., are already less affordable than they were during the pre-bubble real estate market.
If home prices and interest rates continue to rise at the same pace, nationally, the average monthly payment on the median home will rise by $114 within 12 months and would be $240 more per month in 24 months.
More from NerdWallet:
Hal Bundrick is a staff writer at NerdWallet, a personal finance website. Email: [email protected]. Twitter: @halmbundrick
---
Image via iStock.