Borrowers took notice as mortgage rates dipped for a second consecutive week in the latest survey of lenders. The dropping rates are fueling an increase in mortgage applications over the previous week as borrowers clamor to take advantage of the low rates.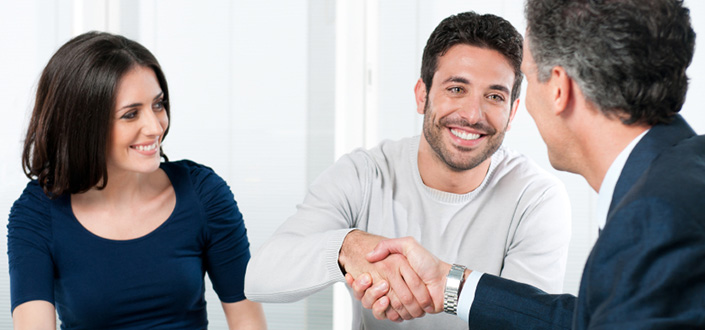 GET ADVICE FROM A MORTGAGE BROKER
Understand what you can afford
Find the best loan
Get approved and funded in 15 days
Get started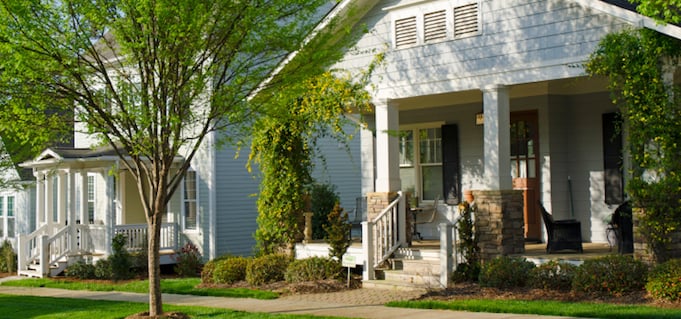 COMPARE CURRENT MORTGAGE RATES
Get personalized, free rate quotes
Compare mortgage loans from top lenders
Refinance your mortgage and get a lower rate
Get started
Freddie Mac's just-released report shows the following average rates for the most popular home loan terms:
30-year fixed-rate mortgages averaged 3.92% with an average 0.6 point for the week ending Jan. 14, 2016.  A year ago, the rate averaged 3.66%.
15-year fixed rate mortgages averaged 3.19% with an average 0.5 point. The same term priced at 2.98% a year ago.
5-year adjustable-rate mortgages priced at 3.01% with an average 0.4 point. Last year at this time, the same ARM averaged 2.9%.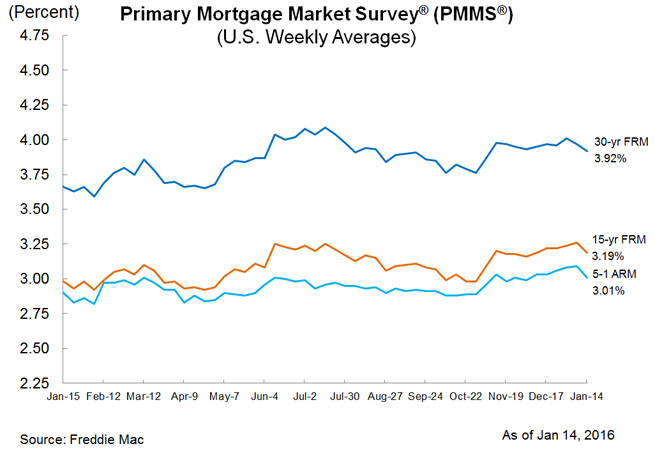 "Long-term Treasury yields continue to drop, dragging mortgage rates down with them," Sean Becketti, chief economist for Freddie Mac, said in a release. "Turbulence in overseas financial markets is generating a flight-to-quality which benefits U.S. Treasury securities. In addition, sagging oil prices are capping inflation expectations. The net effect on the 30-year mortgage rate was a 5 basis point drop to 3.92%."
Mortgage applications surged for the week ending Jan. 8, jumping 21.3% from one week earlier, according to the Mortgage Bankers Association.
Refinance applications also rose by 24%, and purchase applications increased 18% from one week earlier.
The hottest real estate markets of 2016 are …
If you've ever dreamed of moving to Denver, Seattle or Dallas-Fort Worth, you'll have plenty of competition to buy a house this year. According to Zillow, those three cities rank among the top 10 hottest real estate markets of 2016.
Zillow used three variables to determine the "hotness score" of the nation's leading housing markets: home value appreciation, recent income growth and current unemployment rates.
For instance, Omaha has the lowest unemployment rate (2.9%) of the 10 hottest markets, and Dallas-Fort Worth home values are predicted to rise by 5.6% (the highest increase of all cities on the list). Thanks to a booming economy and a 16% jump in home values in 2015, Denver, the No. 1 city on the list, is running full steam ahead into 2016 with another 5% increase predicted for home values, according to Zillow.
"Trendy tech centers like San Francisco, Seattle and Denver hogged the spotlight in 2015. But this year, the markets that shine brightest will be those that manage to strike a good balance between strong income growth, low unemployment and solid home value appreciation," said Zillow Chief Economist Dr. Svenja Gudell in a release.
"As the job market continues to hum and opportunity becomes more widespread, the best housing markets are no longer limited to the coasts or one-industry tech towns. This year's hottest markets have something for everyone, whether they're looking for somewhere to raise a family or start their career."
Here's the full list of Zillow's picks for the top 10 hottest housing markets in 2016:
Denver, Colorado
Seattle, Washington
Dallas-Fort Worth, Texas
Richmond, Virginia
Boise, Idaho
Ogden, Utah
Salt Lake City, Utah
Omaha, Nebraska
Sacramento, California
Portland, Oregon
More from NerdWallet:
Deborah Kearns is a staff writer at NerdWallet, a personal finance website. Email: [email protected]. Twitter: @debbie_kearns.