Mortgage Market Roundup: Interest Rates (7/30/15)
Mortgage rates edged just below 4% as choppy overseas equity markets caused Treasury yields to fall.
30-year fixed-rate mortgages fell to 3.98% with an average 0.6 point for the week ending July 30, 2015, according to Freddie Mac's weekly market survey. A year ago, the rate averaged 4.12%.
15-year fixed rates dipped to 3.17% with an average 0.6 point. The same term priced at 3.23% a year ago.
5-year adjustable-rate mortgages eased to 2.95% with an average 0.4 point. Last year at this time the same ARM averaged 3.01%.
"Recent housing data exhibited the same good news/bad news pattern as overseas developments," said Sean Becketti, chief economist for Freddie Mac, in a release. "Coming into this week, existing home sales for June and the latest FHFA house price measures both suggested a stronger tone in the housing market. However this week brought nothing but bad — or at least weaker-than-expected — news. New homes sales and pending home sales both weakened and the Case-Shiller house price indices, while positive, fell below the lower end of expectations. Finally, the inadvertent release of Fed staff projections increased uncertainty over the timing of future Fed rate moves."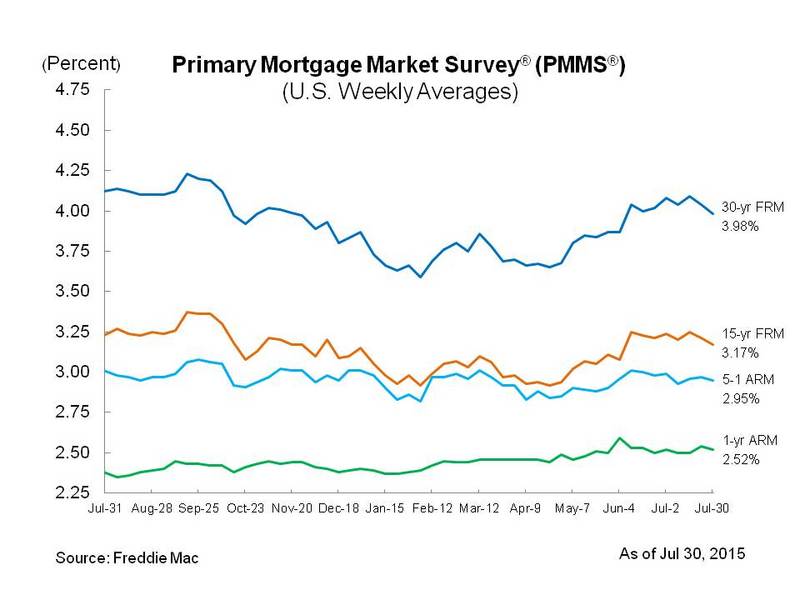 Mortgage application activity gained slightly from the previous week, according to a survey by the Mortgage Bankers Association. The index of application volume rose 0.8% for the week ending July 24, 2015. Refinance applications were also up a solid 2%.
Meanwhile, pending home sales fell in June but remain near nine-year highs. The National Association of Realtors index, based on contract signings, is up more than 8% from one year ago.
NAR also reports that median existing-home prices are close to matching the record high set in 2006, with an expected increase of about 6.5% this year, to $221,900.
[Read More: Compare Mortgage Rates]
Homeownership drops to 35-year low
The perennial question: Rent or buy? More Americans are choosing a landlord over a mortgage, as the percentage of homeowners dropped in the second quarter to its lowest level since the Commerce Department began keeping track in 1980. On a seasonally adjusted basis, the homeownership rate fell to 63.5%, down from a high of 69.4% in 2004.
While the rate of homeownership rose among millennial adults 35 and younger, it decreased for every other age group, according to a report by Reuters.
Industry analysts believe the sagging homeownership trend has nearly run its course but don't expect a significant increase in the rate before 2017.
Millennials seek walkable neighborhoods
Adults under 35 would rather park their car and walk, and that preference is driving a generation's decision about where to live. The just-released 2015 National Community and Transportation Preference Survey finds Gen Y prefers walking over driving by a 12% margin. The research also found millennials favor:
Attached housing
Convenient mass transportation
Shops and restaurants within walking distance
Short commutes
"While there is no such thing as a one-size-fits-all community, more and more homebuyers are expressing interest in living in mixed-used, transit-accessible communities," said NAR President Chris Polychron, in a release.
Nearly half (48%) of those surveyed, across all age groups, said they would rather give up big yards and the need to drive to nearby amenities for homes with compact yards within easy walking distance of shops, restaurants and other conveniences. Fully 85% of respondents said that sidewalks were a big factor when buying a home.
The survey of 3,000 Americans was conducted by the National Association of Realtors and the Transportation Research and Education Center at Portland State University.
More from NerdWallet:
Hal Bundrick is a staff writer at NerdWallet, a personal finance website. Email: [email protected]. Twitter: @halmbundrick
---
Image via iStock.