Mortgage rates reversed their upward climb by falling slightly for the first time in four weeks. Meanwhile, new home sales are on the rise, spurred by a lack of inventory for starter and trade-up homes, according to a new report.
Freddie Mac's just-released weekly survey of lenders shows the following average rates for the most popular home loan terms:
30-year fixed-rate mortgages averaged 3.71% with an average 0.5 point for the week ending March 24. A year ago, the rate averaged 3.69%.
15-year fixed rates averaged 2.96% with an average 0.4 point. The same term priced at 2.97% a year ago.
5-year adjustable-rate mortgages priced at 2.89% with an average 0.5 point. Last year at this time, the same ARM averaged 2.92%.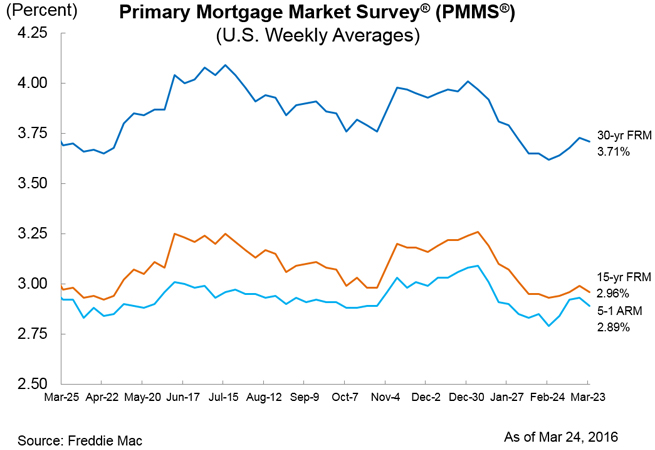 "The Federal Reserve's decision last week to maintain the current level of the federal funds rate, combined with the reduction in their forecast for growth, triggered a 3-basis point drop in the 10-year Treasury yield," Sean Becketti, chief economist for Freddie Mac, said in a release. "As a consequence, the 30-year mortgage rate declined 2 basis points to 3.71%. However, comments this week by several members of the Fed indicated that a June rate hike is still on the table."
Purchase and refinance applications both saw dips, according to the Mortgage Bankers Association weekly report.
Purchase applications were down 3.3% for the week ending March 18, and refi applications fell 5%. Overall, home purchase loan applications remain 25% higher than the same week one year ago.
New home sales up, but starter homes are vanishing fast
With tight inventories of existing homes for sale across the country, homebuyers turned to new construction, giving new home sales a modest boost, according to a report from the U.S. Census Bureau and the Department of Housing and Urban Development.
New home sales were up by 2% to a seasonally adjusted annual rate of 512,000 units in February, the report said. The increase comes almost entirely from new home sales in the West, which were up by 38.5% last month. That balances out declines in other regions.
Affordability is becoming problematic in a majority of metro markets. Although mortgage rates are still hovering below 4%, the shortage of existing homes is pushing prices up and pricing out many first-time homebuyers in the process.
Even more worrisome: In 95 of the 100 largest U.S. markets, there are fewer affordable starter homes for sale now than there were in 2012, according to Trulia. A "starter home" is defined by Trulia as a property priced in the lower third of a market's average sales price.
The number of starter and trade-up homes (also referred to as move-up homes) for sale in the U.S. has plummeted by 43.6% and 41.0%, respectively. Adding to that dismal news, buyers should expect to spend 2% to 6% more of their income to buy a home today than in 2012.
"If inventory continues to shrink throughout the spring house hunting season, buyers will likely be faced with more bidding wars and offers above the seller's asking price," Ralph McLaughlin, Trulia's chief economist, said in a release. "Meanwhile, sellers will be better positioned to sell their homes than in years past, but may have difficulty finding another home to buy."

More from NerdWallet
How much house can I really afford?
Compare mortgage rates
Find a mortgage broker
Deborah Kearns is a staff writer at NerdWallet, a personal finance website. Email: [email protected]. Twitter: @debbie_kearns.
---
Image via iStock.