Mortgage rates are flat this week, which is good news for homebuyers looking to buy or refinance. Plus, existing-home sales climbed in March, signaling a promising start to a busy spring home selling season.
Freddie Mac's just-released weekly survey of lenders shows the following average rates for the most popular home loan terms:
30-year fixed-rate mortgages averaged 3.59% with an average 0.6 point for the week ending April 21, 2016.  A year ago, the rate averaged 3.65%.
15-year fixed rates averaged 2.85% with an average 0.5 point. The same term priced at 2.92% a year ago.
5-year adjustable-rate mortgages priced at 2.81% with an average 0.5 point. Last year at this time, the same ARM averaged 2.84%.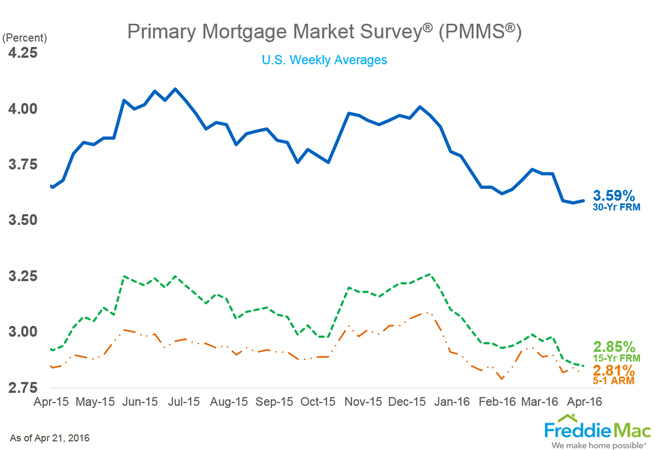 "Volatility in financial markets subsided over the past week, allowing Treasury yields to stabilize," Freddie Mac's chief economist Sean Becketti said in a release. "As a result, the 30-year mortgage rate was mostly flat, up only 1 basis point to 3.59%. The release of March's existing-home sales report, which shows monthly growth at 5.1%, suggests homebuyers are taking advantage of low mortgage rates as the spring homebuying season gets underway."
Meanwhile, low mortgage rates gave loan applications a slight bump of 1.3%, according to the Mortgage Bankers Association weekly report ending April 15, 2016.
Refi applications gained 3%. Overall, home purchase loan applications are 17% higher than the same week one year ago.
Existing-home sales up in March
There's good news for buyers and sellers alike on the spring sales front. In March, total existing-home sales rose 5.1% to a seasonally adjusted annual rate of 5.33 million in March from 5.07 million in February, according to the National Association of Realtors.
"Closings came back in force last month as a greater number of buyers — mostly in the Northeast and Midwest — overcame depressed inventory levels and steady price growth to close on a home," NAR chief economist Lawrence Yun said in a release. "Buyer demand remains sturdy in most areas this spring, and the mid-priced market is doing quite well. However, sales are softer both at the very low and very high ends of the market because of supply limitations and affordability pressures."
That said, first-time buyers, who accounted for about 30% of activity in March and all of 2015, are not jumping into the market in droves because they're hampered by the low availability of starter homes and rising home prices.
Sellers will be happy to know that the median existing-home price in March jumped 5.7% year over year to $222,700. Housing experts hope that more sellers will enter the market to help add more affordable starter homes to the market for first-time buyers.
More from NerdWallet
How much house can I really afford?
Compare mortgage rates
Find a mortgage broker
Deborah Kearns is a staff writer at NerdWallet, a personal finance website. Email: [email protected]. Twitter: @debbie_kearns.