Millennials may be slowly moving toward homeownership, according to new Census data — and the timing couldn't be better. Home loan rates remain remarkably low, as Freddie Mac's latest survey of lenders shows little change in the most popular mortgage terms:
30-year fixed-rate mortgages averaged 3.76% with an average 0.6 point for the week ending Oct. 29, 2015.  A year ago, the rate averaged 3.98%.
15-year fixed rates averaged 2.98% with an average 0.6 point. The same term priced at 3.13% a year ago.
5-year adjustable-rate mortgages priced at 2.89% with an average 0.4 point. Last year at this time, the same ARM averaged 2.94%.
"Treasury yields oscillated without a clear direction heading into the October [Federal Reserve] meeting, as investors were confident there would be no rate increase," Sean Becketti, chief economist for Freddie Mac, said in a release. "The 30-year mortgage rate was little changed, declining just 3 basis points to 3.76% this week. While [the Fed] left rates unchanged at this meeting, they kept a December rate hike as an option, causing Treasuries to sell off in the latter part of the day, after our survey closed."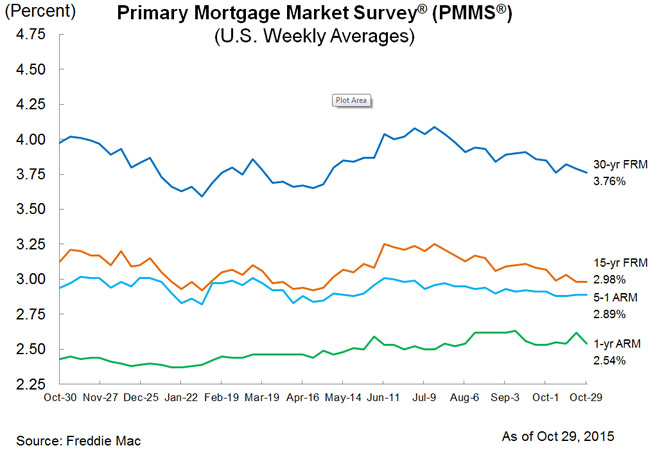 Meanwhile, mortgage applications for the week of Oct. 23 fell 3.5% from the previous week, according to the Mortgage Bankers Association. Refinance loan volume was also down — falling 4% from one week earlier.
Millennials finally make a (small) move to homeownership
The Census Bureau reports the homeownership rate moved from 63.4% in the second quarter to 63.7% in the third quarter, a fractional move, but one in the right direction. Also worth watching: Homeownership among adults under 35 saw the biggest gain in 11 years, moving from 34.8% to 35.8% quarter over quarter.
However, the homeowner rate is still well below its peak in 2004 of 69.2%. At a discussion regarding the housing market at George Washington University Monday night, U.S. Secretary of Housing and Urban Development Julián Castro said the industry must maintain economic protections to prevent another housing crisis while easing credit standards.
"If it was true that a few years ago it was too easy to get a home loan, the story of the last couple of years has been that for middle-class folks, whether they're a first-time homebuyer or not, responsible folks, it has been too difficult to get a home loan," Castro said. "So the question is: How do we maintain the safeguards that we have in place but also open up the credit box?"
More from NerdWallet:
Hal Bundrick is a staff writer at NerdWallet, a personal finance website. Email: [email protected]. Twitter: @halmbundrick
---
Image via iStock.