Condos can be hard to buy — and it has nothing to do with interest rates. In fact, in Freddie Mac's latest survey of lenders, mortgage rates moved higher but remain below 4% for the most popular home loan terms:
30-year fixed-rate mortgages averaged 3.87% with an average 0.6 point for the week ending Nov. 5, 2015.  A year ago, the rate averaged 4.02%.
15-year fixed rates averaged 3.09% with an average 0.6 point. The same term priced at 3.21% a year ago.
5-year adjustable-rate mortgages priced at 2.96% with an average 0.4 point. Last year at this time, the same ARM averaged 2.97%.
"Treasury yields climbed nearly 20 basis points over the past week, capturing the market movement following last week's Federal Open Market Committee meeting. In response, the 30-year mortgage rate experienced its largest increase since June, up 11 basis points to 3.87%," Sean Becketti, chief economist for Freddie Mac, said in a release. "Recent commentary suggests interest rates may rise in the near future."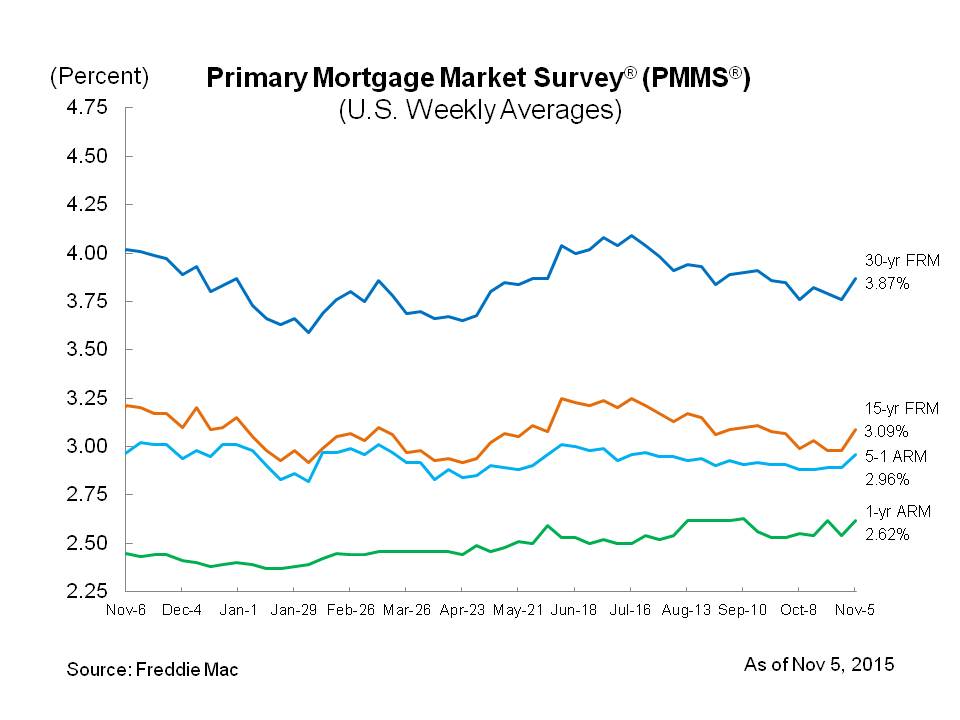 Home loan demand dropped slightly for the week ending Oct. 30, according to the Mortgage Bankers Association. Mortgage applications fell 0.8% from one week earlier. Refinance loan applications dropped 1% during the same period.
Still, loan volume remains 10% higher than a year ago.
Why condos are so hard to buy
With continuing low mortgage rates, a condominium might seem the perfect solution for many first-time homeowners. But potential buyers may be surprised to find that getting a home loan on a condo is a hard hurdle to clear. And it may have nothing to do with your qualifications to get a loan.
Even good credit, solid employment and an excellent repayment history might not be enough to get a condo loan. The reason: Rules and restrictions that govern condominium projects.
Condo boards must grapple with issues such as the number of units rented versus owned and the percentage of retail space allocation, all of which can restrict sales to individual buyers. But the biggest obstacle to ownership is likely the fact that many condo loans can't be backed by the FHA, the government-sponsored company that guarantees so many loans to first-time homeowners.
The National Association of Realtors is urging Congress to change FHA rules, easing the restrictions that block condo loans. In testimony before a House subcommittee in October, NAR president Chris Polychron told lawmakers reforms are needed for condo financing policies.
"Condominiums are often the most affordable home ownership option for first-time buyers, small families, single people, urban residents and older Americans," Polychron said. "Unfortunately, current FHA regulations prevent buyers from purchasing condominiums, harm homeowners who need to sell their condominiums, and limit the ability of condominium projects to attract resident buyers."
More from NerdWallet:
Hal Bundrick is a staff writer at NerdWallet, a personal finance website. Email: [email protected]. Twitter: @halmbundrick