The housing industry is seeing more and more good news. Mortgage rates have hit the bottom for the year — the best rates in nearly three years — while foreclosures sank to a nine-year low through the first quarter.
Freddie Mac's just-released weekly survey of lenders shows the following average rates for the most popular home loan terms:
30-year fixed-rate mortgages averaged 3.58% with an average 0.5 point for the week ending April 14, 2016.  A year ago, the rate averaged 3.67%.
15-year fixed rates averaged 2.86% with an average 0.5 point. The same term priced at 2.94% a year ago.
5-year adjustable-rate mortgages priced at 2.84% with an average 0.4 point. Last year at this time, the same ARM averaged 2.88%.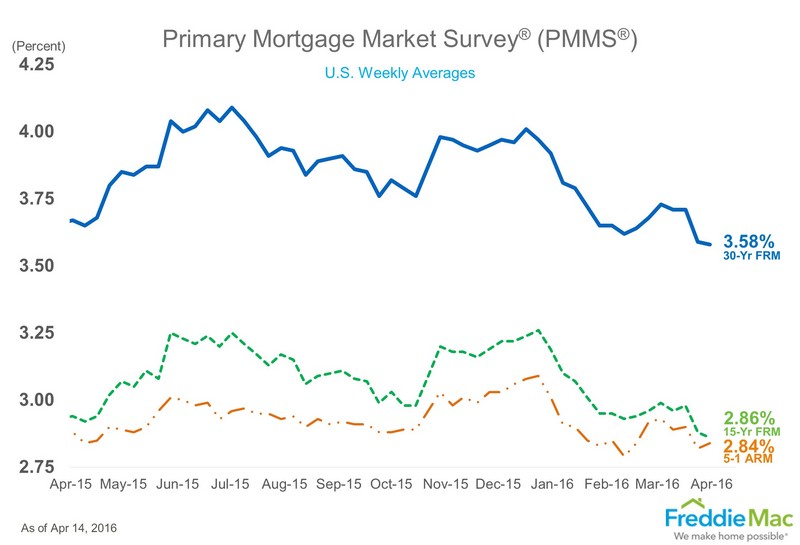 "Demand for Treasuries remained high this week, driving yields to their lowest point since February. In response, the 30-year mortgage rate fell one basis point to 3.58%," Sean Becketti, chief economist for Freddie Mac, said in a release. "This rate represents yet another low for 2016 and the lowest mark since May 2013."
Meanwhile, low mortgage rates fired up buyers and loan applications rose 10%, according to the Mortgage Bankers Association weekly report ending April 8, 2016.
Purchase applications were up 8%, as refi applications gained 11%. Overall, home purchase loan applications are 24% higher than the same week one year ago.
"Helped by a persistently strong job market and low rates, applications for both conventional and government home purchase loans increased last week," Mike Fratantoni, MBA's chief economist, said in the report. "The purchase index was at its second highest level since May 2010."
Foreclosure activity lowest since 2006
For investors seeking bargains on distressed properties, the pickings are getting even thinner. Over 280,000 properties were served default notices, scheduled for auction or subject to bank repossessions in the first quarter of 2016, but that's down 8% from one year ago — and it's the lowest foreclosure activity since the fourth quarter of 2006.
RealtyTrac's latest market report shows a continued trend toward a healthy and stable real estate market, despite a "seasonable bump" in foreclosure activity.
"More than one-third of the 216 local markets we analyzed were below their pre-recession foreclosure activity averages in the first quarter, and we would expect a growing number of markets to move below that milestone the rest of this year — while the number of markets with a lingering low-grade fever of foreclosure activity continues to shrink," Daren Blomquist, senior vice president at RealtyTrac, said in a release.
The report looked at 216 U.S. metro areas with a population of at least 200,000 and revealed that more than a third (36%) saw first-quarter foreclosure activity below pre-recession levels, including Los Angeles, Dallas, Houston, Miami and Atlanta.
More from NerdWallet
How much house can I really afford?
Compare mortgage rates
Find a mortgage broker
Hal Bundrick is a staff writer at NerdWallet, a personal finance website. Email: [email protected]. Twitter: @halmbundrick