Thirty-year and 15-year fixed mortgages, as well as 5/1 ARM rates, were all unchanged Friday, according to a NerdWallet survey of mortgage rates published by national lenders.
Lenders seemed content with their rates today, with little repricing evident. As a result, the NerdWallet Mortgage Rate Index remained unmoved. Rates on fixed-rate home loans are stuck at their highest levels since late June. Weekly average adjustable rate mortgages have crawled up most of the summer and are also staying put.
To say that things are quiet would be an understatement.
---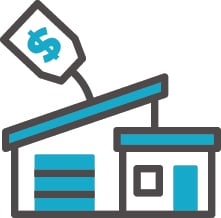 Mortgage Rates Today, Friday, Sept. 16
(Change from 9/15)
30-year fixed: 3.69% APR (NC)
15-year fixed: 3.09% APR (NC)
5/1 ARM: 3.54% APR (NC)
Mortgage rates higher ahead of Fed meeting
Mortgage rates, particularly 30-year fixed rates, have eased higher over the past week as bond markets reflected European economic concerns, as well as anticipation for the Federal Reserve meeting next week.
"As it does in the days leading up to a policy-setting meeting, the Fed has now gone silent, but available indications suggest that whether it turns out to be for an increase or not, the vote will be a close one," Keith T. Gumbinger, vice president of HSH Associates, said in an analysis emailed to subscribers. "As has been the case, there's not much to see in the data that suggests that the Fed has an imminent need to move."
However, Gumbinger added that if the Fed's Open Market Committee believes the economy has enough momentum to continue on its present course or close to it, it may make a move now, rather than at its November meeting just ahead of the presidential election.

Homeowners looking to lower their mortgage rate can shop for refinance lenders here.
NerdWallet daily mortgage rates are an average of the published APR with the lowest points for each loan term offered by a sampling of major national lenders. Annual percentage rate quotes reflect an interest rate plus points, fees and other expenses, providing the most accurate view of the costs a borrower might pay.
More from NerdWallet
Compare online mortgage refinance lenders
Compare mortgage refinance rates
Find a mortgage broker
Hal Bundrick is a staff writer at NerdWallet, a personal finance website. Email: [email protected]. Twitter: @halmbundrick