Thirty- and 15-year fixed mortgage rates dipped noticeably today, while 5/1 ARM rates rose a hair, according to a NerdWallet survey of mortgage rates published by national lenders on Tuesday.
Fixed mortgage rates tend to follow Treasury yields, which are a bit lower today as a result of investors waiting on President-elect Donald Trump's first press conference this morning.
---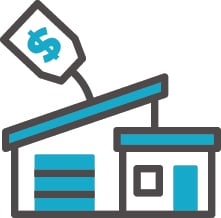 Mostly positive reactions after FHA reduces insurance premiums
Reactions from housing industry professionals were mostly positive after Monday's announcement that the Federal Housing Administration will reduce annual insurance premiums on most FHA loans from 0.85% to 0.60%. According to the announcement, which was made by U.S. Housing and Urban Development Secretary Julián Castro, the reduction will save new FHA-insured homeowners about $500 this year.
"FHA mortgage products exist to serve an important mission: providing homeownership opportunities to creditworthy borrowers who are overlooked by conventional lenders," said National Association of Realtors president William E. Brown in a release on Monday. "The high cost of mortgage insurance has unfortunately put those opportunities out of reach for many young, first-time and lower-income borrowers. Now, we have a real opportunity to get back on track."
» MORE: How the Trump presidency will impact housing in 2017
David H. Stevens, president & CEO of the Mortgage Bankers Association, said in a release Monday that "The reduction in the premium is a result of our industry's and FHA's shared commitment to quality underwriting, and consumers will benefit as a result. Reducing the cost of FHA loans benefits borrowers, but other changes to reduce uncertainty for lenders would be required to truly invigorate the FHA program. MBA looks forward to continuing to work with all stakeholders, including the new administration, to ensure the safety and soundness of the FHA program."
But not everyone supports the premium reduction. Rep. Jeb Hensarling, a Republican from Texas and Chairman of the House Financial Services Committee, released the following statement after Monday's announcement:
"It seems the Obama administration's parting gift to hardworking taxpayers is to put them at greater risk of footing the bill for yet another bailout. Just three years ago, the taxpayers had to spend $1.7 billion to bail out the FHA. Lowering premiums to below-market rates now only puts the FHA in a more precarious financial condition. Playing politics with the FHA through cynical, surprise eleventh-hour rule changes is irresponsible and endangers the integrity and success of the FHA. To be successful, the FHA must be fiscally sound, with a clearly defined mission, to ensure homeownership opportunities for creditworthy first-time homebuyers and low-income families. Lowering FHA premiums now is counterproductive to achieving these goals and puts the U.S. taxpayer at greater risk."
Homeowners looking to lower their mortgage rate can shop for refinance lenders here.
NerdWallet daily mortgage rates are an average of the published APR with the lowest points for each loan term offered by a sampling of major national lenders. Annual percentage rate quotes reflect an interest rate plus points, fees and other expenses, providing the most accurate view of the costs a borrower might pay.
More from NerdWallet
The pros and cons of home equity lines of credit
Calculate how much house you can afford
Best lenders for FHA loans
Michael Burge is a staff writer at NerdWallet, a personal finance website. Email: [email protected]nerdwallet.com.