Thirty-year and 15-year fixed mortgages were down slightly, while 5/1 ARM rates were unchanged Monday, according to a NerdWallet survey of mortgage rates published by national lenders.
Mortgage rates have barely budged for nearly a week.
---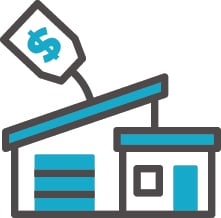 Mortgage Rates Today, Monday, Sept. 19
(Change from 9/16)
30-year fixed: 3.67% APR (-0.02)
15-year fixed: 3.08% APR (-0.01)
5/1 ARM: 3.54% APR (NC)
Mortgage lenders waiting on the Fed
Lenders have been making only minor adjustments to their rate sheets in the past few days, no doubt due to some anticipation of this week's Federal Reserve meeting. It's the main event on the financial horizon.
"This week brings us the release of only three monthly economic reports, none of which are considered to be highly important. The main focus of the week will be the Federal Reserve and their midweek events," Al Bowman, a mortgage rate analyst in Tampa, Florida, said in an analysis distributed to clients. "We can expect to see some portfolio positioning as that day comes closer, meaning the next couple of days could still bring changes to mortgage rates despite the lack of important data."
The chances that the Fed's Federal Open Market Committee will raise rates at this week's meeting are small, Bowman said.
"It is my opinion that they will hold off making a move at this time, opting to wait for more economic data domestically and internationally," he said. "There is a November FOMC meeting, but the Fed traditionally does not make a monetary policy move around a presidential election. Therefore, if no increase comes this week, it likely will not come until at least December's meeting."

Homeowners looking to lower their mortgage rate can shop for refinance lenders here.
NerdWallet daily mortgage rates are an average of the published APR with the lowest points for each loan term offered by a sampling of major national lenders. Annual percentage rate quotes reflect an interest rate plus points, fees and other expenses, providing the most accurate view of the costs a borrower might pay.
More from NerdWallet
Compare online mortgage refinance lenders
Compare mortgage refinance rates
Find a mortgage broker
Hal Bundrick is a staff writer at NerdWallet, a personal finance website. Email: [email protected]om. Twitter: @halmbundrick