Mortgage rates kept up their slow climb on Thursday, according to a NerdWallet survey of mortgage rates published by national lenders this morning.
Rates have been on the rise since Donald Trump's election win on Nov. 8, and they don't appear to be slowing any time soon. Higher inflation is propelling higher rates, as well as expectations that the Federal Reserve Open Market Committee will raise the federal funds rate later this month.
---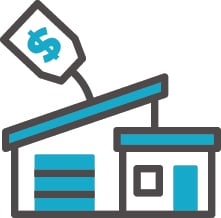 Mortgage rates will keep rising in 2017, says Freddie Mac
According to Freddie Mac's November Outlook, released Wednesday, mortgage rates throughout 2017 are expected to be much higher than what was predicted last month.
"Much like in 2013, we expect housing markets to respond negatively to higher mortgage rates," said Sean Becketti, Freddie Mac's chief economist. "They will drive down homebuyer affordability, dampen demand and weaken home sales, soften house price growth, and slow the growth in new home construction. And mortgage market activity will be significantly reduced by higher mortgage rates, especially refinance originations, which are likely to be cut in half."
Freddie Mac predicted that the labor market will hold steady and economic growth will improve next year, assuming a fiscal stimulus is passed under a Trump administration. But increased interest rates will offset some of that growth. Freddie Mac said that economic growth will average 1.9% for the year.
There's plenty of uncertainty about the fiscal policies of a Trump administration, as well as the pace of increased rates for next year. But even with a cooling housing market and mortgage originations and refinancing taking a hit, mortgage rates aren't expected to go up that much next year. What could change that is an unforeseen shock to the market or a major shift in economic policy.
Homeowners looking to lower their mortgage rate can shop for refinance lenders here.
NerdWallet daily mortgage rates are an average of the published APR with the lowest points for each loan term offered by a sampling of major national lenders. Annual percentage rate quotes reflect an interest rate plus points, fees and other expenses, providing the most accurate view of the costs a borrower might pay.
More from NerdWallet
The pros and cons of a HELOC
The best lenders for FHA loans
Calculate your refinance savings
Michael Burge is a staff writer at NerdWallet, a personal finance website. Email: [email protected].