It looks like the wild ride for mortgage rates is winding down, as 15- and 30-year fixed loans held steady, and 5/1 ARM rates rose minimally on Thursday, according to a NerdWallet survey of mortgage rates published by national lenders this morning.
---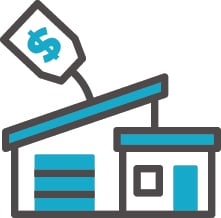 NAR: Existing-home sales in November highest since 2007
Bucking the usual seasonal slowdown, existing-home sales rose for the third month in a row, according to the National Association of Realtors.
Total existing-home sales climbed by a slim 0.7% to a seasonally adjusted annual rate of 5.61 million in November from a downwardly revised 5.57 million in October. Despite the minimal uptick, November's sales pace was at the highest level since February 2007 (5.79 million) — 15.4% higher than a year ago (4.86 million), NAR reported.
As 2016 draws to a close, the news caps a robust year for housing.
"The healthiest job market since the Great Recession and the anticipation of some buyers to close on a home before mortgage rates accurately rose from their historically low level have combined to drive sales higher in recent months," Lawrence Yun, NAR chief economist, said in a news release.
» MORE: 6 ways to win a bidding war in a hot housing market
Heading into 2017, however, it's uncertain how the recent surge in mortgage rates and an increase in home prices will impact homebuyers. The median existing-home price for all housing types in November was $234,900, up 6.8% from November 2015 ($220,000), according to NAR.
Compounding matters is a lack of housing inventory in many markets, particularly more affordable starter homes. At the end of November, total housing inventory dropped 8% to 1.85 million existing properties for sale. Year-over-year trends show there are now 9.3% fewer homes on the market compared to this time last year (2.04 million), NAR found. That's the 18th straight month that year-over-year inventory has declined, which makes house hunting a difficult undertaking for homebuyers.
"Existing housing supply at the beginning of the year was inadequate and is now even worse heading into 2017," Yun said. "Rental units are also seeing this shortage. As a result, both home prices and rents continue to far outstrip incomes in much of the country."
Homeowners looking to lower their mortgage rate can shop for refinance lenders here.
NerdWallet daily mortgage rates are an average of the published APR with the lowest points for each loan term offered by a sampling of major national lenders. Annual percentage rate quotes reflect an interest rate plus points, fees and other expenses, providing the most accurate view of the costs a borrower might pay.
More from NerdWallet
Compare online mortgage refinance lenders
Compare mortgage refinance rates
Find a mortgage broker
Deborah Kearns is a staff writer at NerdWallet, a personal finance website. Email: [email protected]. Twitter: @debbie_kearns.