Mortgage rates remain near seven-day highs, with little movement in the most popular loan terms today. Bond investors are not being rewarded for buying longer maturities, as 10-year Treasurys, the benchmark for mortgage pricing, stubbornly trade in a tight range. As a result, lenders are simply fine-tuning their pricing for risk.
Mortgage Rates: May 26, 2016 (Change from 5/25)
30-year fixed: 3.84% (+0.02)
15-year fixed: 3.17% (NC)
5/1 ARM: 3.47% (+0.02)
NerdWallet daily mortgage rates are an average of the lowest advertised APR for each loan term offered by a sampling of major national lenders. Annual percentage rate quotes reflect a standard interest rate plus points, fees and other expenses, providing a more accurate view of the costs a borrower might pay.
Mortgage rates react to upcoming Fed meeting
Interest rates on home loans trended higher over the past week on speculation of a move by the Federal Reserve in June.
"U.S. Treasury yields moved up in response to the Fed minutes release, which kept alive the possibility of a summer rate hike. Mortgage rates followed with the 30-year fixed-rate mortgage increasing 6 basis points to 3.64%," Sean Becketti, chief economist for Freddie Mac, said in a release.
While short-term interest rates don't directly affect mortgage rates, they tend to move in unison over time.
"Despite this increase, May ends the month averaging only 3.60%, 1 basis point below April's average, and the lowest monthly average in three years," Becketti added.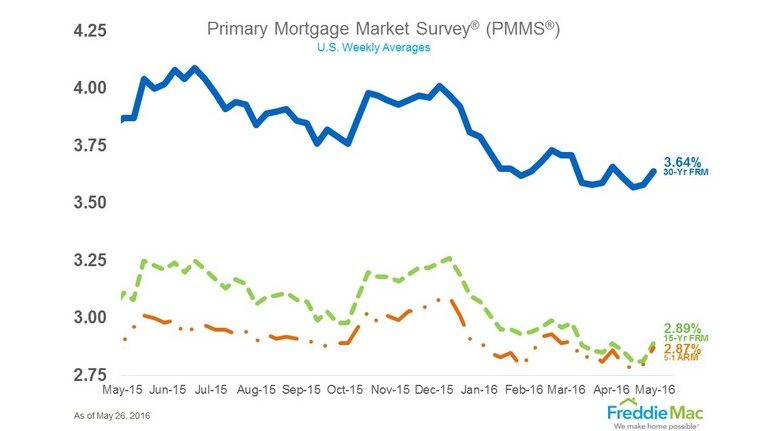 Meanwhile, mortgage application volume rose from one week earlier, gaining 2.3%, according to the Mortgage Bankers Association report for the week ending May 20, 2016.
Purchase applications were up 5%, as refi applications held mostly steady, gaining just 0.4%. Overall, home purchase loan applications remain 17% higher than the same week one year ago.
Leading lender offers new 3% down mortgage for first-time homebuyers
Wells Fargo, perennially among the top lenders in residential loan volume, has announced a new mortgage program for low to moderate-income consumers.
The mortgage offers an alternative to FHA-backed loans, which require mortgage insurance premiums to be paid upfront, as well as be built into monthly payments. Non-FHA-backed loans are known as conventional loans.
"There are a lot of conventional loan products with low down payment options, but the criteria are so complex that it creates barriers for many qualified borrowers," Brad Blackwell, executive vice president of Wells Fargo Home Lending, said in a release.
The loan product offers a down payment as low as 3%, reduced closing costs and expanded credit standards — including consideration of alternative credit sources such as tuition, rent or utility-bill payment histories.
Bank of America rolled out its own low down payment mortgage in February, and other lenders can also underwrite low down payment mortgages backed by Fannie Mae and Freddie Mac.
More from NerdWallet
Compare mortgage rates
Get a mortgage preapproval
Compare online refinance lenders
Hal Bundrick is a staff writer at NerdWallet, a personal finance website. Email: [email protected]. Twitter: @halmbundrick