Mortgage rates for 30- and 15-year fixed loans and 5/1 ARMs continue to head north, according to a NerdWallet survey of mortgage rates published by national lenders Thursday. It looks like the market's longtime dance with dropping rates might be ending.
---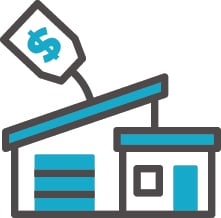 CoreLogic: Some borrowers missing out on refinance savings
It's no secret that mortgage rates have been hovering near historic lows for quite some time, but that alone hasn't convinced a swath of homeowners with higher interest rates to reap the benefits of a refinance.
CoreLogic found that 41% of outstanding mortgages (representing 31% of the outstanding unpaid principal balance) at the end of May 2016 have interest rates higher than 4.38%. That's about 100 basis points above the current market rate for a 30-year fixed-rate loan.
A big chunk of those outstanding loans have interest rates ranging from 4.38% to 5%, representing 18% of all mortgages, CoreLogic said. Twenty-three percent of all outstanding mortgages have rates above 5%.
These surprising numbers beg the question: Why wouldn't a homeowner with such a high interest rate opt to refinance and save hundreds of dollars on monthly mortgage payments?
"We drilled down deeper into the higher-mortgage-rate loans, looking at their delinquency status and investor type," Molly Boesel, CoreLogic chief economist, wrote in a recent blog post. "… The serious delinquency rate is higher for higher-rate mortgages, with 12% of mortgages in the 7% or higher range being 90 days or more past due.
"This explains why a portion of these borrowers haven't refinanced: They are behind on their payments and most likely wouldn't be able to qualify for a new mortgage."
Homeowners looking to lower their mortgage rate can shop for refinance lenders here.
NerdWallet daily mortgage rates are an average of the published APR with the lowest points for each loan term offered by a sampling of major national lenders. Annual percentage rate quotes reflect an interest rate plus points, fees and other expenses, providing the most accurate view of the costs a borrower might pay.
More from NerdWallet
How to refinance your mortgage
Compare mortgage refinance rates
Find a mortgage broker
Deborah Kearns is a staff writer at NerdWallet, a personal finance website. Email: [email protected]. Twitter: @debbie_kearns.